Good Burger Is The Latest '90s Touchstone Slated For A Legacy Sequel (& We Couldn't Be Happier)
The order that '90s kids have been waiting for is finally being served with a side of fries. One of the decade's defining cult classics, "Good Burger," will officially be receiving a follow-up slated for Paramount+ later this year. The news was announced on "The Tonight Show with Jimmy Fallon" by none other than Kenan Thompson and Kel Mitchell themselves, who starred in the 1997 comedy as Dexter Reed and Ed, respectively. The movie was based on their successful series of sketches from the Nickelodeon variety show "All That."
The film will follow Dexter as he returns to the titular fast food joint following a failed invention, all while interacting with a new crop of quirky Good Burger employees. "Brooklyn Nine-Nine" and "Single Drunk Female" director Phil Traill will helm the film, which is being written by original "Good Burger" and "All That" co-writers Kevin Kopelow and Heath Seifert. The film's team promises that the new high-calorie romp contains plenty of nostalgic nods that are sure to stand out to hardcore fans. 
The announcement of a "Good Burger 2" is sure to harbor some level of resentment from longtime fans, who are bound to see the upcoming legacy sequel as no more than a cash grab. However, if the film stays true to the heart and spirit of its beloved predecessor, we could have something quite delectable to look forward to. 
The original Good Burger holds up (and that bodes well for the sequel)
When released in the summer of 1997, few could have expected that "Good Burger" would become a childhood touchstone for an entire generation. While some nostalgic favorites are admittedly better left in the past, a rewatch of "Good Burger" reveals that the film is surprisingly more substantial than your typical fast food order.
The film's premise sees high schooler Dexter Reed who, after damaging his teacher's car, works at a local burger joint over the summer to save up money. Along the way, he and fellow Good Burger employee extraordinaire Ed must try and save their restaurant from the devious plans of the newly-opened Mondo Burger across the street. Sure, "Good Burger" is no "Citizen Kane," but as a light-hearted, looney comedy, the film succeeds with flying colors. 
While the movie does have its hints of drama, the majority of its 95-minute runtime is dedicated to delivering as many off-the-wall antics as possible, mixed in with some surprisingly mature and dark comedy that likely flew over your head as a youngster. Add in a catchy soundtrack, some creative set design, and surprise appearances by such '90s icons as Sinbad, George Clinton, and Shaquille O'Neal, and it's no wonder that "Good Burger" remains a cult classic for many. 
But perhaps more than anything, what made the original film work so well — and why the sequel is worth getting hyped over — comes down to two words: Kenan and Kel.
Does this dynamic duo ever get old?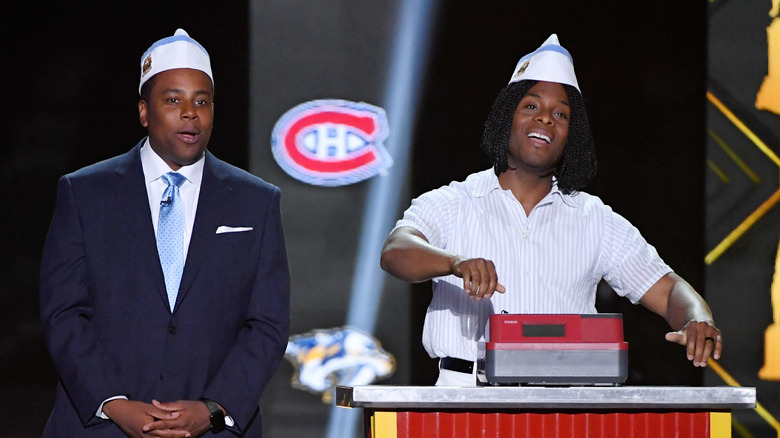 Ethan Miller/Getty Images
A lot of the credit for "Good Burger" working as well as it does can be largely attributed to Kenan Thompson and Kel Mitchell. The duo's dynamic had been proven beforehand on both "All That" and their own spin-off series "Kenan and Kel," where the two brought gut-busting laughter to kids in the 1990s. While they've presented plenty of range alongside one another, Kenan and Kel have always been at their best when the former plays the straight man and the latter takes on the more eccentric role. Time has done little to their camaraderie, as their more recent appearances on "The Tonight Show" prove. 
Ultimately, the success of a "Good Burger 2" will hinge on the two making magic once again. Thankfully, it seems things are going in the right direction, with Thompson noting that it's a thrill to work with his fellow Nickelodeon alum. "Being a part of something so many generations of people have come to love has made me so proud and now to be back where it all began working on the sequel is surreal," the "Saturday Night Live" star told Deadline. "Love performing with my brother Kel and can't wait to show the fans what these characters have been up to since we last saw them." 
It's clear that the "Good Burger" sequel is being crafted with love and it'll be something we can't wait to take a bite out of once it releases.