The Reason Eric Dane Walked Away From Grey's Anatomy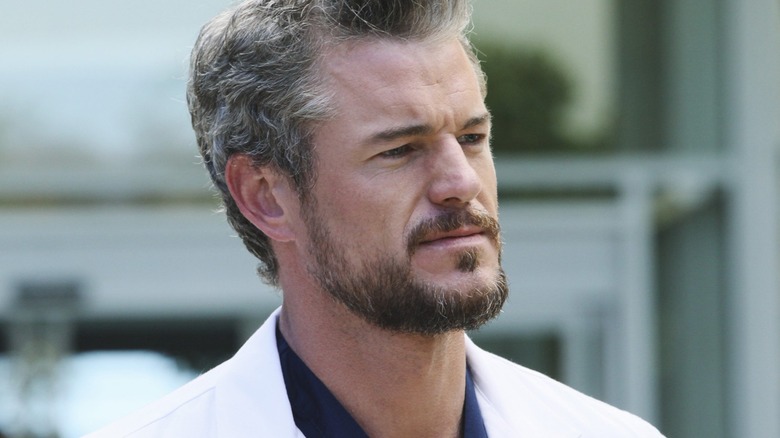 ABC
Eric Dane was introduced on "Grey's Anatomy" in Season 2 and continued to star in the series until early Season 9 (and guest starred in one episode in Season 17). He, of course, played Dr. Mark Sloan (or "McSteamy" as some of the interns referred to him), the plastic surgery attending at Seattle Grace Hospital. Alongside treating his patients, Mark also navigates personal relationships, such as his complicated friendship with Derek Shepherd (Patrick Dempsey) and his romance with Lexie Grey (Chyler Leigh).
Unfortunately, for fans of Mark, the character was killed off in early Season 9 via a fatal plane crash. Mark was being kept on life support due to the injuries he suffered, but because his will specified that he wants to be taken off life support if he shows no sign of recovering after thirty days, he died after the machines were turned off.
And, as it turns out, it was Dane's decision to leave "Grey's Anatomy" that led to his character being killed off. The actor has talked about his decision to leave the show, and it all comes down to pretty simple reasoning: he wanted to pursue other projects.
Dane was offered another series that he couldn't turn down
In 2012, the same year that Eric Dane's final episodes of "Grey's Anatomy" aired, it was announced that he had been cast as the lead of a thriller series, titled "The Last Ship," from executive producer Michael Bay. The series, which follows a U.S. Navy crew who must navigate a post-apocalyptic society following a deadly global pandemic, ended up running for five seasons on TNT and concluded in 2018. Five seasons is a more than solid run, so many would say that Dane made the right choice leaving "Grey's Anatomy" for "The Last Ship." And, at the time, the actor certainly found it to be the right choice for his career. Plus, after "The Last Ship" ended, Dane was able to take the role of Cal Jacobs on the wildly popular HBO series "Euphoria," another role that wouldn't have been possible if he stuck around on "Grey's Anatomy."
In 2013, Dane told Entertainment Weekly, "'Grey's Anatomy' is a world — it's not about any one individual actor and the storylines were sort of...you know, heading in different directions. So it was an opportunity for me to go and I was interested in something different. I loved doing 'Grey's Anatomy.' I would have done it until the final episode, but this was something I couldn't pass up."
One of the differences between the roles that he was drawn to is that "The Last Ship" called for more physical action. Dane continued, "It's a physical challenge. On 'Grey's Anatomy,' I didn't have to move too much. I think I ran through the hospital three times. But this is a more physically demanding role."
Dane loved his guest appearance on Grey's Anatomy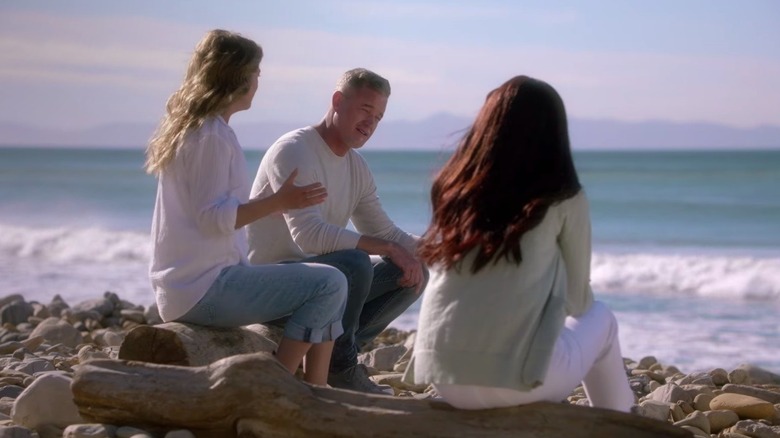 ABC
Even though Eric Dane was the one to make the decision to leave "Grey's Anatomy" back in 2012, he was more than happy to come back for a special appearance in Season 17. In the episode, "Breathe," Meredith (Ellen Pompeo) is in a coma and visualizes a visit between herself, her sister Lexie Grey, and Mark Sloan on a beach. Talking to Deadline in 2021, Dane revealed that it was an easy decision to say yes to returning. Once there, he loved being back on the "Grey's" set.
Dane said, "It was like I'd never left. It was a great day at the beach. It was great to see some of the familiar faces and [the] same crew members, and we didn't skip a beat. I love those people. I spent a significant portion of my life with those people, I'd do just about anything for them."
Further, he had no trouble getting back into character. When asked if there was any difficulty slipping back into Mark, Dane answered, "I mean, look, I created Mark Sloan. It was not that difficult for me to get back into character."