Hit The Mic With These Johnny Carson Facts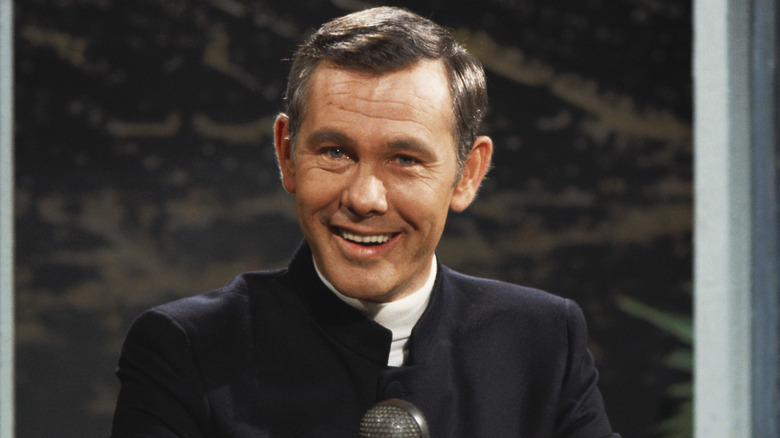 Michael Ochs Archives/Getty Images
Johnny Carson was an indisputable icon of 20th-century television, a master broadcaster with a keen sense of comic timing who holds an absolutely unique place in American culture. For decades, he entertained audiences as host of "The Tonight Show Starring Johnny Carson," and while he beamed nightly into living rooms across the country, he remained throughout his life one of Hollywood's most enigmatic celebrities. 
A shy Nebraska child enduring a fraught relationship with his mother, Carson parlayed an early obsession with performing magic into being the most powerful and highest-paid entertainer on television. An aloof and extremely private man off camera, he could be generous with fellow entertainers, like rival late-night host Arsenio Hall, or ruthless and unforgiving, as he was with comedian and "The Tonight Show" guest host Joan Rivers.
Carson's high-profile and brutally expensive third divorce became regular tabloid fodder of its day but throughout his painful personal travails, Johnny maintained his revered status as the stand-up comedy arbiter for the nation. The much-coveted wave to sit on Johnny Carson's couch launched the careers of many legendary comedians including Jerry Seinfeld, Roseanne Barr, Ellen DeGeneres, and Drew Carey. In addition to being a late-night TV innovator, Carson was a men's fashion entrepreneur and could hold his own on a drum kit. Let's take a closer look at the life and career of this comedy icon with some Johnny Carson facts.
His showbiz aspirations started in the world of magic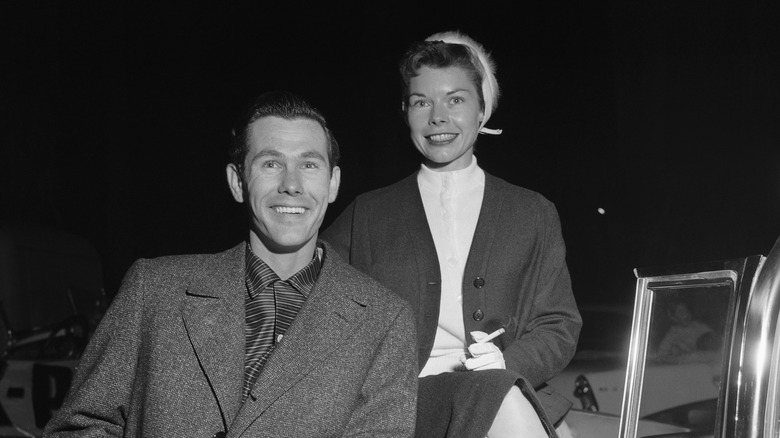 Michael Ochs Archives/Getty Images
Raised in the Midwest, Johnny Carson spent his childhood far from the Hollywood spotlight, but that didn't dampen his show business aspirations. A shy child, Carson took to magic to conjure up self-confidence. He was so into magic that he would have cards around the house, performing tricks for his mother. Mastering magic gave young Carson a sense of control and it soon became not only a hobby but an obsession. Of taking up magic, Carson said on "The Tonight Show," "You can be the center of attention without being yourself."
As he took his act out of the living room and onto the stage, Carson dubbed himself "The Great Carsoni" and gigged at birthday parties and local clubs to make money. While at the University of Nebraska, he kept up his magic and he even married his magician's assistant. Certainly, Carson's self-assured television persona would not have been the same if not for performing magic, and he honored his skill set during his "The Tonight Show" tenure by inviting many fellow illusionists to the stage, including Harry Anderson, Orson Welles, and David Copperfield. 
He was a TV star before The Tonight Show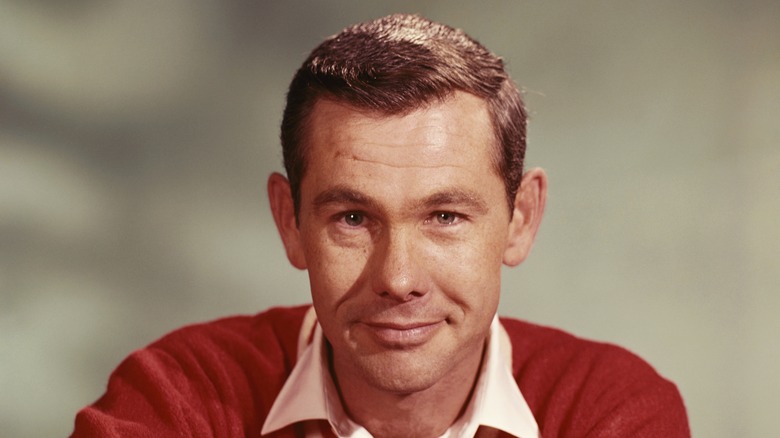 Michael Ochs Archives/Getty Images
Years before Carson became one of the best late night hosts of all time, he was an up-and-coming television talent just looking for the right break. Like many performers of his era, Carson was working in radio when he made the transition into the burgeoning medium of television in the 1950s. 
He started broadcasting in Omaha, then made the move to Los Angeles, and within a year of relocating, "Carson's Cellar" debuted in 1951. "Carson's Cellar" aired on the CBS Los Angeles affiliate KNXT, and the show consisted of comedy sketches riffing on topics of the day. While fairly primitive TV, it was good enough to make a fan of famed comedian Red Skelton, who joined Carson for a playful series of sketches on the show. Skelton took on Carson as a writer for his show, and Carson gained wide audience exposure when he stood in as host on "The Red Skelton Review" in 1954.
In 1955, CBS debuted "The Johnny Carson Show," which ran through the following year. After "The Johnny Carson Show," Carson eventually landed a gig hosting the ABC game show "Who Do You Trust?" Moving to New York City to take the job proved to be serendipitous. He was teamed up with his future "The Tonight Show" sidekick Ed McMahon. Eventually, both Carson and McMahon decamped from ABC to NBC's "The Tonight Show" in 1962 after host Jack Paar left the show.
His icy relationship with his mother Ruth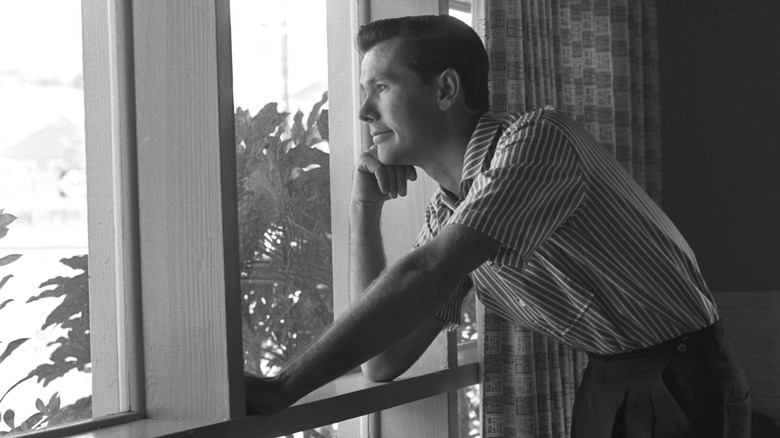 Michael Ochs Archives/Getty Images
Johnny Carson's icy relationship with his mother Ruth shaped much of Carson's life. While she was known for her sharp mind and good sense of humor, her inability to connect emotionally with her son was notorious. Henry Bushkin, Carson's long-time attorney, said in an interview with Joan Rivers on WNYC, "She [Ruth] couldn't pass on any emotional content to him. As a result, he [Johnny] never got her affection, never got her love no matter what he did." Ruth didn't like boys, but it didn't stop young Johnny from trying to get her affection. Throughout his life, Ruth was one of his harshest critics and didn't hesitate to bring Carson back to Earth. Pal Burt Reynolds wrote in his memoir "But Enough About Me," for as long as we were friends, Johnny complained about his mother."
When Ruth died in 1985, Reynolds claimed Carson didn't attend her funeral, instead exclaiming, "The wicked witch is dead!" However, while Ruth cooly received Carson's career achievements while she was alive, Carson discovered after her death that she was actually proud of her son, albeit in a private way. After Ruth died, a box of clippings from throughout Carson's career was found. Johnny kept the box in his own closet until his death.
How Carson became the highest paid entertainer on television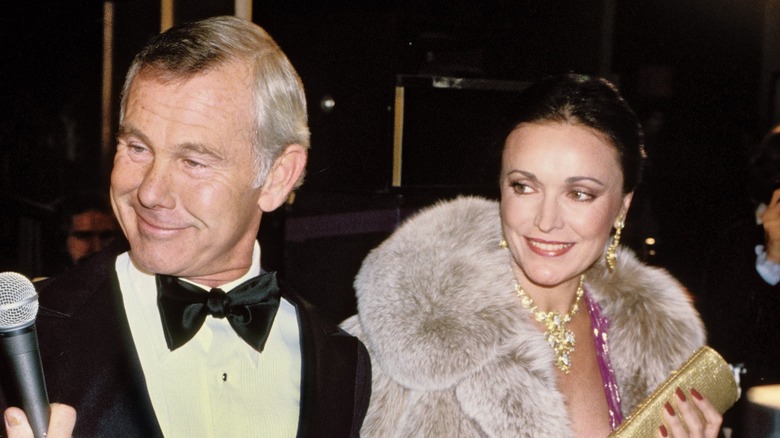 Michael Ochs Archives/Getty Images
At the height of his career, Johnny Carson was arguably one of the most powerful and best paid people working in television, but to gain such dominance and wealth, Carson played hardball with network executives. In the 1960s and 70s, "The Tonight Show" was pulling in 39% of the total late night audience for television. By 1979, Carson's show was a television juggernaut. It was watched by over 7 million people nightly, and it earned NBC more than $50 million per year, a figure representing about 17% of NBC's profits. But Carson was tired. After 17 years of hosting "The Tonight Show," he wanted out.
Carson shared his grievances with the network on his show and at one point, he threatened to leave "The Tonight Show" and even had public dalliances with ABC executives. However, sage advice from Hollywood superagent Lew Wasserman proved to be enough to convince Carson to stay with the Peacock network. When he signed the dotted line in 1980, it was the most lucrative deal in the history of entertainment to date. Not only did it provide Carson with a $25 million per year salary with reduced hours and an ample 15 weeks off, but he became the producer and gained ownership of "The Tonight Show" and the hour that aired after the show. In 1982, that time slot was filled by "Late Night with David Letterman," of which Carson had approval. 
"The Tonight Show" remained lucrative for NBC throughout the 1980s, earning upwards of $30 million a year for the network until the middle of the decade.
Carson gave many legendary comedians their big breaks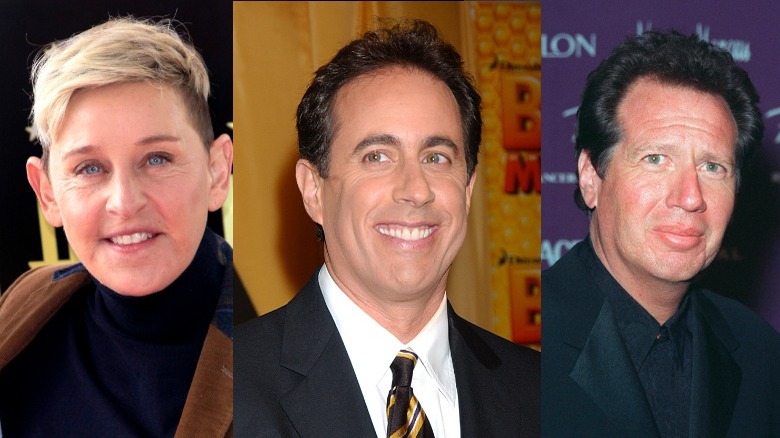 Everett Collection & Kathy Hutchins & Featureflash Photo Agency/Shutterstock
Back when there were only three television networks and cable television was just a glimmer in Ted Turner's eye, comedians looked to Johnny Carson to make their careers. Performing on "The Tonight Show" was the Mount Olympus of comedy and Carson was seated atop it as its wisecracking Zeus. A generation of comics looked to Carson to validate their careers. A simple wink or an "O.K." hand gesture was enough to make comedians' hearts soar, but from Carson, the ultimate sign of approval was in an invite to the "The Tonight Show" couch.
In the documentary "American Masters: Johnny Carson," Jerry Seinfeld said of performing on "The Tonight Show" and being called to sit on the couch, "This is some kind of magic place. There's not just that many moments in life that are that definitive, of a before and after in life. Before you're wanting to be a comedian and after you are one." 
If you got asked to sit on the couch during your inaugural "Tonight Show" performance, like Eddie Murphy, Ellen DeGeneres, Roseanne Barr, and Drew Carey, it was a career-defining validation of their talents. Other comedians such as Garry Shandling, David Letterman, Jim Carrey, Louie Anderson, and Bill Maher got their first big national exposure on "The Tonight Show."
Johnny Carson had his own fashion line
Johnny Carson not only acted cool as host of "The Tonight Show," but he looked the part, and he was a fashion influencer well before the days of social media. Ever the fashionable male, he wore a different suit every night and to capitalize on his sartorial flair, Johnny Carson Apparel was launched in partnership with apparel manufacturer Hart Schaffner & Marx. His natural style and celebrity sway made for a natural pivot into the fashion business. Starting in 1969, Johnny Carson Apparel gave the everyman access to Carson's mid-century swagger. In a 1973 TV commercial for the Johnny Carson Collection, he demurely states that his suits are "just good-looking, comfortable, uncomplicated, yet not-too-expensive clothes."
Coordinated polyester playsuits, casual slacks, and groovy accessories, like chunky neckties and feathered fedoras, one could shop Johnny Carson Collection for the complete '70s look, right down to the boldly-printed neck scarf. A decade after the line's launch, it was reportedly one of the biggest suiting lines in the country and was a multi-million dollar business. So significant was Carson's influence on the aesthetic history of the 1970s, The Metropolitan Museum of Art currently has a Johnny Carson suit as part of its collection.
Even Johnny Carson felt pressure hosting the Oscars
Historically, the Academy Awards telecast is one of television's biggest nights, garnering tens of millions of viewers and Johnny Carson served as MC over the Hollywood glitterati-filled global telecast five times. Although Carson was a show business veteran by the time he hosted his first Oscars ceremony in 1979, he was nervous about the job. Folks were used to the well-heeled hosting style of Hollywood icon Bob Hope, but when Carson took the reins, he injected his own television-honed style into the festivities. He brought two "The Tonight Show" writers, Mike Barrie and Jim Mulholland, to help him with jokes. 
Barrie told the Los Angeles Times about Carson's nerves before his first Oscars, "It looked like he just wanted to get in his car and drive home. In all the years we had worked with Johnny, I had never seen him really nervous before a show. So this scared the hell out of both of us and turned us into total wrecks."
Hosting the Academy Awards is a tough gig and has even been deemed by The Hollywood Reporter as "the least wanted job in Hollywood," but ever the professional, Carson didn't stray too much from his successful "Tonight Show" formula of monologue and guests, albeit delivered in a dapper tuxedo. Carson's Oscars hosting prowess inspired others that followed. Steve Martin shared in "American Masters: Johnny Carson" that when he first hosted the Oscars, he molded his performance after Carson. Martin said of copying Carson, "Open up, you do ten minutes of the best jokes you can find, and get out of the way."
Carson was an extremely skilled drummer
When Johnny Carson wasn't working on "The Tonight Show," he spent his off-hours cultivating a number of hobbies, including one that he quite possibly could have turned into a lucrative side hustle. Carson was a talented drummer, and he even shared his skills on television early in his career on "The Jack Benny Show." Even though Carson displayed his drumming prowess publicly on occasion, he mostly kept his musicianship private, using it as a kind of therapy to get rid of his tension and worries. The secret to Carson's drumming skills? Years of magic tricks. "The Tonight Show" drummer Ed Shaughnessy said in the documentary "American Masters: Johnny Carson" that Carson told him that doing coin tricks taught him how to handle drumsticks.
That Carson didn't pursue music more seriously is a shame because in "American Masters: Johnny Carson," comedy legend Mel Brooks admits that Carson was so good that he probably could have had a career as a drummer. Carson didn't pursue life as a professional percussionist, but he kept his love of the instrument close to his heart. Drummer Buddy Rich was Carson's favorite musician and he admired Rich's percussion prowess. Rich gifted Carson a drum set, which Carson played for Mike Wallace on "60 Minutes." Rich also opened for Carson when he took his act to Las Vegas.
His shockingly expensive third divorce was settled for millions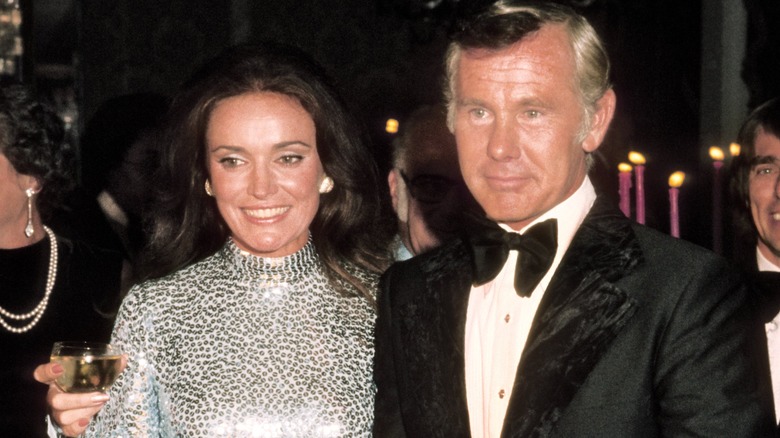 Michael Ochs Archives/Getty Images
Johnny Carson was married four times, but it was the ending of his third marriage that sent shockwaves through Hollywood. Carson openly talked about his marital woes on "The Tonight Show" and made light of his personal troubles by integrating them into his monologue. He normalized it, going through his three divorces during his tenure on "The Tonight Show." Carson's matrimonial journeys started when he married Jody Wolcott in 1949. They had three children together and divorced in 1963. Months later, he married Joanne Copeland, and their marriage would also end in divorce, the couple calling it quits in 1972. Carson tried marriage for the third time in 1972, marrying Joanna Holland, but by the early '80s, their marriage was over. In 1983, Joanna filed for divorce and she sought a then-historic amount of money from Carson. 
Joanna originally asked for $2.64 million per year, but when their divorce was settled in 1984, she was awarded $2.2 million in payments over the span of five years. However, Joanna's settlement also included homes in New York and Los Angeles, luxury cars, shares in Carson Production, gold coins, and even Picasso art. Taking all this into consideration, it's easy to see how it all added up to a nearly $20 million final settlement. Carson married for the fourth time in 1987 to Alexis Maas and they remained together until Carson's death in 2005.
The reason why he cut Joan Rivers out of his life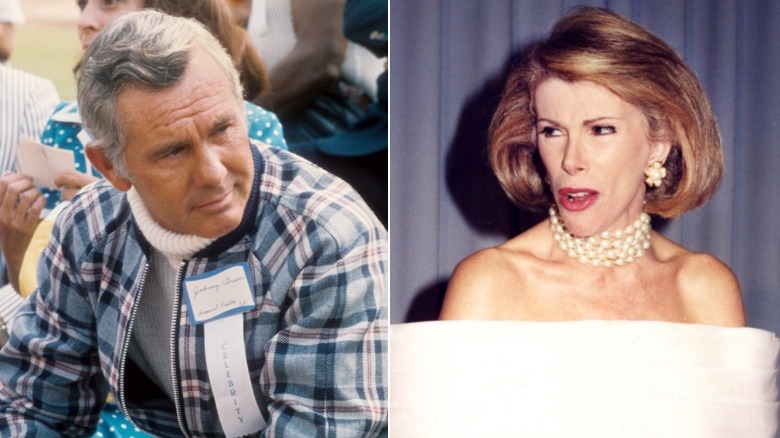 Manny Hernandez & Michael Ochs Archives/Getty
In the 1980s, comedian Joan Rivers was the heir-apparent to "The Tonight Show." Making her debut on the show in 1965, Rivers became a staple of Carson's couch, even becoming the first female to host a week of "The Tonight Show" in 1971. In 1983, Rivers signed a deal with Carson Productions and NBC naming her the only guest host for the 1983-1984 season. Considering Carson's generous vacation schedule, that meant Rivers was behind the desk for nine weeks total. However, in 1986, Rivers was offered a lucrative deal to host her own talk show at the fledgling Fox network. Her contract was up at NBC, and her "The Tonight Show" pay was poor, so she took the job. However, when Rivers called Carson to tell him the news before it was announced publicly, he hung up on her and never spoke to her again.
Rivers' tenure as host of "The Late Show Starring Joan Rivers" was mired in personal and professional troubles, and she left the show in 1987. Learning of her departure from Fox, Carson issued an icy statement to The New York Times saying, "I had no comment when she went on the air, and I have no comment now that she's leaving." Rivers and Carson weren't friends — their relationship was cold at best – but the rejection stung. Reflecting on the incident in The Hollywood Reporter in 2012, Rivers wrote, "Looking back, and I never like to say it, the Carson breakup hurt me a lot, without realizing it."
The surprising way he supported his late night rival Arsenio Hall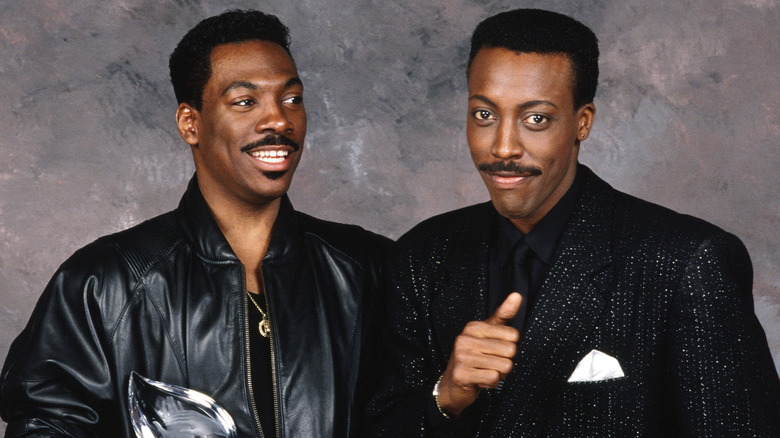 George Rose/Getty Images
By the late 1980s, the late-night television landscape was changing and, for the first time, Johnny Carson's ratings supremacy was being legitimately challenged. Many talented people had their own late-night shows that dared to compete against "The Tonight Show," like Joey Bishop, Alan Thicke, Dick Cavett, and Pat Sajak, but their programs came and went. That is, until Arsenio Hall came onto the scene in the late '80s. Hall got his first taste of talk show hosting when he replaced Joan Rivers as host of Fox's "The Late Show" in 1987. While he only had a 13-week run on that show, it was long enough for Hall to get noticed.
"The Arsenio Hall Show" debuted in January of 1989 in national syndication and was giving "The Tonight Show" some serious competition within months of its arrival. By the summer of 1989, Hall was beating Carson in average monthly ratings in key television markets. "Arsenio Hall" proved formidable competition for the stalwart "Tonight Show," but surprisingly, Carson was willing to help out his much-younger counterpart. 
Hall shared on "The Late Show with Stephen Colbert" that Carson would tell Ed McMahon to call Hall to share suggestions for guests, particularly breaking new talent. Some of these folks included a young Usher and comedian Sinbad. Indeed, Hall had Sinbad on as a guest on his show numerous times.
After The Tonight Show, he kept a low-key life, but still managed to write jokes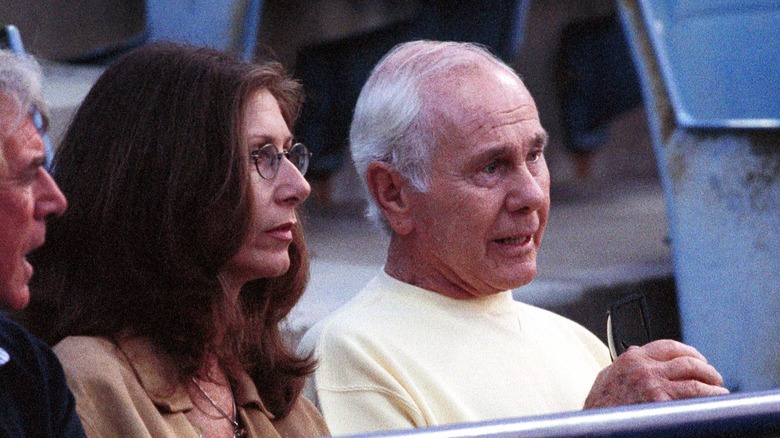 John Chapple/Getty Images
In 1992, after nearly three decades behind the desk, Johnny Carson retired as host of "The Tonight Show." Ever private, he declined interviews about his late-night departure, but audiences turned out in droves to send off Carson. His final episode of "The Tonight Show" drew in 55 million viewers, becoming the most-watched episode in the show's history. After leaving "The Tonight Show," Carson kept a fairly low profile. Beyond a few stops on David Letterman's show, doing a voice cameo on "The Simpsons," and accepting the Kennedy Center Honors, Carson slipped into a life of relative obscurity.
However, just because Carson hung up the reins on "The Tonight Show" didn't mean he quit comedy entirely. Carson would frequently call his friend and "The Tonight Show" executive producer Peter Lassally and deliver fresh, topical monologues over the phone. Lassally suggested to Carson that he should give some of these jokes to David Letterman. He did, and Lassally told The New York Times about Carson's enthusiasm when one of his gags made it to air, "He was like a little kid when Dave would do one of his jokes," adding, "He was not blasé about any of it." 
When Carson wasn't crafting clandestine jokes, he spent time hitting the high seas on his custom-built boat, holding game nights with his Gourmet Poker Club friends like Steve Martin and Chevy Chase, and traveling to places such as Africa.
His secret charitable donations were only discovered after his death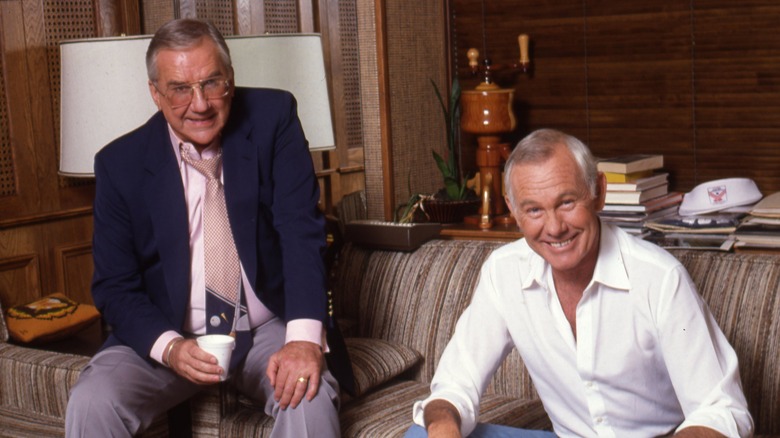 Donaldson Collection/Getty Images
Johnny Carson died from emphysema in 2005 at the age of 79. Private until the end, Burt Reynolds shares in his memoir that Carson didn't want a memorial service upon his death, but that didn't stop the world from mourning the loss of the king of late night. While Carson was surely celebrated for his pioneering and storied showbiz career, it wasn't until after his death that another cause to celebrate Carson was publicly revealed. 
Before his death, Carson set up a massive personal trust and IRS documents obtained by The Smoking Gun in 2010 revealed that the John W. Carson Trust gave $156 million to the John W. Carson Foundation, also known as the Johnny Carson Foundation. Henry Bushkin, Carson's former attorney, believes the bulk of Carson's estimated $500 million fortune went to his estate and trust after his death.
Over the years, the Johnny Carson Foundation has donated millions of dollars to various organizations, including Children's Hospital of Los Angeles, the Los Angeles Free Clinic, and Planned Parenthood. Carson's alma mater, the University of Nebraska-Lincoln, home to the Johnny Carson School of Theatre & Film and the Johnny Carson Center for Emerging Media Arts, also received funds. The Johnny Carson Foundation has gifted millions in scholarships for students and endowments to further support the school's scholarly endeavors.
Inside Carson's famously aloof personality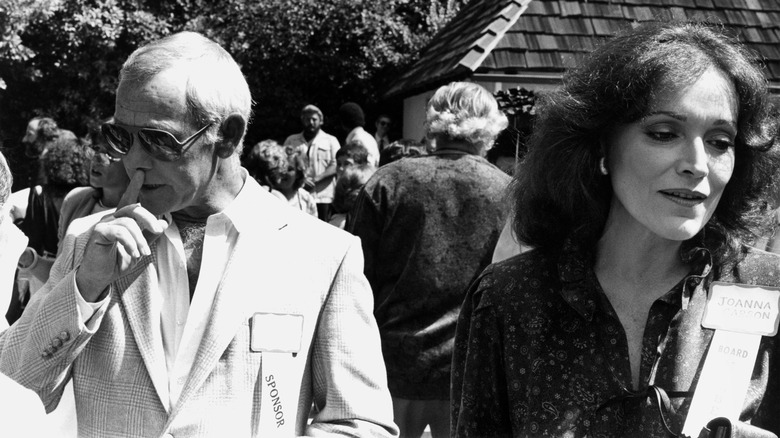 Michael Ochs Archives/Getty Images
Even though Johnny Carson became an intimate presence in the homes of millions, he was famously inaccessible and aloof. When the cameras were off, Carson garnered a reputation for being a shy and elusive man and what Johnny Carson was really like when the cameras were off was a point of intrigue throughout his celebrity life. When Carson agreed to the rare personal interview, he readily admitted to being private. When he sat down with Barbara Walters in 1984, Carson readily admitted to being shy dating back to childhood. He said being called "stuck-up," "aloof," and "cool," terms which all had been applied to him, were just labels for his shyness.
Mike Wallace marveled at Carson's candid self-reflection during a 1979 "60 Minutes" interview. When Wallace commented about Carson's perceived guardedness, Carson very plainly replied, "I like to keep certain things private. I probably do put up a barrier until I get to know people." "The Tonight Show" producer Stan Irwin noted in "American Masters: Johnny Carson" that Carson enjoyed being alone. As his friend Burt Reynolds observed in his memoir "But Enough About Me," "Johnny was a loner, but I don't think he was lonely. He enjoyed his own company, spending his free time at solitary pursuits like astronomy."