Zachary Levi Teases That A Chuck Movie Is Close To Becoming A Reality But Do We Really Need It?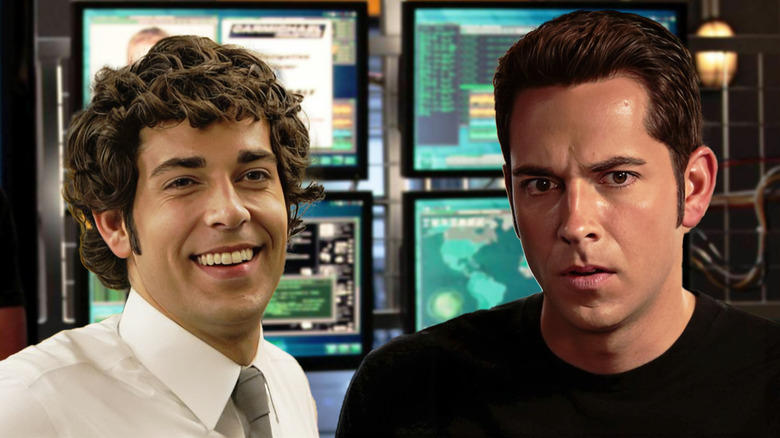 Static Media
These days, Zachary Levi is perhaps best recognized by the moviegoing masses for portraying the older, super-powered version of DC's man-child hero Shazam. Levi debuted the character in the surprise 2019 superhero hit of the same name, and has just reprised the role for the epic sequel, "Shazam! Fury of the Gods."  Despite the affection fans clearly have for the Shazam! family, it's still unclear if the characters have a place in James Gunn's DC Universe. Nonetheless, Levi has been hitting the promotional circuit hard in support of the film. And during a recent stop on "The Kelly Clarkson Show," the actor took a few moments out of his "Shazam!" spiel to talk about the cult-hit TV series that set him on the path to stardom.
That series was, of course, NBC's spy comedy "Chuck," which Levi fronted for five seasons before the network finally dropped the axe. "Chuck" has continued to boast a fiercely devoted fanbase since its 2012 swan song, however, and according to Levi, those fans may soon be seeing more of super-geek-turned-super-spy Chuck Bartowski via a revival. Levi has been talking about a "Chuck" reboot for years now, but it seems talks have been picking up of late, with the actor telling Clarkson, "I'm getting closer," noting cast and creatives are all on board to return. But we just can't help but wonder if they actually should. 
Chuck's series finale is just too perfect to risk going back for more
As noted, this is hardly the first time Zachary Levi has broached the topic of a "Chuck" revival, telling Michael Rosenbaum during a 2022 interview for the "Inside of You" podcast that he's been trying to work a "Chuck" movie since before the series even ended. He savvily noted that the "Chuck" team was in essence producing a mini action movie every week during the show's heyday. Hence it should be relatively easy to deliver a feature-length product for not that much more money.
Sound logic aside, the question Levi should be asking instead of whether or not a reboot could happen is whether or not it should. Because if the recent rash of reboots, revivals, and remakes have proved nothing else, its that some legacies are best left undisturbed. That may be truer for "Chuck" than most, if only because the series really did stick the landing with its final season. More specifically, it nailed its final scene, which found oft-star-crossed lovers Chuck Bartowski (Levi) and Sarah Walker (Yvonne Strahovski) attempting to reboot their series-long romance after some serious final season tumult, and doing so in a locale that lovingly winks back to the series' pilot episode.
Frankly, it's as pitch-perfect an ending as anyone could've anticipated (or even hoped for) with "Chuck." It is, of course, also open ended. But just because the door is open to return, that doesn't mean creatives should feel compelled to do so. And in this case, they might be wiser not to.
The final 2 seasons of Chuck also proved there's probably not much narrative left to mine
That's not to say there aren't any more stories to tell in the greater "Chuck" universe. Given the scope of that world, it would seemingly be quite easy to dip back in for a standalone film in the same way "Veronica Mars" did a few years back. Heck, it might even be fun to see "Chuck" follow suit and take an edgier turn at the action. 
But even "Chuck" diehards might admit the series' formula was wearing thin over its last two seasons. The show's fourth season was particularly problematic, with creatives serving up a painfully uneven 24 episodes that never stray far from filler. The show's abbreviated fifth season was undoubtedly stronger thanks to a renewed focus on its core characters. But even that final season was propelled by a soap-operaish storyline that ultimately plagues a key character with amnesia. Sure, the creative team spun that story relatively well. And yes, they really did stick the landing. But is there really anywhere for a show to go once it's been reduced to an amnesia story arc?
To be fair, if a "Chuck" reboot were to come together, we'd be among the first in line to check it out. "Chuck" remains one of the best and most shamefully underrated shows of its era. But we also can't help but think that if Zachary Levi and his Buy More-dwelling allies are smart, they'll leave fans to linger on that fateful, ocean-front kiss for all eternity.