Shazam 2's Helen Mirren Had The Best Response When A Stunt Broke Her Finger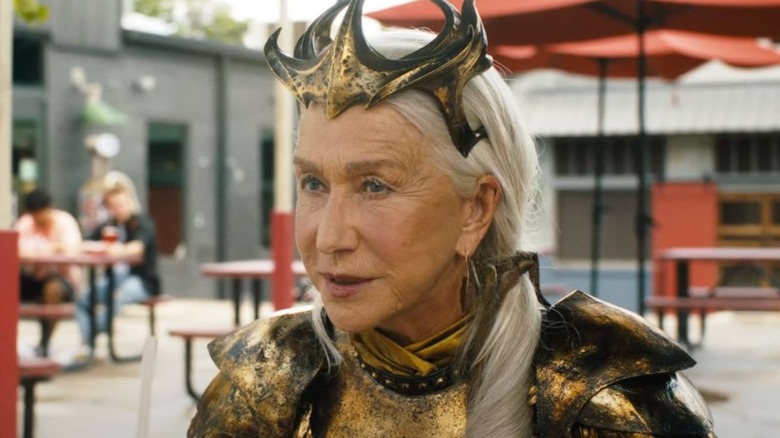 Warner Bros. Pictures
"Shazam! Fury of the Gods" is one of the most anticipated films of the year for many, and as tends to be the case with most superhero sequels, the ante gets upped in this next installment. For starters, the "Shazam!" follow-up gets a major boost in the cast department, with Dame Helen Mirren, Lucy Liu, and Rachel Zegler joining the cast as the Daughters of Atlas. They're there to cause trouble for the Shazam family, but it wasn't just Hespera (Mirren) who took a few hits in the film. 
Mirren and Zegler sat down for an interview with Good Morning America to talk about their involvement in the movie, and Mirren discussed how she suffered an injury while filming. It didn't sound like anything too bad, but Mirren broke her finger doing a stunt. She didn't specify which scene was the one she broke it on, but she was a total professional about it, saying, "I was very, as they say, stunt-y about it because, you know, stunt people never complain. They jump up from a stunt, and they're covered in bruises and cuts, and they're 'No, I'm fine.'" Mirren didn't make a fuss about it, as if fans needed another reason to have the utmost respect for "The Queen" actress. 
Michael Strahan said Helen Mirren was tougher than some football players
Warner Bros. Pictures
Dame Helen Mirren proceeds to show off her finger, which she affectionately refers to as her "Shazam finger" because it's slightly still crooked, resembling the lightning bolt on Shazam's costume. It's great to see she has a sense of humor, and pretty impressive that she was willing to do some of the stunts herself. After all, she's becoming quite the action star with her role in "Shazam! Fury of the Gods" as well as a recurring role in the "Fast & Furious" franchise as Queenie Shaw. 
"Good Morning America" host Michael Strahan compliments Mirren, saying how she's tougher than some of the football players he knows. If they were to break a finger, they'd get out of the game, but Mirren just kept on filming. She admits she didn't realize she had broken her finger until some time later, stating, "It was only much later on I realized I'd broken it ... I love doing that stuff. It's just so, so exciting ... I wanted to do as much of it as I could."
Plenty of the young up-and-coming action stars could learn a thing or two from Mirren. As for everyone else, you can see the actress become an outstanding villain in "Shazam! Fury of the Gods," which is in theaters now.