How To Stream All The John Wick Movies Ahead Of Chapter 4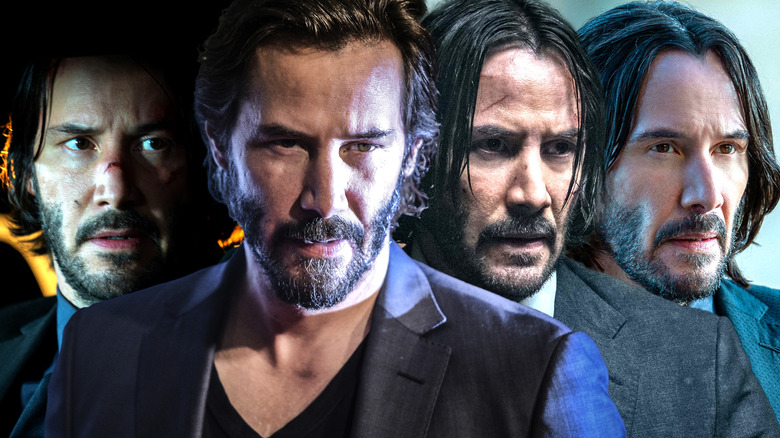 Static Media
It hardly feels like it, but almost three years have passed since moviegoers last saw John Wick breaking bones and blasting away on the big screen in "John Wick: Chapter 3 — Parabellum." But even as the memories of that hyperviolent thrill ride still linger strong in the minds of franchise faithful, it's safe to assume those fans have been jonesing for "John Wick: Chapter 4" since the credits rolled on "Parabellum." Those fans know the wait to see what cruel fates Mr. Wick and his allies have yet to face is almost over.
We are, in fact, mere days away from the release of "John Wick: Chapter 4," with the film officially set to release on March 24. If the trailer for the next chapter in the "John Wick" franchise is any indication, it's set to deliver more bare-knuckle bruising and gun fu fury than any of its predecessors. As for those predecessors, fans might recall there's a pretty intricate little storyline running through the three films. As such, even diehard Wickers might be in need of a full franchise refresh before grabbing a ticket for "Chapter 4." And if you're among them, you'll be happy to know you can currently revisit all three "John Wick" films with a subscription to Peacock.
Peacock is not your only option to revisit the John Wick franchise this week
That's right, "John Wick," "John Wick: Chapter 2," and "John Wick: Chapter 3 — Parabellum," are all available on Peacock streaming service for anyone looking for a full franchise binge prior to the release of "Chapter 4." And in all honesty, with plans for the service ranging from $4.99 a month (with ads) to $9.99 a month (ad-free), grabbing even a month of Peacock might actually be the most bang for your buck way to indulge in such a binge ahead of "Chapter 4."
Peacock is far from your only option for that franchise refresher, of course, as every film in the "John Wick" franchise is readily available via the video-on-demand market. At the moment, you can rent the first three chapters of the "John Wick" franchise on iTunes, Amazon Prime, Vudu, and other platforms for $3.99 each. You can also buy a digital copy for $7.99 a piece, with iTunes and Amazon Prime offering package deals to buy all three for less than $14.99. All streaming options for the trilogy are in HD or 4K.
If physical media is more your speed, you can always do a rush order on Blu-Ray versions of each film, though prices will vary dramatically on such purchases. There are indeed package deals on physical copies too, with new Blu-Ray and 4K SteelBook three-movie bundles listed on Amazon, each generally under $30. And we dare say that's a deal even Mr. Wick wouldn't hesitate to make.