Pedro Pascal Thinks Bo-Katan Is The Most Exciting Character In The Mandalorian S3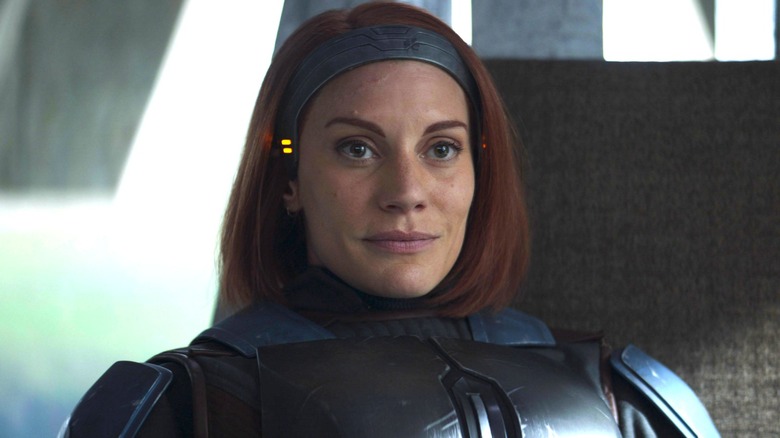 Lucasfilm
Thanks to "The Mandalorian," "Star Wars" fans have gotten to see some of their favorite "The Clone Wars" characters represented in live-action. Katee Sackhoff, who voiced Bo-Katan Kryze in "The Clone Wars," reprised the role in Season 2 of "The Mandalorian." No stranger to iconic sci-fi characters, casting an alum of "Battlestar Galactica" was an easy choice. A stark contrast to Din Djarin's (Pedro Pascal) religious fanatic, Bo-Katan has no problem taking her helmet off. As the natural heir to Mandalore, it is her right to wield the historic Darksaber, even though Din is the one who currently carries it. But despite their rivalry in Season 2, Pascal seems to be Bo-Katan's number-one fan.
"One of the things I'm most excited about is Bo-Katan in season 3," Pascal told Entertainment Weekly ahead of the premiere. "So I'd have to hand it over to Katee Sackhoff. I trust her more than I trust myself." In light of Din's struggles in mastering the Darksaber, it isn't hard to be impressed by Bo-Katan. She exemplifies the Mandalorian way of life and matches Din's passion for their people. But if you thought that Bo-Katan would be set on the same predictable path this season, you would be wrong.
Bo-Katan surprises when she doesn't take the Darksaber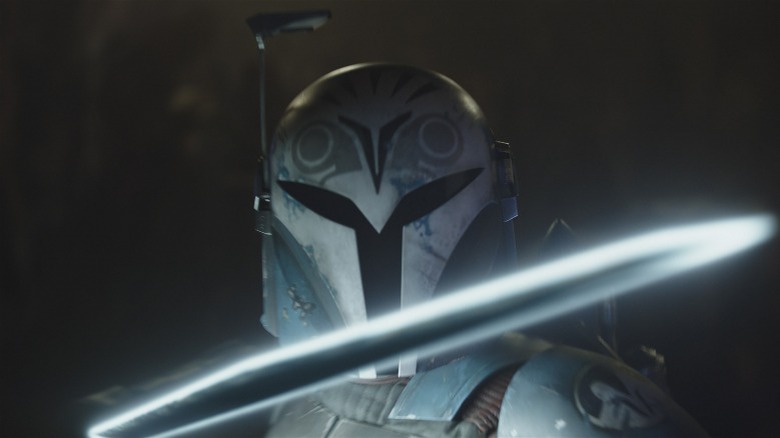 Lucasfilm
When Pedro Pascal called Bo-Katan exciting, he wasn't kidding. In fact, she goes in the complete opposite direction from when we saw her last. After going on a mission with Grogu to rescue Din from a spider droid, Bo-Katan finds her hands on the Darksaber again in "The Mandalorian" Season 3. She dispenses with the threat, saving Din from imprisonment and torture. However, the true surprise comes when she allows Din to take back the Darksaber. Even though she admits that her people abandoned her when she didn't return with the weapon, she doesn't have the same passion for fighting as she did in Season 2.
"I think that her problem is that she realizes that she's not going to fight her people anymore," Katee Sackhoff told Deadline. "She's not going to fight someone who she doesn't have a reason to fight. Every single possibility, every place that she's at right now, every direction she's done before didn't work before. That's what she's trying to figure out."
While helping Din reach his destination of the Mines of Mandalore, she gives insight into her frame of mind. The Empire wiped out Mandalore because the locals were so busy fighting each other. With time and contemplation, Bo-Katan realizes that The Way must include uniting her people, not fighting Din for a symbol. Of course, Sackhoff was tight-lipped about what is in store for her character but has previously hinted that Bo-Katan's future in Season 3 may contain more excitement.