The Untold Truth Of Hardcore Pawn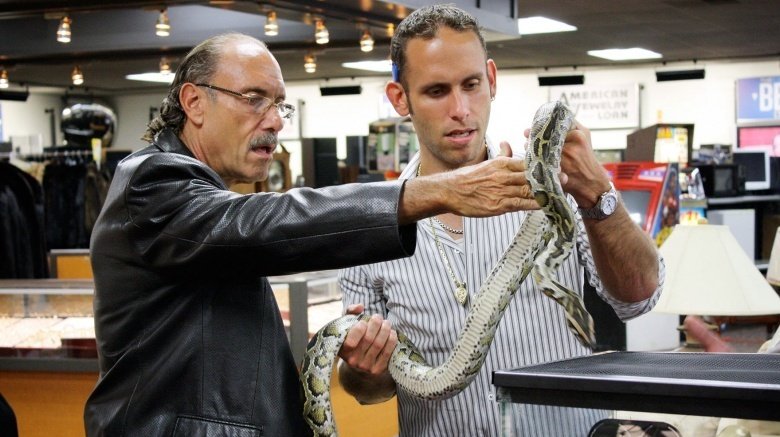 The stars of Hardcore Pawn will tell you that a story comes with every item that passes through their shop's doors, and they're not kidding. Every time someone walks into American Jewelry & Loan in Detroit, Michigan carrying an old engagement ring, signed hockey jersey, or a slightly used iRobot automated vacuum cleaner, there's a whole lot of history that comes along with it. That's what makes a pawn shop such an interesting place to set a reality show, to which Hardcore Pawn's five-year run on truTV will attest. 
Of course, not every story is created equal. Only a small fraction of those stories actually makes it on the air. The rest, alas, are left on the cutting room floor, to later be dusted off and presented here. If you've ever wondered about the real stories behind the counter at Detroit's favorite televised pawn shop, then you're in luck. Open up your safe and pull out your antique reading glasses: this is the untold truth of Hardcore Pawn. 
American Jewelry & Loan once owned Dr. Kevorkian's van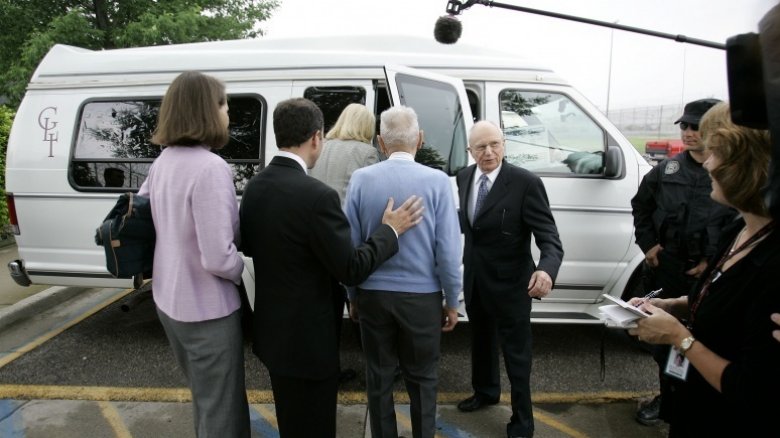 In one of the more morbid transactions in pawn shop entertainment history, American Jewelry & Loan once purchased Dr. "Death" Jack Kevorkian's van, according to the New York Daily News. Les Gold bought the 1968 Volkswagen Minibus, in which Dr. K performed about 130 assisted suicides, from a scrapyard in 1997 for $20,000. Gold then owned the Deathmobile, as it's known, for almost 20 years, until selling it for a $5,000 profit in 2014 because it took up "too much room."
Seth Gold is a man of the people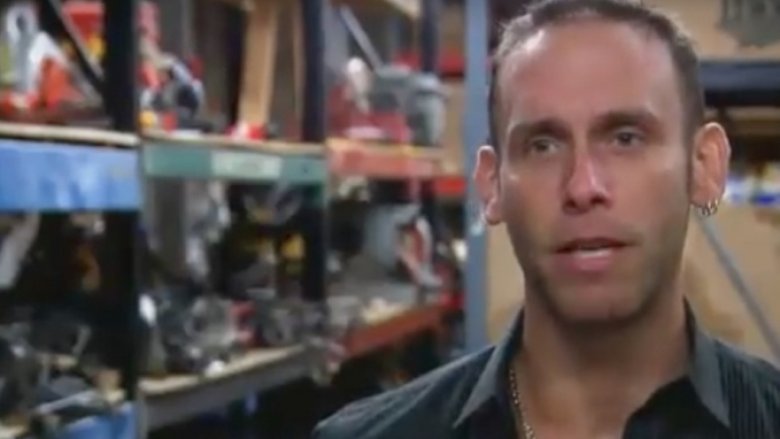 In December 2014, Michigan state senators wanted to introduce a bill that allowed pawn shops to increase the interest they charged on pawned items by 20% per month. While this sounds like something shop owners would support wholeheartedly, Seth Gold of American Jewelry & Loan actually opposed the measure, explaining to ABC News, "Our business is predicated on people getting their stuff back... if you make the interest rate higher, the default rate is going to explode." With that kind of civic commitment Gold could run for office, although we'd never suggest anyone give up the noble calling of pawn-shopping to go into politics.
Seth Gold thinks pawn shops are beneficial to society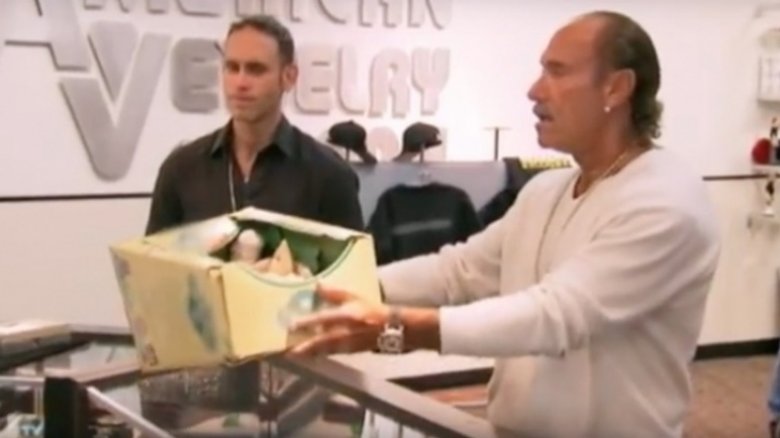 This one probably isn't much of a surprise, considering Seth Gold co-owns a pawn shop with his father, but his reasoning has some merit. According to an interview with the Las Vegas Sun, Gold believes they offer people "alternative-financial institutions," as opposed to banks. He continued by saying patrons "still have birthdays, still have anniversaries," because pawn shops allow them to persevere in the face of financial struggles. Don't be surprised if years from now people stop telling their children stories about Santa and the Tooth Fairy, and begin telling stories about Seth Gold.
They're patriots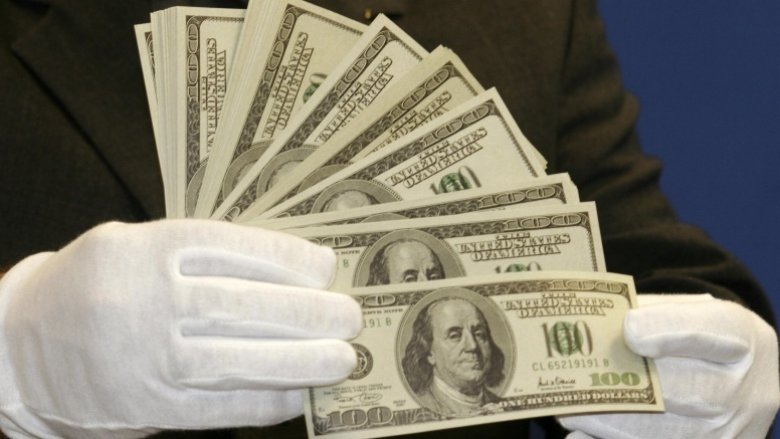 Not only are the Golds men of the people, the folks at American Jewelry & Loan are also patriots. Back in 2012, they helped the U.S. Secret Service nab Kenny "Boom" Smith, who attempted to sell some bogus greenbacks and a counterfeiting machine to the famous pawn shop. But Les Gold really thinks the fool was just after his 15 minutes of fame, as Smith signed a waiver to appear on the show. It's unlikely that Smith has a future in television, except maybe as a regular on World's Dumbest.
Ashley Gold Broad runs an honest shop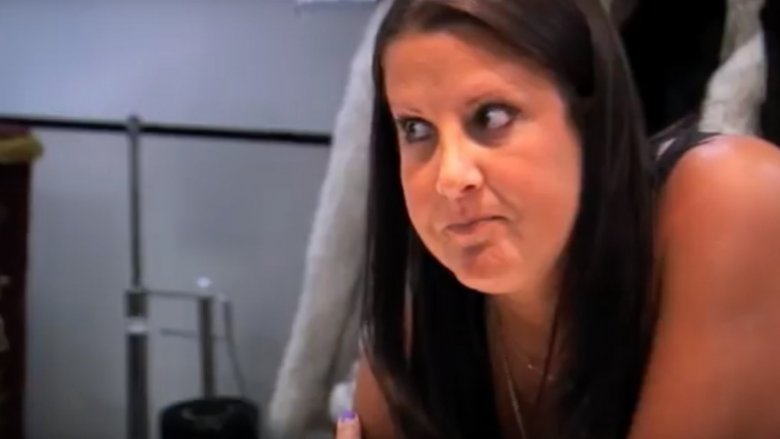 In an interview with the Las Vegas Sun, Ashley Gold Broad told a story from a few years prior, when a woman came into the shop seeking $100 for a bag of stones. Broad looked through the bag and found a Burmese ruby, which a certified gemologist appraised at $10,000. Rather than take advantage, Broad did the honest thing and gave the woman the ten grand. While some would see that as an amazingly kind gesture, Broad insists she just thinks of it as good business.
Ashley Gold Broad's family loyalty may be questionable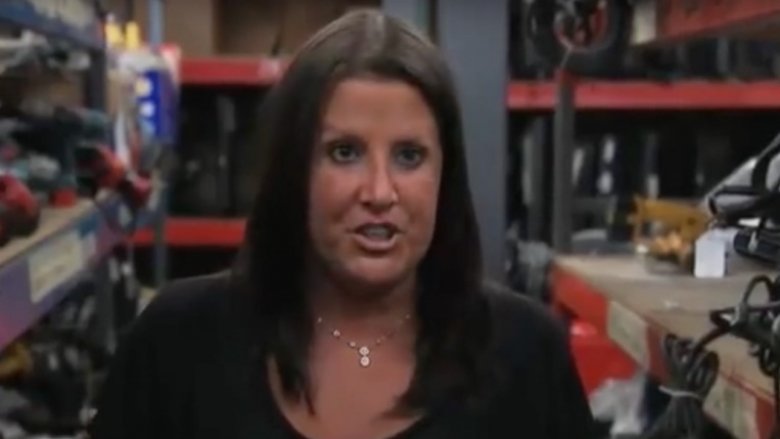 Ashley Gold Broad may not be the type to always put family first. In December 2015, she left both the show and the family store to strike out on her own, opening an online retail outlet, Pawn Chick Shopping. Broad claims she made the decision because she wanted to spend more time with her husband and kids. This may be true, but she also seems to think she can do better than her father and brother. That's cold, even for a pawn shop employee.
They have celebrity clientele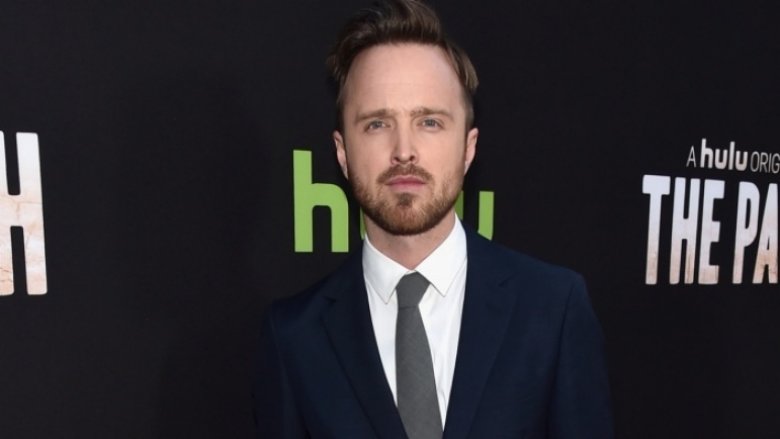 Okay, so American Jewelry & Loan may not have hundreds of celebs stepping through their doors every day, but the one that can be verified is impressive. Breaking Bad's Aaron Paul once visited the store in search of a gold bar with an inscription reading "Yeah, B—!," according to the Detroit Free Press. Of the event, Ashley Gold Broad said, "I'm able to accommodate a lot of people at the shop, but that one didn't happen." Still, you know if Bryan Cranston asked for it, they'd move Heaven and Earth to make him happy. He's the one who knocks, after all.
One episode has a tragic postscript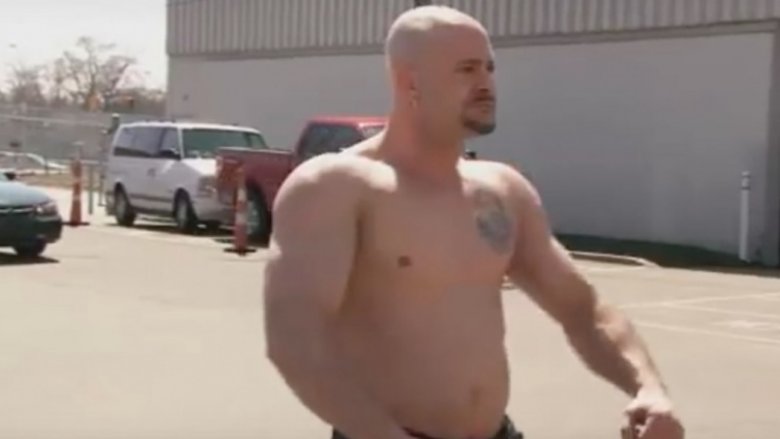 American Jewelry & Loan may not be the safest place to visit, even by pawn shop standards. Detroit resident David Kapuscinski, who made a memorable appearance on the show in 2013, was killed two years later in a confrontation with police. According to reports, Kapuscinski failed to obey verbal orders from officers called to his apartment during a domestic disturbance, which resulted in repeated tasering. Kapuscinski's girlfriend claimed it was a misunderstanding, and told reporters that the thick-headed bravado he displayed on the show was just part of a setup for the series.
Two of the Chicago guys got busted for foolishness, essentially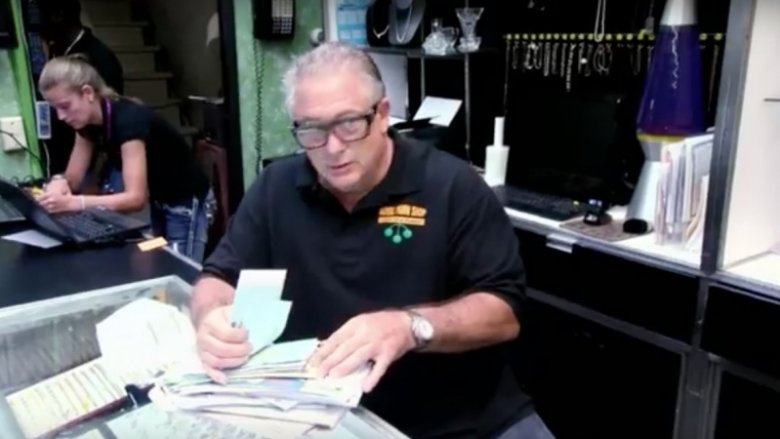 While the Detroit Hardcore Pawn shop runs like a well-oiled machine, the Chicago location, Royal Pawn Shop, needs a few bugs worked out. For starters, they need to vet their new hires better. In 2014, two employees, Jeremy Jackson and Karl Bell, got busted for not only stealing from the shop, but trying to sell the stolen goods back to Royal Pawn, according to TMZ. Apparently these two thought the owners wouldn't notice Rolex watches and jewelry going missing, because things like thousand-dollar watches are routinely misplaced. No word on how stiff their sentence was, but it seems unlikely that they used much of their time in jail to think.
But some of the employees are like family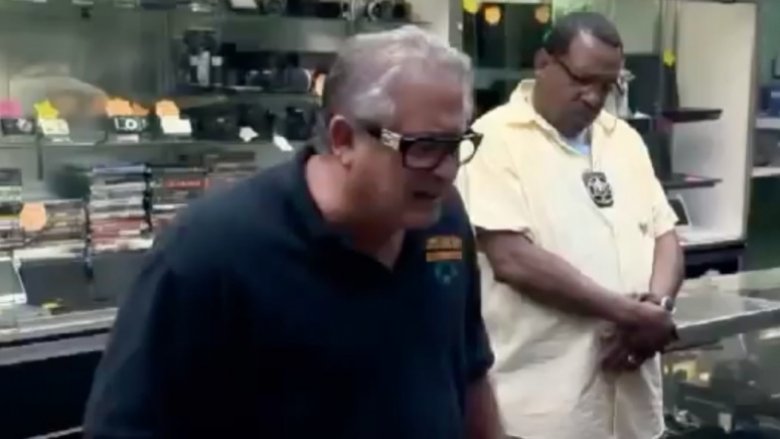 A few months after the two lunkheads got themselves arrested, Chicago's Royal Pawn Shop suffered a tragic loss. Security guard Carl "Carlos" Deals, who really had the best name for a pawn shop employee, was found unresponsive at his home and later pronounced dead by Cook County's medical examiner. Of his deceased employee, shop owner Randy Cohen said, "As big as he was, that's as big of a heart Carlos had...I miss him already."
Why are they always in the same clothes?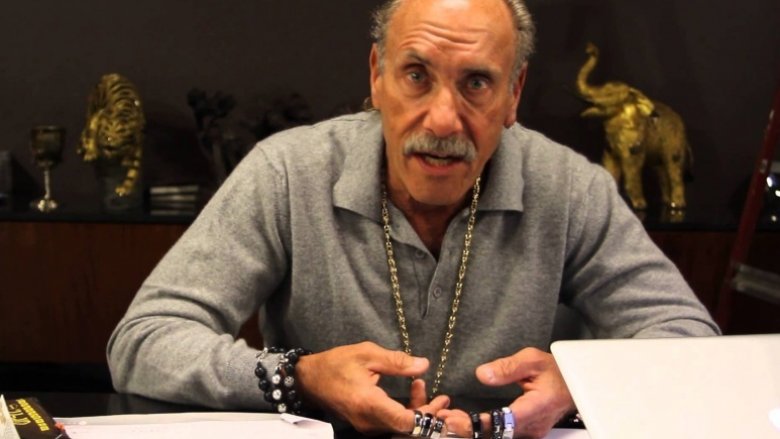 Ever wonder why the main cast of the show is often seen wearing the same outfit on air? Well, according to an April 2016 "AMA" chat with Les and Seth Gold on Reddit, it has less to do with being clueless to today's trends and more to do with continuity. "I have twelve of the white sweaters at least," Les revealed. "We wear the same clothing day to day for continuity purposes on the show." The same apparently applies to Seth. "Seth only has one outfit, too," he said.
Unscripted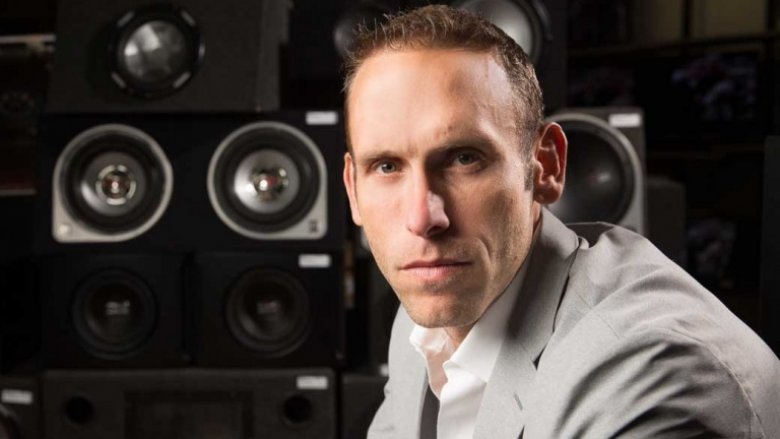 Over the years, many reality TV shows have been accused of or exposed as being fake. What about Hardcore Pawns? If Seth is to be believed, the show is 100 percent real. "We're pawnbrokers, not actors," he said in his Reddit AMA chat, when asked if customers ever turn it up for the cameras.
He continued: "The truth is, these are real customers. Also, the stuff you see us buy on the show? You can see that it's real, too, because we have things you've seen on the show for sale on our showroom floor, or at pawndetroit.com."