Fan Art Casts Timothee Chalamet As Marvel's Loki (& The Resemblance Is Uncanny)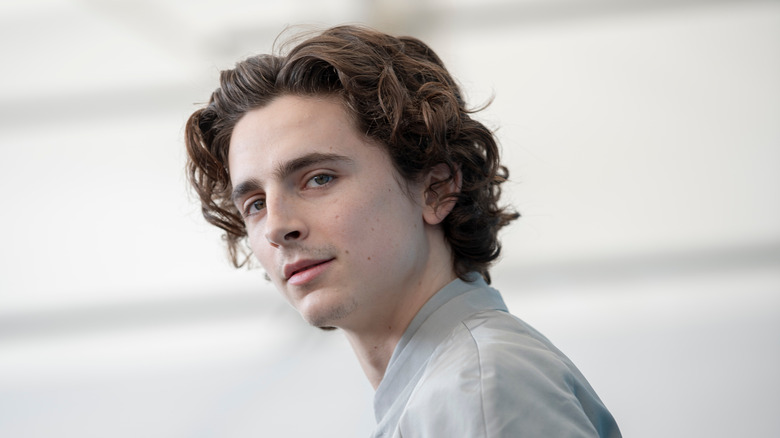 Denis Makarenko/Shutterstock
Imagine Loki getting smashed into the floor, over and over, by the Hulk in "The Avengers." Now imagine him getting choked until purple-faced by Thanos in "Avengers: Infinity War." Now imagine him bantering with Chris Hemsworth's Thor in — well, always. Now imagine Timothée Chalamet doing all that.
That's essentially what someone has done on Instagram. Following the release of "Dune" in 2021, digital creator Bosslogic shared fan art that depicted Timothée Chalamet in Loki's iconic horned helmet and green cape, thus creating an alternate universe in which Tom Hiddleston had been replaced by the "Call Me by Your Name" actor. The juxtaposition was surprising, but even more surprising was the similarity between Chalamet and Hiddleston.
With his dark hair, angular face, and skinny frame, Chalamet looks right at home as the God of Mischief. And perhaps it's Chalamet's reputation for playing pale, sullen characters, but he seems like he could easily replicate the conniving Asgardian's general vibe as well. However, he still appears to retain some very Paul Atreides-like features, as the base photo is from "Dune."
The art integrates elements from Dune into Loki's classic costume
Instagram user Bosslogic — who has steadily put out high-quality art for various projects throughout the years — clearly felt inspired by Timothée Chalamet's starring role in 2021's "Dune." Captioning the image of Chalamet as Loki with, "Watches ['Dune'] once," the creator signaled an appreciation for the Oscar-winning movie.
He also appeared to dress up Chalamet in one of the snazzy still suits and headscarves that Chalamet's character Paul Atreides wore through the deserts of Arrakis in "Dune." On top of that, Chalamet seems to be holding a crysknife in the sandy scene. Of course, it could be any knife, but judging by the picture's other "Dune" references, it's likely the knife that Atreides uses in his fight against Fremen Jamis.
Could this fan art have encouraged Marvel Studios to cast Chalamet as one of Loki's many variants in the upcoming "Loki" Season 2? Probably not, but we can dream.