Julia Louis-Dreyfus Loved Recreating Seinfeld's Set On Curb Your Enthusiasm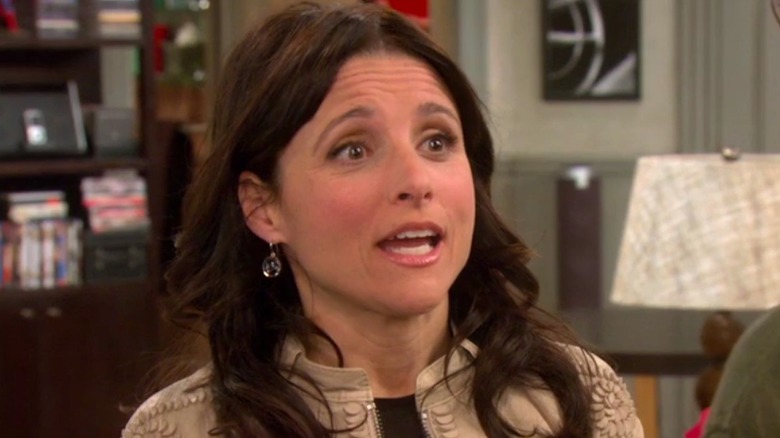 HBO
Julia Louis-Dreyfus' most notable role is, of course, Elaine Benes, one of the main characters of the iconic sitcom "Seinfeld," which she played for nine seasons. But that ended up not being the end of Louis-Dreyfus' time playing Elaine — although, interestingly, without the existence of a "Seinfeld" reboot.
Louis-Dreyfus appeared as a fictionalized version of herself for a handful of episodes in Seasons 1 and 2 of "Curb Your Enthusiasm," then came back in Season 7 for a storyline about a reunion special of "Seinfeld" — in which she got to play herself playing Elaine. The meta storyline is a delight for "Seinfeld" viewers to watch — especially since she is far from the only "Seinfeld" actor to return to the familiar, yet modernized, set — and makes for some of the best episodes of the series. And, as it turns out, it was a delight for Louis-Dreyfus to be able to step back onto the set that she spent nearly a decade acting on.
Louis-Dreyfus enjoyed the meta nature of returning to Elaine on a modernized set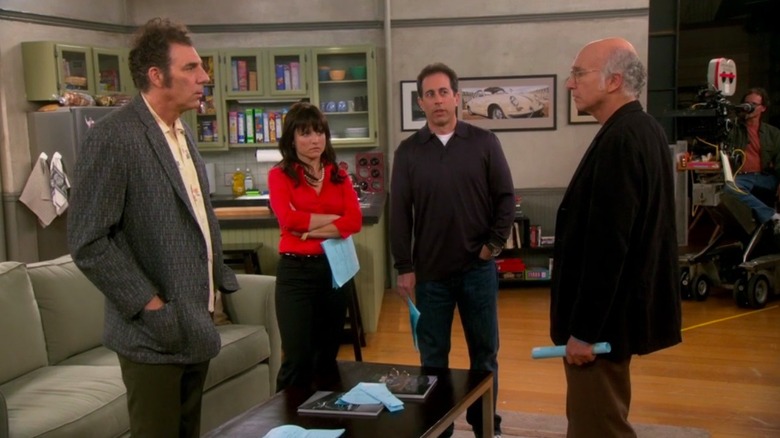 HBO
During an interview with Vanity Fair, in which she breaks down the most significant points of her career, Julia Louis-Dreyfus explained that she got involved with "Curb Your Enthusiasm" simply because Larry David — aka the co-creator of "Seinfeld" asked her to. This, later on, led to the storyline in which Larry concocts the idea for a "Seinfeld" reunion show as a means of winning back his ex, Cheryl (Cheryl Hines). Thus, a "Seinfeld" reunion occurred within the story arc of "Curb" — and, even though the reunion was technically fictional, the reconstructed set was not.
Louis-Dreyfus explained, "That was crazy fun because we all got back together again, they rebuilt the set ... it was sort of a modern version of the 'Seinfeld' apartment."
The actress also discussed the details of the story within a story, which proved to be quite an interesting and complex way for her to return to the character of Elaine. Louis-Dreyfus said, "To be able to play Elaine and then also to play me working on playing Elaine, that was kind of bizarre and kind of meta but cool."