Shadow And Bone's Season 2 Map Transitions Are A Lifesaver
Netflix
Like all great fantasy stories, Netflix's "Shadow and Bone" explores a wide, diverse, and majestic world, this one adapted from the Leigh Bardugo book series of the same name. Season 1 of the series was all over the place in terms of keeping up with the locations from one scene to the next, but the 2nd Season has remedied that confusion.
Netflix tweeted out a handy map back in April 2021 to guide viewers through the 1st Season, but this still required fans to pause the show and consult the image. But in Season 2, map transitions between scenes show viewers exactly where in the Grishaverse Alina Starkov (Jessie Mei Li) and her associates are headed.
The change is proving to be a success with fans on social media, with @thereafter taking to Twitter to share, "i am loving the map transitions. i'm getting early ["Game of Thrones"] vibes." The on-screen transitional graphics are being praised for their easy-to-follow summary of geographical locations.
Fans say the maps make it easier to know specific Grisha universe locations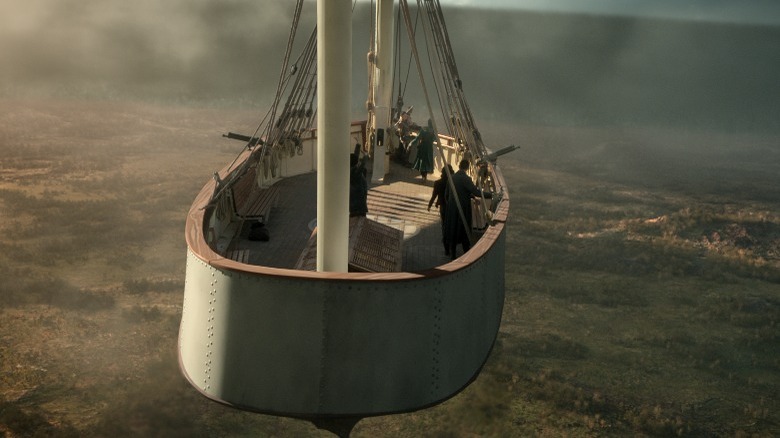 Netflix
One thing viewers need to know about "Shadow and Bone" is that the Grishaverse is modeled on the massive topography of Imperial Russia before 1917. This helps to explain the multiple cultures and unique geographical features of each nation in the series. For fans, the transitions in Season 2 that show the location of the scene on the wider map are proving to be even more helpful than in the novels.
Viewer @thenightwindovv tweeted how the location pinging on-screen looks great and removes the need to manually consult Grishaverse maps in the novels or other ways. This is especially useful for fans like @xomarenahxo, who praised the utility of the map transitions and added, "ngl i'm very lost when it comes to the geography of this world and i've read the books."
On the program's subreddit page discussing the Season 2 premiere, u/F00dbAby shared, "The introduction of the map is the best idea for season 2." For some viewers, these map transitions caught them off-guard. Redditor u/viper459 commented, "i literally was googling the location where they were, i unpause, and one whole second later the map shows up lmao." 
"Shadow and Blood" Season 2 is currently available to stream on Netflix.