Andrew Santino Begged To Star In Ricky Stanicky Years Ago (& For Free At That)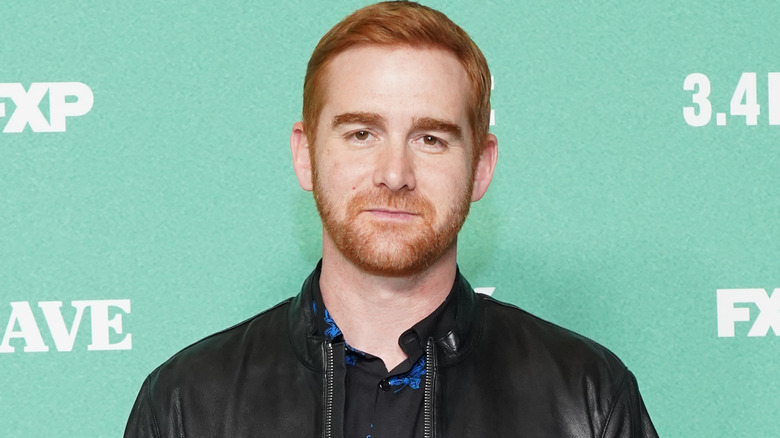 Rachel Luna/Getty Images
"Ricky Stanicky" is a long-gestating comedy that's been in the works for a while. Back in 2013, Variety reported how the film was going to star Jim Carrey and be directed by Steve Oedekerk. That plan obviously didn't pan out, but it seems as though things are finally moving forward now that the movie has begun filming with Peter Farrelly of "Dumb and Dumber" and "There's Something About Mary" fame now behind the camera. 
Amazon Prime Video has acquired the rights for the film, which is about a group of three friends who create an imaginary persona, Ricky Stanicky, to take the blame for all of their shenanigans. But when their wives demand actually to meet Ricky, they hire an actor to play him. The movie's currently shooting in Melbourne, Australia, with Zac Efron, John Cena, William H. Macy, and Andrew Santino set to star. 
Santino's actually been aware of this movie for a while and has wanted to star in it for a long time. He even told Steve-O on his podcast how he would be willing to do the movie for free because he wanted to be in it so badly.
Larry David vouched for Andrew Santino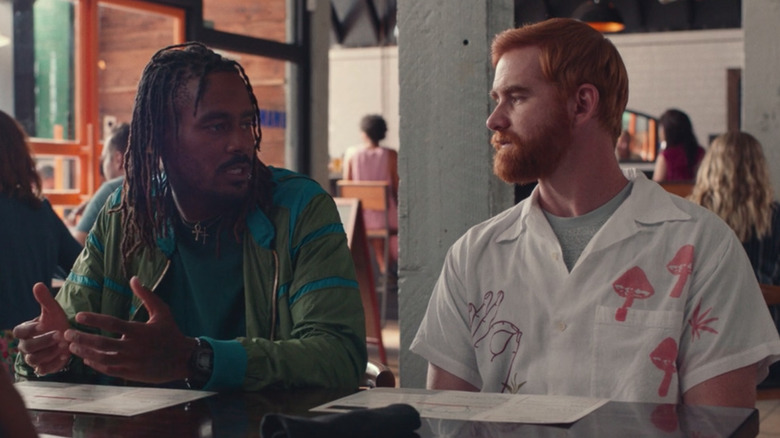 FXX
Andrew Santino has worked as a stand-up comedian and actor for a while now, initially getting bit parts in "The Office" and "Arrested Development," before landing a sizable role on the FXX series, "Dave." He's also appeared in recent comedies like "Me Time" and "House Party," but it sounds like he's been trying to land a spot in "Ricky Stanicky" for a while now.
Appearing on the "Steve-O's Wild Ride" podcast, Santino spoke about how he's been trying to get in "Ricky Stanicky" for a decade at this point until he finally caught up with Peter Farrelly, who let him know it was finally happening. And it helped that Santino got the Larry David bump. Santino actually appeared in an episode of "Curb Your Enthusiasm" in 2020, and he was immensely grateful that David backed him up. As he told Steve-O, "The politeness of [Larry David] was huge because he didn't have to say s***. He was kind of on his way through ... But he kind of hyped me up a little."
Whatever Larry David said worked because Santino will appear in the movie down the line. It sounds like he's even already filmed his role. There's still not a release date for "Ricky Stanicky" at this point, but you can next see Santino when "Dave" Season 3 premieres on FXX on April 5.