Dave Season 3 - What We Know So Far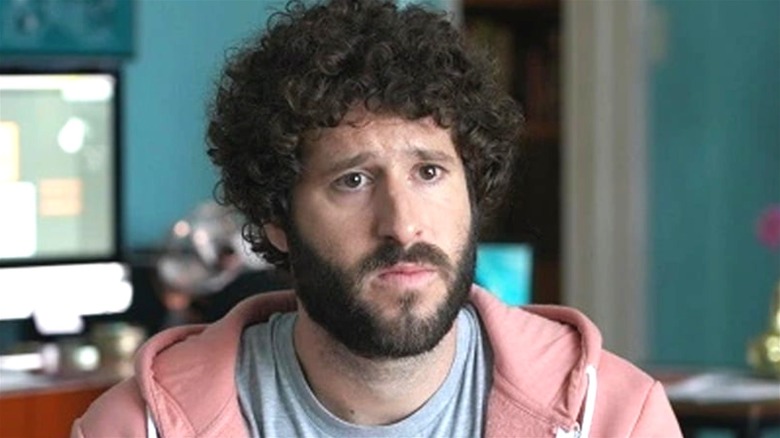 FXX
What do you get when you cross a middle-class upbringing, a case of hypospadias, and a love for hip hop? Apparently, you wind up with the latest rapping sensation to come out the floodgates over the last few years — Lil Dicky.
The rapper took the same route to stardom so many others pursued at the beginning of his career. He found success on YouTube, with many of his songs receiving tens of millions of views. His surprisingly impressive flow and hilarious lyrics made him an instant hit with people from around the country. While he hasn't been shy of sharing his personal upbringing and medical issues through his music, he's let his fans in deeper than ever before thanks to his hit FXX series, "Dave."
Lil Dicky plays a slightly fictitious version of himself on the show that offers a behind-the-scenes look that pretty much shows how he became one of the hottest rappers working today, although we're betting striking up conversations with Doja Cat on dating apps may have some creative freedoms associated with it. While FX Networks hasn't announced Season 3 is in the works, it seems like more episodes are probable. After all, Season 1 was a massive hit in terms of streaming numbers (via Variety). Here's everything we know at this junction about "Dave" Season 3.
What's the release date for Dave Season 3?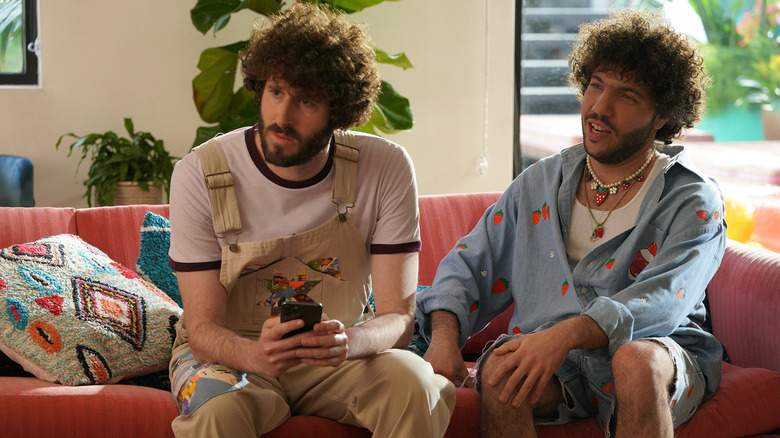 FXX
Without an official confirmation "Dave" Season 3 is even happening, there's no word on when we might see this hypothetical batch of episodes. However, we can make a pretty good educated guess. 
Season 1 first began airing episodes in March 2020. Naturally, this was around the time of massive shutdowns in light of the COVID-19 pandemic, which likely threw a wrench into how soon they could get started on a follow-up. Season 2 premiered in June 2021. That's 15 months in between seasons, so going off of that timeframe, we'd expect Season 3 to drop sometime around August or September 2022. 
Assuming there are no prolonged delays from the pandemic, it's possible cameras could get rolling sooner than anticipated. It could very well come out around the same time next year as it did in 2021. However, you'll need to keep checking back with Looper to see when exactly you can witness more poignant comedy. 
Who's in the cast for Dave Season 3?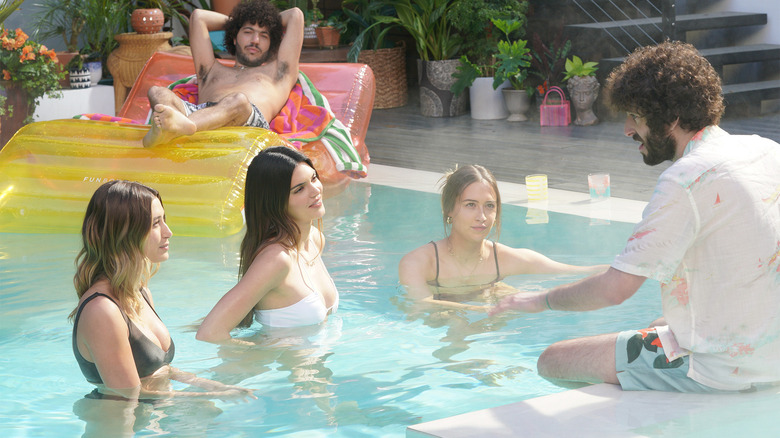 FXX
Fans should expect much of the same cast to come back for round three. That includes the titular Dave Burd (Lil Dicky himself) returning to play a neurotic, fame-obsessed version of his real-life persona. He should have his right-hand man, GaTa (Davionte Ganter), by his side, too, along with the rest of the main characters like Mike (Andrew Santino), Ally (Taylor Misiak), Emma (Christine Ko), and Elz (Travis "Taco" Bennett).
While they'll all be sights for sore eyes, one of the best parts of the first two seasons involves seeing what celebrities Lil Dicky manages to get to make cameos. The first two seasons alone have brought us Macklemore, Justin Bieber, Kevin Hart, Lil Yachty, J Balvin, Kendall Jenner, and Hailey Baldwin, to name a few. Who knows what kind of megastars he'll be able to get now that the show's on its third season? We're still holding out hope Drake will return to his acting roots and show up here at some point.
What's the plot of Dave Season 3?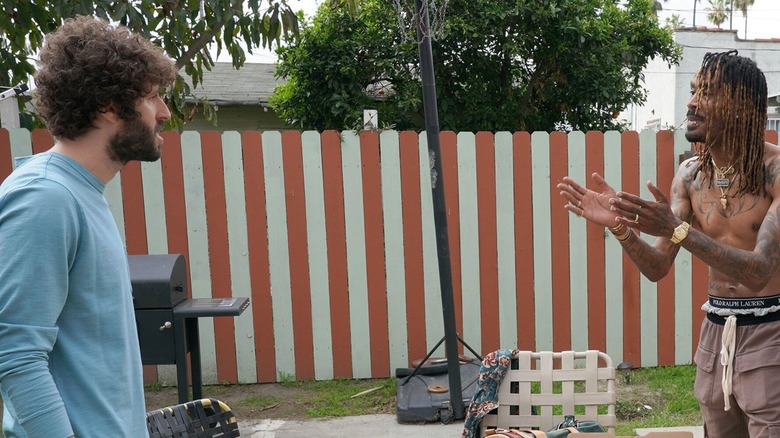 FXX
The Season 2 finale of "Dave" established two things. First, his ex-girlfriend, Ally, has moved on with another guy. Second, Dave seems to be in a much better place mentally where he's content that his album wasn't the biggest hit in the world. He's on tour with his friends, and that's good enough for now. 
Season 3 will likely explore the ramifications of both of these developments. Dave has tried to remain friends with Ally in Season 2 after breaking up with her in Season 1. Now that she's moved on (and it looks pretty serious), it remains to be seen how Dave will react. As far as his career, Dave has a lot of plotting to do moving forward. Not only has he now got to think about his sophomore album, but he's taken more of an interest in launching GaTa's rap career, too. He could very well turn out to be a bigger deal than Dave, and that would cause some definite frustrations on his part.
There's one thing we can say with certainty about "Dave" Season 3. There will be plenty more penis jokes to come.