Why Penny's Brother From The Big Bang Theory Looks So Familiar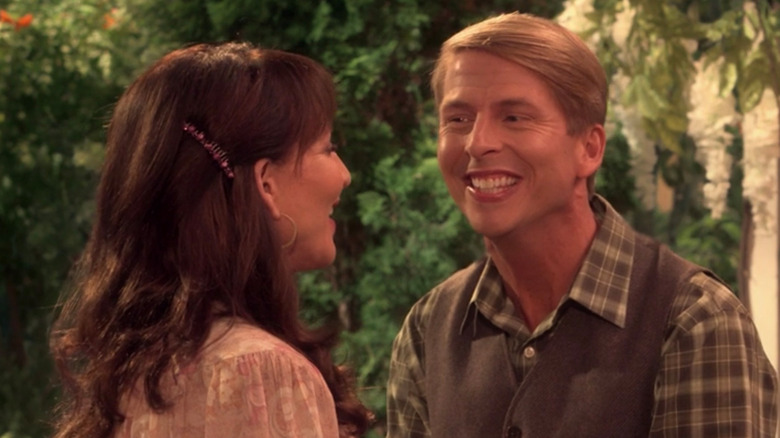 CBS
When you're watching a movie or TV show, nothing's quite as frustrating as when you recognize one of the performers but can't quite place where you've seen them before. Worse, a quick Google search yields little more than a list of their credits, without elaborating on the characters they'd played. Looper is here to help.
During the Season 10 premiere of "The Big Bang Theory," Leonard (Johnny Galecki) and Penny (Kaley Cuoco) are finally set to tie the knot. Naturally, complications ensue–specifically a hookup between Leonard's father Alfred (Judd Hirsch) and Sheldon's (Jim Parsons) mother Mary (Laurie Metcalf). On top of that, the show finally introduces Penny's dysfunctional family, including her brother Randall. Like the rest of Penny's family, Randall wants to impress Leonard's family. That's made more difficult because Randall is fresh out of prison for selling crystal meth (which, it turns out, everyone is totally fine with). 
Randall is played by the always affable Jack McBrayer. He's no stranger to comedic roles, so here's where you might have seen him before.
Jack McBrayer played Kenneth Parcell on 30 Rock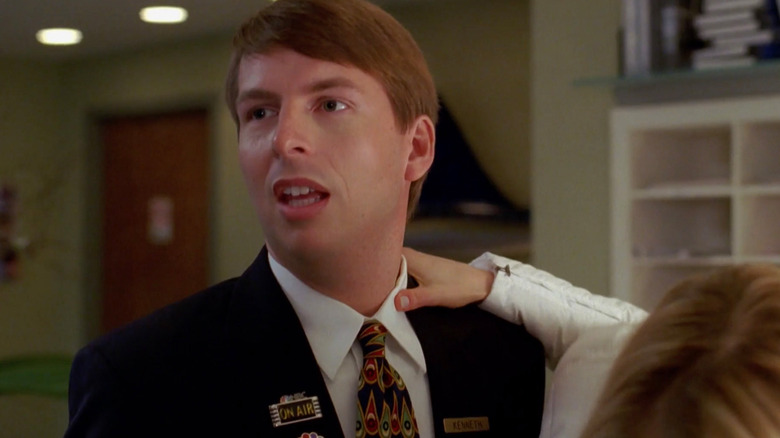 NBC
Most people reading this probably recognize Jack McBrayer as Kenneth, the naive and optimistic NBC page who works at 30 Rockefeller Center on the fictional "The Tracy Jordan Show" on "30 Rock" (2006-2013). Kenneth is both McBrayer's breakout role and his most recognizable one.
The son of a pig farmer from Stone Mountain Georgia, Kenneth is a wellspring of non-sequiturs about small-town southern life. Kenneth has loved television for his entire life, which is why he's willing to do any dirty job necessary to keep "The Tracy Jordan Show" moving. This is also why he puts up with being the butt of jokes from the show's writers and staff. Finally, Kenneth is memorable for being one of the few sitcom characters who's literally immortal, a fact that was confirmed in the "30 Rock" finale. Overall, Kenneth is responsible for some of "30 Rock's" funniest moments. 
The role wasn't much of a stretch for McBrayer. A veteran of Chicago's sketch comedy scene, McBrayer got his start by making frequent appearances in sketches on "Late Night with Conan O'Brien," often playing an NBC page who worked on O'Brien's show. In fact, when McBrayer auditioned for Kenneth at 30 Rockefeller Center, he borrowed the page jacket from "Late Night's" wardrobe department. McBrayer told the story in a recent interview with O'Brien.
Jack McBrayer played Darald in Forgetting Sarah Marshall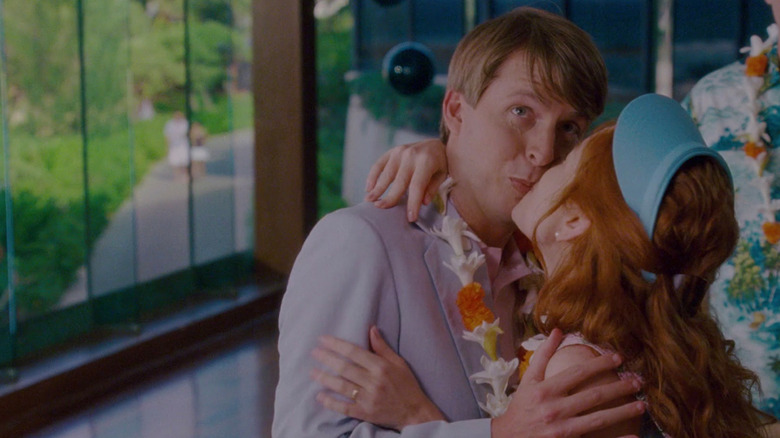 Universal Pictures
Two years after landing his breakout role on "30 Rock," Jack McBrayer had a major supporting role in "Forgetting Sarah Marshall." The Nicholas Stoller comedy stars Jason Siegel–who also wrote the screenplay–as Peter, a happy-go-lucky score composer for a popular TV cop show. The story begins when Peter's girlfriend Sarah Marshall (Kristen Bell), who's also the star of that cop show, breaks up with him. Three weeks later, a grief-stricken Peter takes a vacation to a Hawaiian resort on an impulse. This happens to be the exact same resort where Sarah is staying with her own new boyfriend, Aldous, a somewhat moronic but self-aware British rocker played by Russell Brand. 
Along the way, Peter befriends a newlywed couple at the resort, Darald (McBrayer) and Wyoma (Maria Thayer). At first, they're obnoxiously happy to be married. As Peter gets to know them, it turns out that Darald and Wyoma are wildly incompatible and actually quite miserable. What starts out as a painful reminder soon becomes a cautionary tale. 
Jack McBrayer played several characters on Drunk History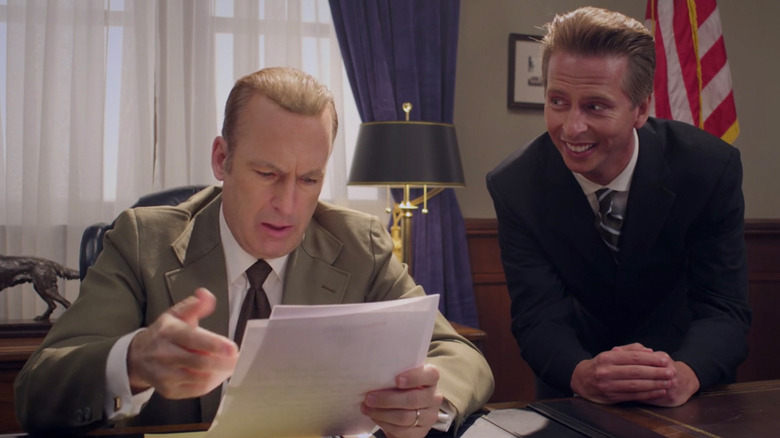 Comedy Central
Putting his sketch comedy skills to good use, Jack McBrayer has made several appearances on the Comedy Central series "Drunk History." The show is what it sounds like: a comedian gets drunk and tells a story from history, which is then re-enacted by more comedians who lip-sync along with the drunken narration.
Overall, McBrayer appeared in 11 episodes, all in re-enactments. In order, he played: H.R. Haldeman, Richard Nixon's chief in the segment about Nixon's historic meeting with Elvis; attorney Clarence Darrow, who defended John Scopes in the Scopes Monkey Trial; 1950's disc jockey Alan Freed, who coined the term "rock and roll"; US President Andrew Jackson; 19th century Shakespearean actor William Macready; US President Abraham Lincoln; World War II hero Merrick Truly, mastermind behind Operation VIersen; Renaissance-era French judge Barthélemy de Chasseneuz; Charles of Valois, Duke of Normandy and founder of the House of Valois; and romantic poet Lord Byron. For his eleventh and final appearance, McBrayer played himself in a segment about the death of 1920's Hollywood producer Thomas Ince, who died on William Randolph Heart's yacht under mysterious circumstances. 
Jack McBrayer played Robert on Key and Peele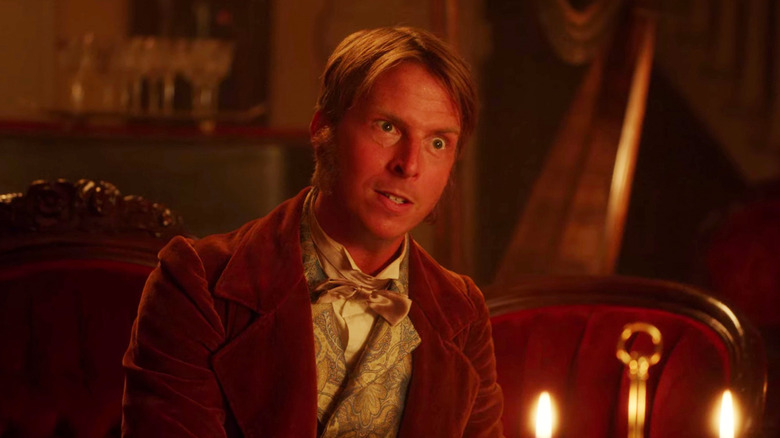 Comedy Central
Once again returning to his sketch comedy roots, Jack McBrayer played Robert on the Comedy Central sketch series "Key and Peele," which was hosted by "MADtv" veterans Keegan-Michael Key and Jordan Peele. 
Who's Robert, you ask? He's probably better known as one of the slave owners in the third episode of Season 3. Inspired by the gruesome enslaved person fight from "Django Unchained," the sketch stars Key and Peele as two enslaved people who are forced to fight for their white owners' amusement. Both agree to fake the fight, but they can't agree on who should be the one to pretend to die The scene eventually devolves into a slap fight, until the Civil War ends and slavery is abolished forever. "Robert" is yet another syrupy southern stereotype for McBrayer to play with, but much more psychotic one. 
Jack McBrayer played Dr. Todd Goodwin on The Middle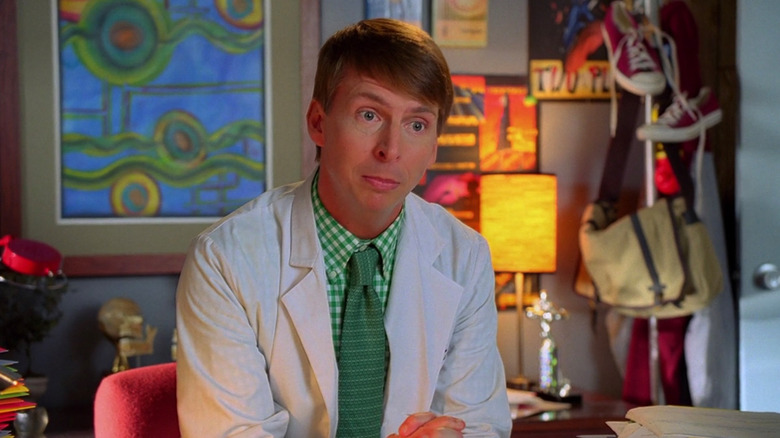 ABC
Since the conclusion of "30 Rock," McBrayer has mostly done guest appearances on TV shows, supporting roles in films, and voiceover roles in cartoons. However, in 2013 McBrayer landed a recurring role as Dr. Todd Goodwin" on the ABC sitcom "The Middle." The series stars Patricia Heaton and Neil Flynn as a midwestern couple with three children, with narration provided by Heaton's character, Frankie.
Earlier in the series, Frankie works as a salesperson at a used car dealership. In Season 4, she winds up getting a job as a dental assistant at Dr. Goodwin's practice. He's a good-hearted graduate of the University of Iowa's School of Dentistry, but highly disorganized and not much of a people person. He also has a close relationship with his mother, which is why he hires Frankie. McBrayer joined the show in Season 4 and continued through Season 5. He didn't appear in Season 6, but returned for Seasons 7 through 9.
Jack McBrayer played Der Scutt in Donald Trump's The Art of the Deal: The Movie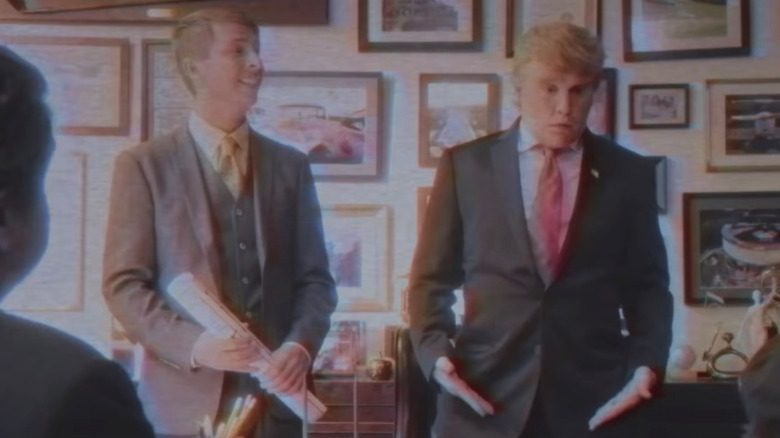 Funny or Die
In the run-up to the 2016 US Presidential election, Funny or Die released a 50-minute comedic film adaptation of Donald Trump's 1987 business book, "The Art of the Deal," aptly titled "Donald Trump's The Art of the Deal: The Movie." It's presented by the real Ron Howard as a lost, unaired TV movie from the 1980's that he discovered at a yard sale in Phoenix, Arizona. Shot in a grainy, home video-esque style, the film stars Johnny Depp as Trump tells a coming-of-age tale that explains how Trump became the (self-proclaimed) New York City real-estate tycoon. 
McBrayer shows up late in the film to play Der Scutt. He's the real-life architect who helped design Trump Tower. The tower was built between 1980 and 1984 by converting the existing facade of the Bonwit Teller department store, which was home to a series of ornate carved friezes. The real-life Trump demolished the friezes to make way for his glass-and-steel skyscraper, sparking public outcry. The film presents this as a defining moment of triumph for Trump, who instructs Scutt to cover the building with as much brass as possible to show how classy he is. Scutt, who's played as an obsequious underling, happily obliges. In other words, it's a part right up McBrayer's alley.