Dave Filoni Says He Won't Shoehorn Animated Star Wars Characters Into Live-Action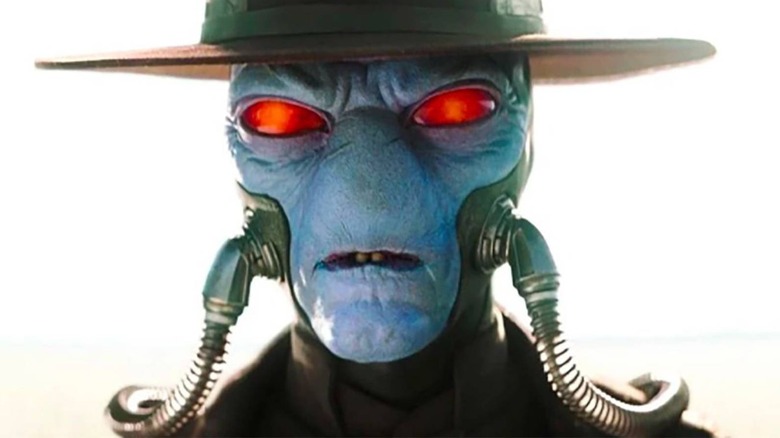 Lucasfilm/Disney+
With numerous shows already released and about to come out on Disney+, the world of "Star Wars" feels more expansive than ever before. The streaming platform's flagship "Star Wars" series — "The Mandalorian" — has crossed over with various other characters introduced in other media, such as Bo-Katan Kryze and Ahsoka Tano. Din Djarin even popped up on "The Book of Boba Fett," which brought fan-favorite antagonist Cad Bane into live-action.
It certainly feels like those in charge want to connect every facet of "Star Wars" to one another, but "Mandalorian" executive producer Dave Filoni insists that's not the case. Filoni recently spoke to The Wrap with "The Mandalorian" Season 3, currently airing new episodes on Disney+, and when asked about bringing cartoon characters into live-action, he responded, "I think there's two ways to look at that, which is that, yes, they were animated characters, but to me they're just characters. And now I'm over here working in live-action. I'm comfortable with those characters, I know them, I like them and I like to see them around."
It's certainly nice to hear that cameos and Easter eggs won't be shoehorned into a show for its own sake. And Filoni went on to discuss what exactly goes into the decision to utilize a certain character in any of the new shows coming down the pipeline.
Dave Filoni only brings in pre-existing characters when it makes sense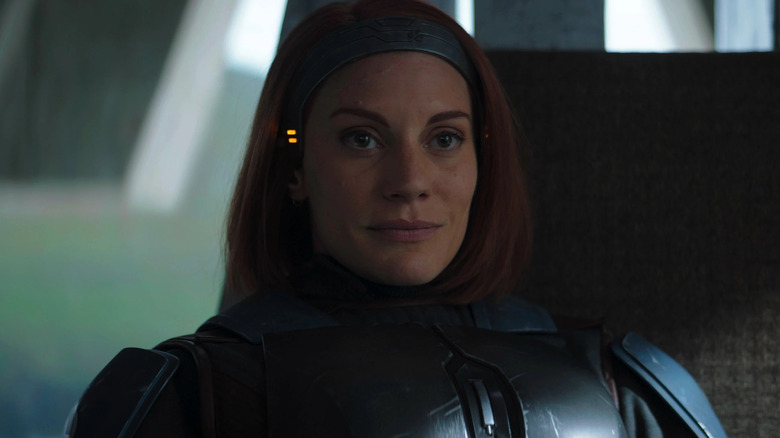 Lucasfilm/Disney+
It's natural that Dave Filoni and everyone else in charge of the Disney+ "Star Wars" series doesn't want the shows just to become "The Clone Wars 2.0." They need to be able to stand on their own and continue building out this universe in interesting ways. For starters, it's not exactly a one-to-one comparison to transpose an animated character into a live-action setting, especially if they were introduced during the Clone Wars and are now coming in after the Empire has fallen. Filoni spoke to these challenges, "[Katee Sackhoff's] talked about it a little bit, and the difference between performing Bo Katan as a voice actor versus performing her physically and being present on set as her – it's a different vibe. I'm always cautious. And Jon [Favreau] and I talk about who will we bring in? I try to do it when it makes the most sense."
But Bo-Katan coming in for "The Mandalorian" makes sense on some level since she's also from Mandalore. Cad Bane popping up in the second to last episode of "The Book of Boba Fett" may have come across to fans as a bit more fan-servicey. Filoni went on to explain the thought process behind that character's inclusion: "When we needed a gunslinger to go up against some of our characters in 'Book of Boba Fett,' Cad Bane's name came up. I think looking at that, the first thing I think is, 'Well, how do we do that and make it believable?' Like the character, he's so lean and gaunt in 'The Clone Wars.' And if we don't do that, is it all CG? How are we going to portray that? If we don't think we can do that effectively, then we shouldn't do it."
After that, Filoni discusses how audiences should expect some more characters to pop up in the upcoming "Ahsoka" series, which makes sense, seeing how she was searching for Thrawn in "The Mandalorian." As long as the characters are handled well, fans likely won't mind at all spending more time with beloved heroes and villains.