Ben Affleck Gives A Hard Pass On Directing Any DC Movies For James Gunn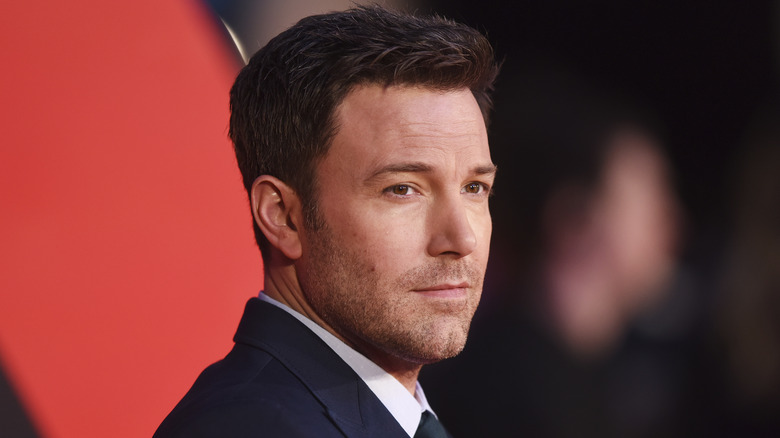 Dave J Hogan/Getty Images
Let's get this straight: Ben Affleck is returning as Batman in "The Flash" alongside Michael Keaton, who hasn't been Batman since 1992's "Batman Returns." Robert Pattinson is also back as Batman in "The Batman – Part II," and someone else will eventually be Batman when Batman begins again in James Gunn's DC universe with "The Brave and the Bold." There's certainly a lot of caped crusading scheduled for the next few years. However, after his upcoming appearance in "The Flash," Affleck won't be a part of anything related to the Dark Knight for the foreseeable future, whether he's in the suit or not.
Speaking to The Hollywood Reporter, the star of "Batman v Superman: Dawn of Justice" and "Justice League" shared his thoughts on his stint as the Dark Knight. His burnout from the role is well recorded, leading to him abandoning a solo Batman film he hoped to direct. Asked if he would consider directing a DC movie for James Gunn, Affleck gave an emphatic no. "I would not direct something for the [James] Gunn DC. Absolutely not," he said. "I have nothing against James Gunn. Nice guy, sure he's going to do a great job. I just wouldn't want to go in and direct in the way they're doing that. I'm not interested in that."
Justice League left a bad taste in Ben Affleck's mouth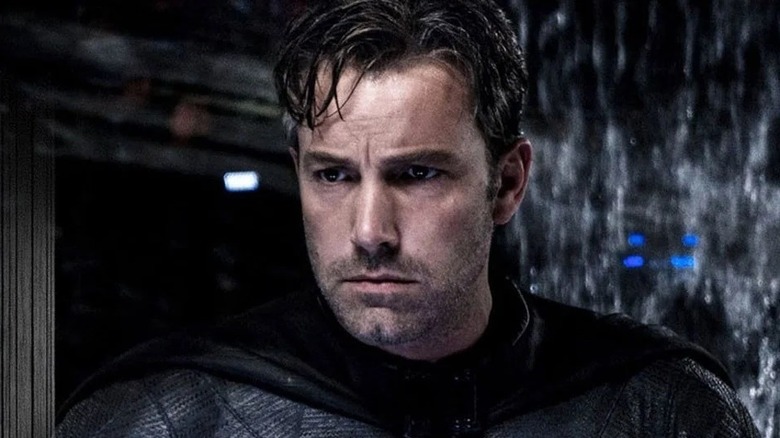 Warner Bros. Discovery
He's considered by some to be the best Batman ever, but playing the character took a real toll on Ben Affleck. While he was happy with how "Batman v Superman: Dawn of Justice" turned out, the troubled production of "Justice League" soured the actor on all things DC. The movie left him with "the most monstrous taste" in his mouth, he told The Hollywood Reporter, largely because director Zack Snyder left the project after his daughter died by suicide. Joss Whedon, who was known for his work with Marvel, came in to replace him. "There was an idea of someone [Joss Whedon] coming in, like, 'I'll rescue you and we'll do 60 days of shooting and I'll write a whole thing around what you have. I've got the secret,'" Affleck said. "And it wasn't the secret. That was hard."
Affleck revealed that the shoot became difficult because he had to spend a big chunk of time away from his family. "I started to drink too much," he said. "I was back at the hotel in London, it was either that or jump out the window. And I just thought, 'This isn't the life I want. My kids aren't here. I'm miserable.'" He quickly came to the conclusion that big budget superhero pictures weren't his thing, and he knew then that he didn't want to spend valuable years being Batman. Knowing how he was feeling at the time, it's no surprise that Affleck said that he would not return to direct a DC movie if he was given the chance. He has since started his own production company with longtime friend Matt Damon.
If you or anyone you know is having suicidal thoughts, please call the National Suicide Prevention Lifeline​ at​ 1-800-273-TALK (8255)​.
If you or anyone you know is struggling with addiction issues, help is available. Visit the Substance Abuse and Mental Health Services Administration website or contact SAMHSA's National Helpline at 1-800-662-HELP (4357).