Ted Lasso Fans Spot A Star Wars Reference In The Season 3 Premiere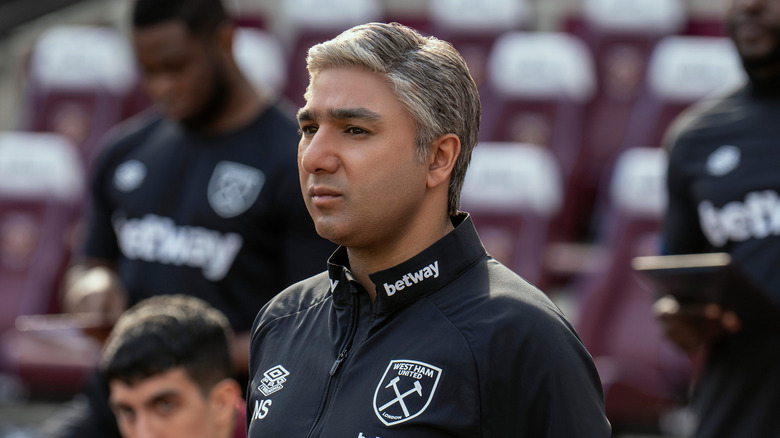 Apple TV+
And there's the kick-off. "Ted Lasso" Season 3 has begun, those excellent chants are back, and as expected, the hate for Nate (Nick Mohammed) has returned as well. After turning his back on Richmond last season, the wonder kid has made West Ham his new home under the watchful eye of Rupert Mannion (Anthony Head). And he's already throwing poop-eh (Jamie Tartt's words, not ours) at Ted Lasso (Jason Sudeikis) in the press. But as Ted takes the high road, killing Nate's attack with kindness, Rupert continues to fuel the fire in his new manager with a strategy some viewers are finding familiar — one that's veering incredibly close to the something, something, dark side.
Of course! Why didn't we see it sooner? A handful of characters in "Ted Lasso" could find a spot in "Star Wars." Jamie Tartt (Phil Dunster) is the Jedi-in-training, Luke Skywalker. Coach Beard (Brendan Hunt) is the Obi-Wan, and Keeley and Roy (Juno Temple and Brett Goldstein) are the group's Leia, Han, and/or Chewie. You've seen that chest hair, right? Roy Kent is definitely part Wookiee.
When it comes to Rupert's molding of Nate's future, however, it's hard not to make comparisons to Emperor Palpatine and Darth Vader. And if that's the case, could history repeat itself? Could Nate return to the light in the end?
Fans think the Force is strong with Nate's turn to the dark side (well, West Ham)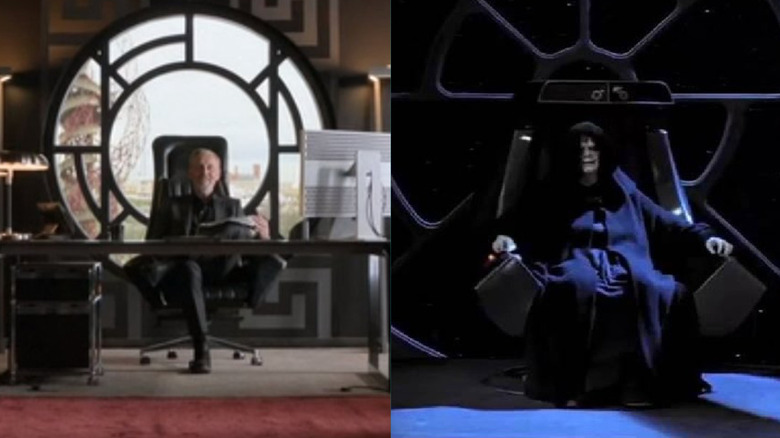 Apple TV+/Lucasfilm
During Nate's trip to Rupert's office in the "Ted Lasso" Season 3 premiere, it's easy to see similarities to a more iconic movie venue. With the round window and dark colors, it screams Emperor Palpatine's throne room from "Return of the Jedi." Taking to Twitter, @Devilish_Pod made the comparison, writing, "I see that Rupert is Emperor Palpatine, @nickmohammed is Vader, and that by the end of Season 3, Nate will find himself back to the light side." If you thought that would be the only tweet on the matter, to almost quote a Jedi Master, no. There are some others.
"Watching the first episode of the new season of #TedLasso and see that Rupert has himself the same round window as Emperor Palpatine had behind his throne on the Death Star," tweeted @mopar_mcneer. "Tell me I'm wrong? (It's freakin' rad!)" Search your feelings. You know it to be true. Twitter user @kaellay also noted the similarities, writing, "Definitely getting Emperor Palpatine vibes from Rupert Mannion and that office!" Only time will tell if Nate will show a new hope of changing his ways as "Ted Lasso" Season 3 continues on Apple TV+.