Ted Lasso Characters' Names Are Jason Sudeikis' Tributes To Real-Life Friends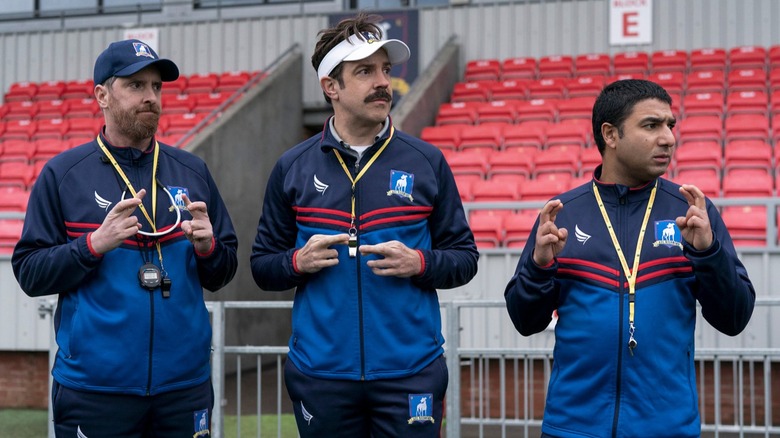 Apple TV+
The heartwarming world of "Ted Lasso" may seem like an optimistic version of the world we live in, but that is precisely why the series is necessary. Audiences love the show so much because characters learn lessons in accountability and go on to live their lives accordingly. Rough-around-the-edges retired footballer Roy Kent (Brett Goldstein) opens himself up to a moving relationship with Keeley Jones (Juno Temple), while AFC Richmond coach Ted (Jason Sudeikis) overcomes his Midwestern prejudices against therapy. As Goldstein tells "60 Minutes," "Ted Lasso" is all about becoming the best version of yourself, even if the real world seems dire sometimes. And though aspirational, that doesn't mean the show is shy about implementing real-world influences into the characters' lives. When giving "60 Minutes" a tour of the Richmond locker room, Sudeikis pointed out the many names of players who were inspired by real people.
"So the idea is that all the players have some close relationship to you guys," Norah O'Donnell surmised on "60 Minutes Overtime." The "Ted Lasso" producer agreed, using his famous ex, Olivia Wilde, as an example. 
"Cockburn," Sudeikis said, pointing to one of the players' last names on the wall of the locker room. "That's Olivia's family name. We have nieces and nephews, Cockburns." While the "Don't Worry Darling" director has had some ups and downs with Sudeikis in recent history, there are still many more friends immortalized through "Ted Lasso" characters.
Ted Lasso fans will recognize Sam Obisanya's inspiration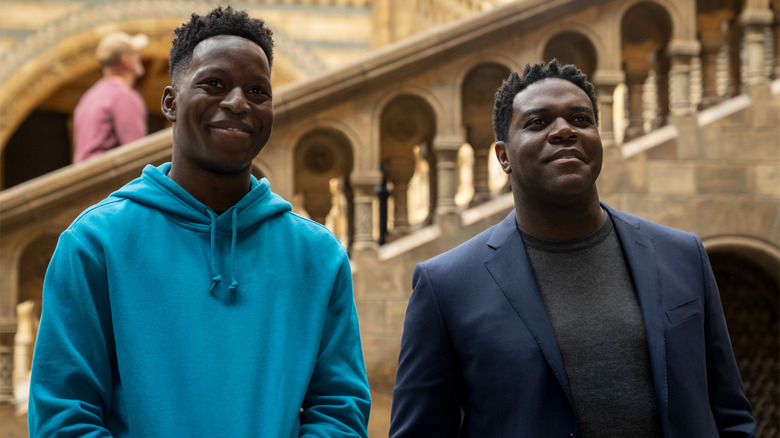 Apple TV+
Many characters get their names from real people, but Richmond rising star Sam Obisanya (Toheeb Jimoh) gets his personality as well. The gentle-hearted player reflects a real-life friendship between Sudeikis and a well-known comedic actor.
"Sam was named after Sam Richardson," Sudeikis explained, "who goes on to play Edwin Akufo in Season 2." The Ghanaian billionaire intended on poaching Sam for his future Nigerian team and reacted explosively when Sam chooses to stay with Richmond. Both Sams are regarded for their pleasant demeanor, a reputation that Richardson was well aware of before he appeared in the series.
"I was watching that first season, and I like texted ["Ted Lasso" exec producer] Joe Kelly, and I was like, 'Hey, is Sam supposed to be me?'" Richardson recalled to Variety. "And he was like, 'Of course, obviously!' So what a weird full circle then in Season 2 to get to go and be on the show and play across from Toheeb," Richardson says. Sudeikis was an early supporter of Richardson and Tim Robinson's short-lived comedy "Detroiters," and continued to put Richardson in his many projects.
Other characters were in honor of Sudeikis and Brendan Hunt's past. Footballer Martin De Maat's name is taken from Second City improv teacher, while O'Brien refers to Mike O'Brien, who created "A.P. Bio." Perfect for a series about affable characters and looking on the bright side, Sudeikis has no shortage of people he loves to dedicate players to.