Hellboy's Mike Mignola Debuts Pinocchio Art Collection With Annotations By Lemony Snicket - Exclusive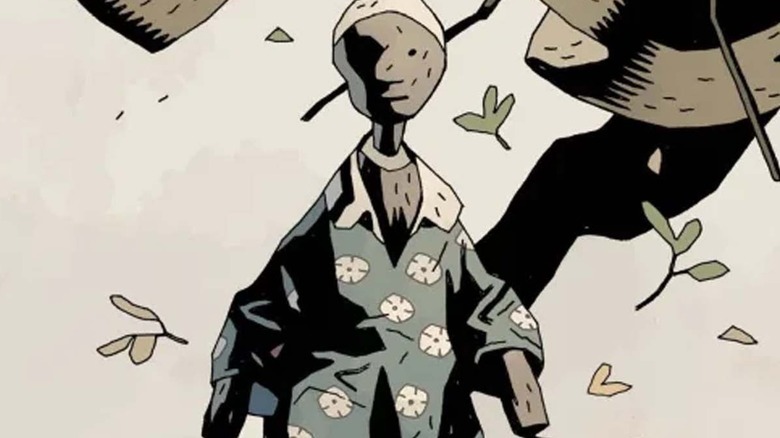 Beehive Books
"Hellboy" creator Mike Mignola is entering the classic world of "Pinocchio," with the influential writer and artist teaming up with colorist Dave Stewart and author Lemony Snicket ("A Series of Unfortunate Events") for "Pinocchio: The Illuminated Edition," a brand-new edition of Carlo Collodi's iconic novel about the wooden boy come to life. Part of Beehive Book's Illuminated Editions line, which reimagines classic novels, "Pinocchio: The Illuminated Edition" will feature more than 50 illustrations from Mignola, as well as more than 100 typewritten annotations from Snicket.
"Pinocchio," originally released 140 years ago, has been one of the hottest IPs in recent years, with the classic story getting notable adaptations in both live action and animation. First, Robert Zemeckis and Chris Weitz adapted "Pinocchio" for Disney+ in a live-action film starring Tom Hanks as Geppetto. Then, Guillermo del Toro made Oscars history with his stop-motion adaptation of Collodi's fantasy novel starring Ewan McGregor and David Bradley. Mignola, whose "Hellboy" series from Dark Horse Comics was adapted by del Toro for the big screen, is now putting his spin on "Pinocchio," and we've got all the details on the exciting new project.
Mignola's iconic style brings something new to Pinocchio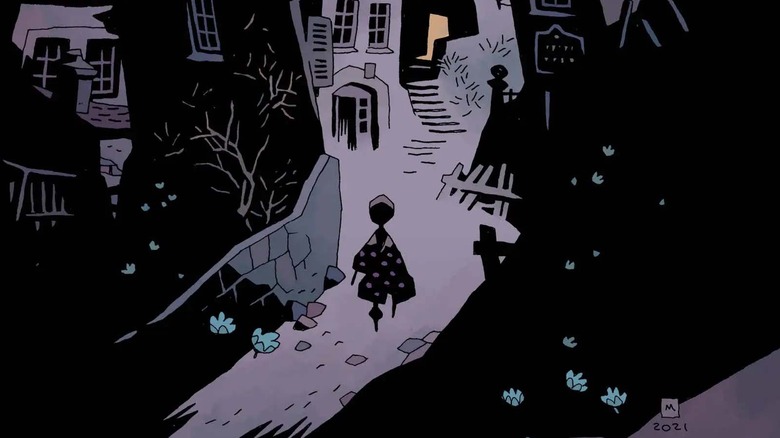 Beehive Books
Mike Mignola told Variety that his version of "Pinocchio" is gothic and "almost Victorian-looking," comparing the look of "Pinocchio: The Illuminated Edition" to the world he created in "Hellboy" because he illustrated the classic story in his signature style. He admitted he was determined to make his version of "Pinocchio" unique and not something that was a direct copy of other adaptations or the classic story itself.
"My Pinocchio is a bit more primitive," Mignola shared. "He's a bit more simple, [with] limited facial expression, and that was a challenge. Just to come up with something that would read with some character, but still have this, 'Oh, he's just a block of wood,' kind of a feel. I didn't want him too animated. I wanted this odd clunkiness of a primitively carved piece of wood, or simply carved piece of wood."
Looper was given an exclusive look at a design page showcasing Mignola's creative process, as well as panels from "Pinocchio: The Illuminated Edition." The images feature illustrations and plotting from Mignola and several creatures that will appear in the book.
Mignola exclusively told Looper more about his take on "Pinocchio," sharing that he wanted to embrace a darker side of the classic novel. "Carlo Collodi's PINOCCHIO is so much darker—and funny in a very dark way—than most people realize," Mignola said. "Pinocchio is sad and lost, and he's stupid but he means well. He's a mess—and he's made out of a magic log."
Pinocchio: The Illuminated Edition reinvents Pinocchio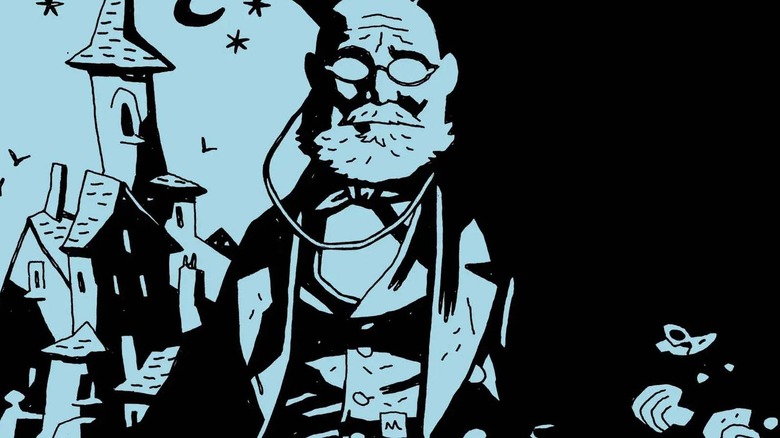 Beehive Books
Mike Mignola also revealed in the interview with Variety that his version of "Pinocchio" is eager to prove he's not a screwup after a rough start to his life as a wooden boy. With Mignola's trademark gothic art style and Lemony Snicket's dry humor being brought to the new illustrated edition, it's safe to say that the newest adaptation of "Pinocchio" will bring something unique to the table.
Mike Mignola, Lemony Snicket, and Dave Stewart's "Pinocchio: The Illuminated Edition" is currently available on Kickstarter, with the order page showcasing several incentive tiers and more details about the art book. The Beehive Books title is set to be shipped to backers in December, but those eager to see these illustrations in person and unwilling to wait can visit an exhibit hosted by New York's Society of Illustrators starting on March 22 and lasting through July 8.