Finn Wolfhard Described The Ghostbusters: Afterlife Set As A 'Room With A Bunch Of Apostles'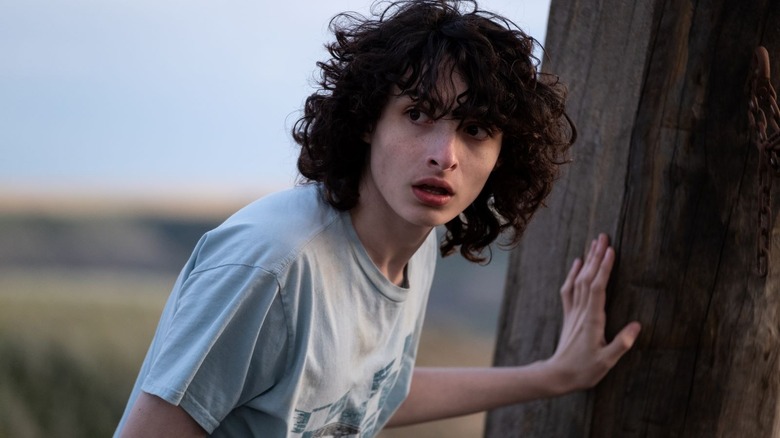 Kimberley French/Sony Pictures
Finn Wolfhard is a star in his own right, having spent much of his young career starring as Mike Wheeler in the hit Netflix series "Stranger Things." (Though he almost quit acting once after a "discouraging" experience elsewhere.) But when it came to working on "Ghostbusters: Afterlife," Wolfhard — who played Trevor Spengler, the grandson of Egon Spengler — said working with the cast of the original "Ghostbusters" was a surreal experience.
The Spengler family meets Janine Melnitz (Annie Potts) when they first arrive at Egon's (the late Harold Ramis) home in Summerville, Oklahoma. After they uncover the town's supernatural secret, Trevor's little sister Phoebe (Mckenna Grace) calls Ray Stantz (Dan Aykroyd) for help. And he calls his friends, bringing Peter Venkman (Bill Murray) and Winston Zeddemore (Ernie Hudson) along for the ride. Dana Barrett (Sigourney Weaver) even appears in the film's mid-credits scene. Wolfhard told Today, "It kind of feels like you're in a room with a bunch of apostles or something ... it doesn't almost feel real, but it was pretty incredible."
And the original cast is echoing the same praise for this new generation of Ghostbusters.
The original Ghostbusters were excited to work with the next generation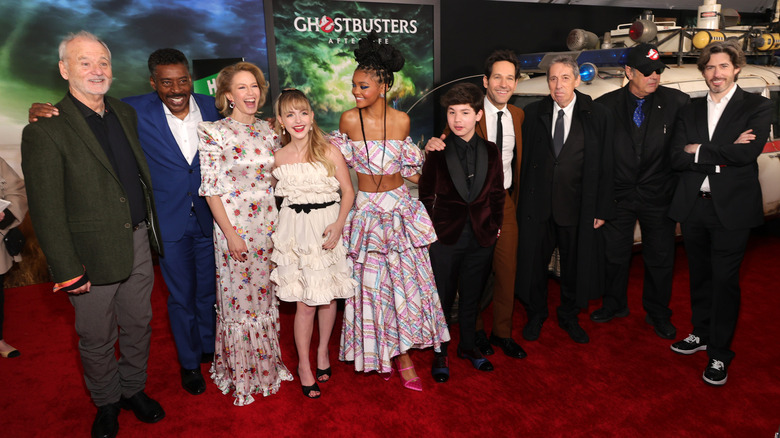 Theo Wargo/Getty Images for Sony Pictures
In an interview on The Tonight Show Starring Jimmy Fallon, Dan Akroyd said they have found a new leader in Mckenna Grace. "Mckenna Grace is a spectacular actress, and she's basically gonna be our new CEO," he said, while also praising Paul Rudd for his performance as teacher Gary Grooberson, calling him the leading man of his generation.
While the original cast applauded their new cast members, they were also excited about the work being done behind the scenes by Jason Reitman, the son of the late Ivan Reitman who produced and directed the original "Ghostbusters," and also produced "Ghostbusters: Afterlife."
Ernie Hudson told ComicBook.com, "[Jason is] a wonderful director and so when this started to happen, and because Jason was involved, I felt this would actually happen, I was really excited about it." Hudson also noted that this is not the first time that Jason worked with the original cast, recalling his time on set during the original "Ghostbusters" and his performance at the beginning of "Ghostbusters II."
"Ghostbusters: Afterlife" was released in November 2021, just a few months prior to Ivan's death in February 2022. In a November 2021 interview with Forbes, Ivan said he was very impressed with Jason's story and thought it was a smart way to continue the franchise. "I certainly had notes because, honestly, I can't help myself," he said with a laugh, "but the story really moved me when he first told it to me."