The Office's Angela Kinsey Shares Her Favorite Post-Steve Carell Era Plotlines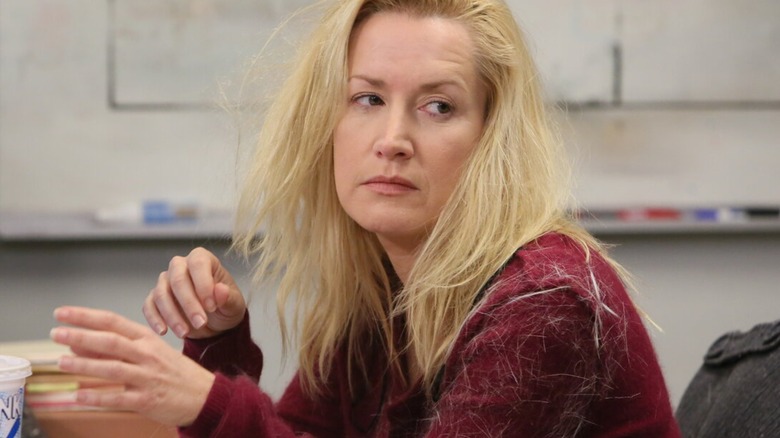 NBCf
When a long running series like "The Office" comes to an end, all fans have left to do is go back and explore past episodes. It's a chance to either tap into the enjoyment you experienced when first watching, or to dive deeper into plotlines in order to find details that may have been previously missed. However, fans aren't the only ones who like to look back on classic shows — actors can get just as nostalgic.
When Angela Kinsey, who played the tightly wound up Angela Martin on the NBC series, spoke to Showbiz Cheat Sheet, she was asked what her favorite plotlines were, a common question thrown towards the talented cast. However, this time interviewer Nicole Weaver threw a curveball with this inquiry, as she wanted to know what Kinsey enjoyed most after Steve Carell left "The Office" at the end of Season 7.
Arguably, there are plenty of "Office" fans who would like to pretend Seasons 8 and 9 never happened, as the show's lead character, Michael Scott (Carell) exited the series, exited near the end of Season 7. But that didn't mean there weren't any interesting plotlines, and Kinsey was ready to reveal her favorites. One of them revolves around Oscar (Oscar Nunez) and his affair with Angela's senator husband. Directly connected to that controversy is Kinsey's other favorite, the continuing development of Angela and Dwight's (Rainn Wilson) relationship.
One plotline connected to an old friend
It may be easy to assume that what makes this one of Angela Kinsey's favorite "The Office" plotlines is the fact that her own character was right in the center of it. However, it was her long time friendship with a costar that actually made it special for her. "I had such a blast in the love triangle with the Senator and Oscar," she revealed. "Oscar is a dear friend of mine. We met years and years before 'The Office.' We were in a sketch comedy show together. And getting to have those scenes with Oscar was like, the best."
For those who don't know, the love triangle Kinsey is referring to started in Season 8, with Oscar suspecting that Senator Robin Lipton (Jack Coleman), who is engaged to Angela, is actually gay. That accusation shockingly gets confirmed when the Senator reveals his romantic feelings towards Oscar himself. That develops into a secret affair which eventually comes to an end when the Senator outs himself at a press conference and reveals that he is in a relationship with another man (other than Oscar). This ends up being perfect for Kinsey, as it connects directly with her other favorite later-season plotline.
Angela's tumultuous back-and-forth relationship with Dwight was also enjoyable for the actress. "Obviously for my character and Dwight, some really awesome things happened towards the end of the show," she enthused. These moments that Kinsey refers to highlighted the final stretch of the characters' relationship. Some of these plotlines include Dwight believing Angela's baby is actually his, Dwight's investigative help with the Senator/Oscar situation, and of course, her eventual wedding to Dwight at Schrute Farms.