Danai Gurira's Going Away Party On TWD Was Nothing Short Of Extravagant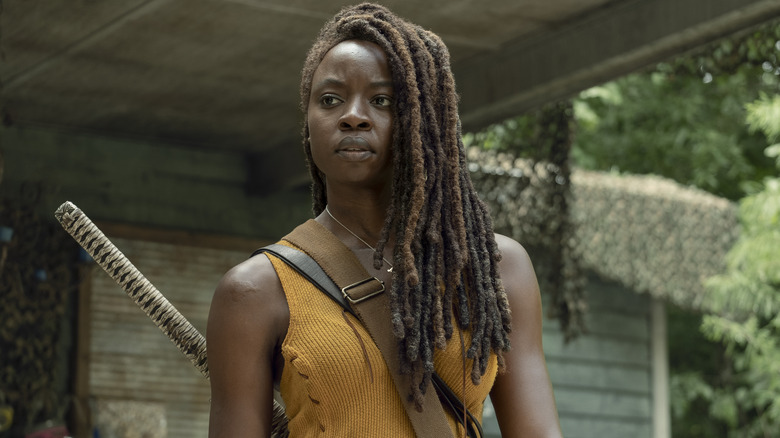 Eliza Morse/AMC
For the better part of its 11-season run on AMC, "The Walking Dead" was one of the bloodiest television series on the air. So much so that it beat even "Game of Thrones" what it came to the shock-value punch of killing off beloved central characters. Of course, not everyone who left "The Walking Dead" did so by being ripped apart by flesh-hungry zombies or dispatched by nefarious humans. No, on rare occasions characters were actually allowed to walk off into the sunset with mind, body, and spirit intact — at least as much as they could be amid the apocalyptic carnage.
It's safe to say one of the biggest and baddest of "The Walking Dead" characters to be gifted a blood-free series exit was Danai Gurira's katana-wielding warrior Michonne. That exit comes during the series' 10th season, with Michonne front and center for virtually an entire episode. By the end, she was katana-strapped and headed off into the wild to find the long-lost Rick Grimes (Andrew Lincoln). And though "The Walking Dead" production team did not let Gurira take home Michonne's katana as a memento, it seems they did throw her a massive party when she made her series exit, with Gurira confirming to TVLine in 2020, "It was awesome." 
A fortuitous holiday helped The Walking Dead team go big for Gurira's going away party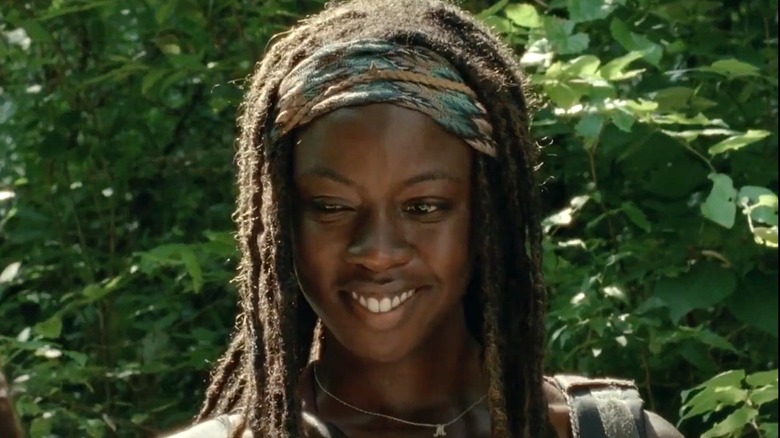 AMC
As TVLine reported, "The Walking Dead" has earned a bit of a reputation over the years for sending longtime cast members off with a pretty big bang. Heck, AMC even produced an entire show centered around actors whose characters were killed off on the show. Danai Gurira did not earn that particular honor, however, as Michonne is still walking the post-apocalyptic landscape and is even set to return in an upcoming spin-off series. But the actor did offer a few further details about her exit party, and it sounds like it was a fairly epic event.
Per Gurira, the festivities were perhaps a little bigger than normal thanks to her series' exit coinciding with a major U.S. holiday. "It was right around the Fourth of July, so nobody was working," she said, adding, "So Norman [Reedus] and the amazing Darrell Pritchett, who is in charge of all of our outdoor special effects, they and a lot of the crew and Angela [Kang] threw me this unexpected goodbye." As Gurira laughingly recounts, that goodbye appropriately also came "complete with a very large fireworks display and 50 walkers crammed into my trailer." 
Despite the interview occurring some time after her final day on "The Walking Dead," Gurira  clearly speaks of the party with vivid fondness, finally admitting, "I was very loved out the door." And we're betting she's still feeling that to this day.