What's The Song That Opens Yellowjackets Season 2 Episode 1?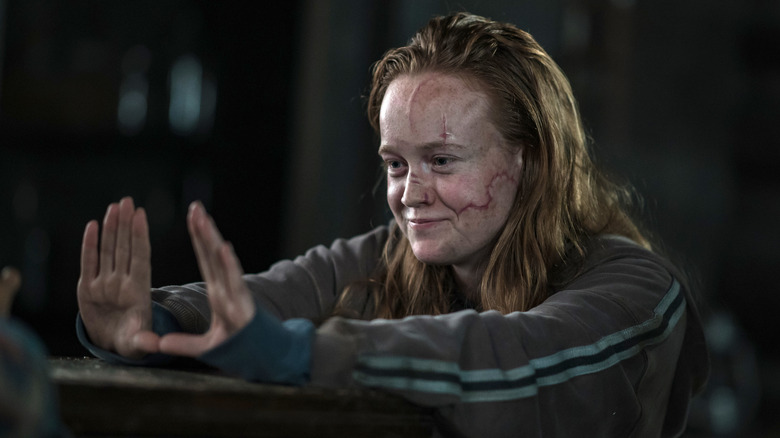 Kailey Schwerman/SHOWTIME
Contains spoilers for "Yellowjackets" Season 2, Episode 1 — "Friends, Romans, Countrymen"
The second season of "Yellowjackets" is finally back, and you know what else that means: even more incredible songs on its soundtrack. The first episode, titled "Friends, Romans, Countrymen," is no exception. The opening of the season brings us back to the cabin in the woods where the girls' soccer team is still hiding out after their plane crash, apparently still quite a ways from being rescued. The episode kicks off with the song "Seventeen" by Sharon van Etten playing over the girls struggling to survive.
As the girls sleep quietly and prepare for yet another day in the wilderness, the song begins. Soon, we see teenage Lottie (Courtney Eaton) pouring herself some tea and parking herself by the window. She's followed by Natalie (Sophie Thatcher) and Travis (Kevin Alves), who suit up for another day of hunting in the dead of winter, and before they go, Lottie insists on giving them some sort of blessing, despite Natalie's objections, as van Etten's song fades away.
Why is Seventeen the right choice for this scene?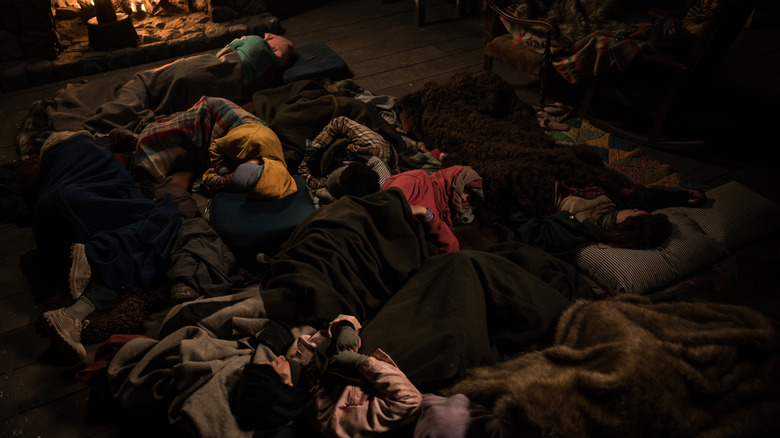 Kailey Schwerman/SHOWTIME
Sharon van Etten's 2019 teenage anthem fits so perfectly here for one big reason. Beyond all the violence, intrigue, mystery, cult activity, and cannibalism, "Yellowjackets" is a show about what it means to be a teenager — and in this case, it's both about teenagers in a life-threatening situation and the ways in which they never truly grow up. van Etten's song starts off with the lyrics "I know what you wanna say/I think that you're all the same/Constantly being led astray/You think you know something you don't," which definitely evokes Lottie's seemingly supernatural control over the rest of the girls, both in the cabin and in 2021 (now an adult played by Simone Kessell) where she's a cult leader pulling strings behind the scenes.
Beyond that, the chorus about how the singer "used to be seventeen" echoes the adult Yellowjackets' struggles into adulthood, where their traumatic past is constantly catching up to them. Will their teenage misadventures in the woods continue to haunt the girls in 2021? Only one way to find out — "Yellowjackets" airs every Sunday night on Showtime and is available to stream through their platform.