Yellowjackets' Biggest Question In Season 2 Will Boil Down To Lottie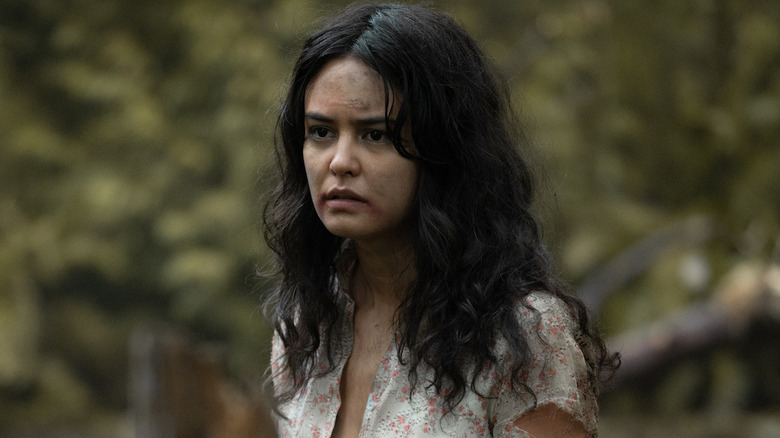 Kailey Schwerman/Showtime
The Showtime drama, "Yellowjackets" is set in 1996. It follows a high school girls' soccer team as they get stranded in the wilderness for nineteen months, having to take drastic measures — including, eventually, cannibalism — to survive. In the second storyline, set in 2021, a group of the survivors grapple with the lasting trauma and repercussions of their time in the wilderness.
The Season 1 finale, which aired in January of 2022, began to answer some of the many questions that fans had throughout the first season — such as the fact that Lottie Matthews (Courtney Eaton), a Yellowjackets member is, first of all, very likely the Antler Queen, and, second of all, still alive in the present day. However, plenty of questions have been left unanswered, such as why adult Lottie is involved in the kidnapping of Natalie (Juliette Lewis in the present timeline, Sophie Thatcher in the past timeline), and, potentially, the death of Travis (Kevin Alves).
Naturally, this setup is intentional, and according to the showrunners, Lottie will be at the center of Season 2, which is set to premiere on March 26, 2023.
Exploring what Lottie has been up to in Season 2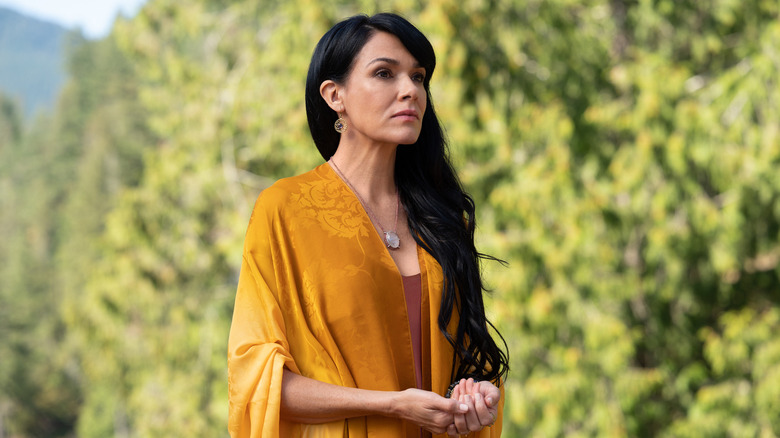 Kimberley French/Showtime
In January 2022, following the Season 1 finale, "Yellowjackets" co-creators and showrunners Ashley Lyle and Bart Nickerson spoke to Insider about what fans can expect from the sophomore season of the popular drama. The interviewer wanted to know what questions will be raised in Season 2 — to which Lyle brought the conversion around to Lottie.
Lyle said, "I think the biggest new question that we ask is: What has Lottie been up to, and how does she play into what's going on in their lives? That is very much a question that we'll be exploring in season two." With that in mind, hopefully, we'll get answers to how much Lottie was involved in Travis's death and Natalie's kidnapping.
Lyle and Nickerson also teased what to expect from the tone going into the next season. Lyle said, "Our intention is for things to get darker and wilder in season two. Make of that what you will."
Adult Lottie actor Simone Kessell teased Lottie's story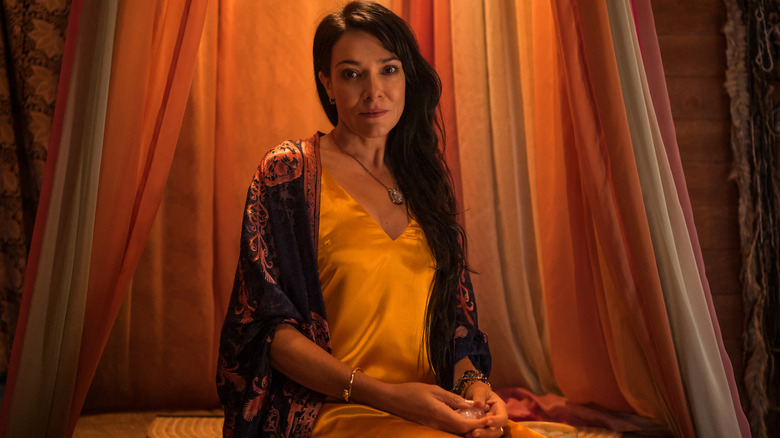 Kailey Schwerman/Showtime
In January 2023, Simone Kessell, who will portray adult Lottie moving forward, spoke with Vanity Fair about taking on the much-talked-about role — and even teased what Lottie has been up to since getting out of the wilderness.
Kessell said, "She's come into her life. She's found her voice and used it to help teach — she sort of brings therapy to people ... She has reinvented herself from the darkness into the light. She leads a group of broken toys. The past 25 years, she's reinvented herself as a leader, as a guru, as a healer. And with that, she has created her own world." If that description sounds a touch sketchy to you, you're not alone — Kessell admitted that it sounds a bit like a cult.
The actress also revealed that Lottie was sent to a treatment center in Switzerland following the team's rescue, where the rest of the survivors think she still is. She also addressed whether or not Lottie really is the Antler Queen, claiming that she doesn't yet know. 
Kessell also teased what sort of dynamic to expect of any kind of reunion between Lottie and the other survivors, stating, "These women are a sisterhood, and they may love, and they may hate each other deeply, but they would kill for each other — and, as we've seen in the first season, bury the bodies."