The Office Fans Still Don't Understand Kelly's Costume For The Halloween Contest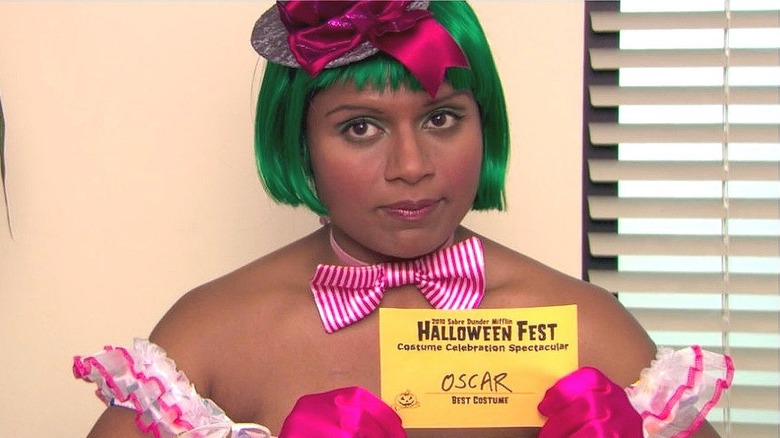 NBC
While "The Office" spans over 200 episodes, some of the best are its Halloween episodes. However, even all these years later, fans are still confused about one of Kelly's (Mindy Kaling) iconic looks. In the Season 7 episode "Costume Contest," Dunder Mifflin hosts a costume contest with a misleading coupon book on the line. Thinking the grand prize is $15,000, many employees go home to change into better costumes. Kelly returns sporting an interesting polka-dotted pink dress and green wig. Although she didn't win — that honor goes to Oscar (Oscar Nunez) — her outfit left a lasting impression on the community, with no one really understanding who or what she was dressed as.
The conversation has remained at the forefront of "The Office" fans' minds ever since the episode's premiere and the outfit has been the topic of much discussion on Reddit. In 2023, it came up again, with a thread that began with fans highlighting Kelly's hilarious nature. The conversation quickly began questioning what she was going for with her costume. When u/MrTigerHollywood said they thought she was supposed to be Katy Perry, another user stated, "I think I've heard that, but I just can't remember when Katy Perry was a Wonder Bread loaf."
U/Otherwise-Mango2732 suggested Kelly was trying to replicate Katy Perry's polka-dotted outfit in her "California Girls" music video. However, her costume is different enough from Perry's that some fans can't see the resemblance. One user stated that, while her wig and dress could work for a "California Girls" costume, the small top hat throws it off, giving more of a Willy Wonka look instead.
Some other theories about what Kelly was going for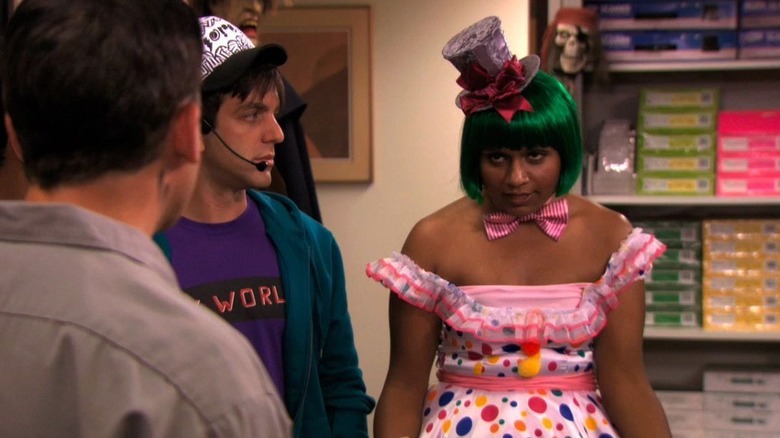 NBC
There are plenty of other theories about what Kelly was going for with this bizarre Halloween costume. On the aforementioned Reddit thread, u/thedirtygame said that it was a mix of "Justice Beaver and Katy Perry." However, u/01-__-10, like most viewers, was confused about the costume, questioning, "Why did I think she was doing sexy Joker?"
While a number of users (including u/LocoMotives-ms) thought that Kelly was shooting for a Willy Wonka costume, u/A-Wiley suggested that it was actually closer to a "female Oompa Loompa." In what's probably the best guess on the entire thread, u/Individual_Baby_2418 said that her costume was supposed to be a play on words, writing, "My guess is 'Willy Wonka Bread.'"
In a video breaking down the most memorable Halloween episode costumes, the official "The Office" YouTube channel listed Kelly's costume as "Katy Perry," seemingly ending the debate. However, much like the rest of the fan community online, we aren't that convinced. This is a debate that will no doubt continue to be had in the fandom for years to come.