Ted Lasso Season 3: What Does West Ham's 'I'm Forever Blowing Bubbles' Slogan Mean?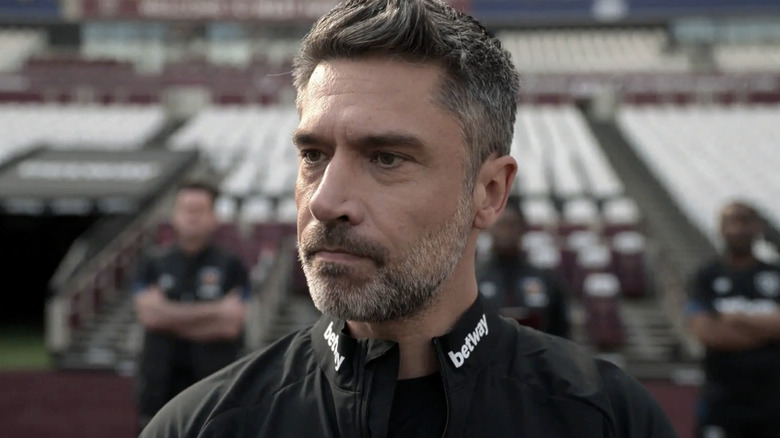 AppleTV+
Surely one of the best parts of being a European fan of AppleTV+'s "Ted Lasso" must be watching American fans struggle to understand the rules, culture, and traditions of soccer — sorry, football — while simultaneously trying to explain it to one another. Shockingly, binge-watching the Emmy-winning comedy back-to-back with Rob McElhenney and Ryan Reynold's "Welcome to Wrexham" does not make one Trent Crimm.
"Ted Lasso" has finally returned for a third and final season, bringing fans all over the world back into the A.F.C. Richmond locker room one last time. We have a lot of predictions about what's in store, but there are already some surprises. Noticeably absent is Nathan Shelley (Nick Mohammed), whose insecurities have driven him away to the rival football club West Ham United — led by Rebecca Welton's (Hannah Waddingham) conniving ex-husband, Rupert Manion (Anthony Head). While Ted (Jason Sudeikis), Roy Kent (Brett Goldstein), and Coach Beard (Brendan Hunt) work out a strategy to take their old friend down, viewers may be trying to work out the meaning of West Ham's odd slogan — "I'm forever blowing bubbles."
As some "Ted Lasso" fans may be unaware, it is common for football clubs to sing popular songs as anthems at home games. The most popular example of such an anthem is arguably Richard Rodgers and Oscar Hammerstein's "You'll Never Walk Alone." Though it was originally written for the musical "Carousel" (or "Oklahoma!," if you subscribe to certain pieces of musical theatre lore), the song eventually became the rallying cry of Liverpool F.C. (singer Marcus Mumford — whose voice can be heard in "Ted Lasso's" opening theme — even covered the song in the Season 1 finale). Similarly, the phrase "I'm forever blowing bubbles" is not really a slogan, but a reference to an anthem with strange origins.
'I'm Forever Blowing Bubbles' is West Ham United's anthem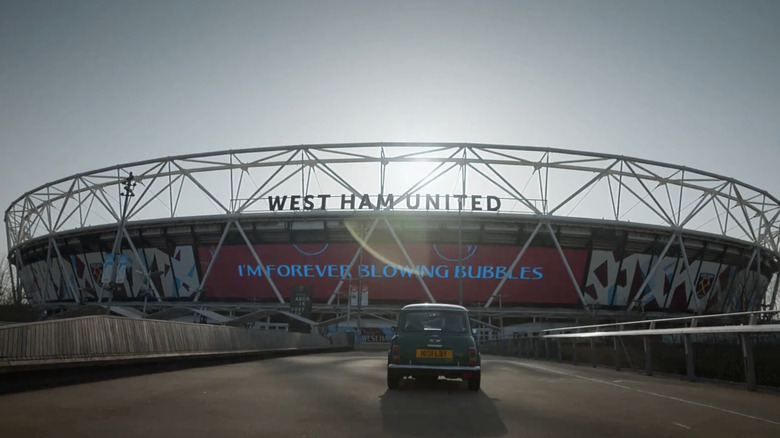 AppleTV+
The song "I'm Forever Blowing Bubbles" was originally written in 1918 as a part of a Broadway musical revue called "The Passing Show of 1918." It went on to become a mainstream success in Britain and was subsequently added to the sprawling repertoire of marching bands that would play at various football stadiums — not just West Ham United. Though there is no official record of the club's fans singing the song until the 1940s, some are adamant it had been sung throughout the 1920s.
The popular theory is that young footballer Billy J. Murray earned the nickname "Bubbles" while at West Ham academy, due to his striking resemblance to the curly-haired mascot a popular soap brand at the time. Once the peculiar sobriquet caught on, it became popular for the fans to serenade Murray with the tune "I'm Forever Blowing Bubbles" at home games. As time went on, fans continued to sing it at the West Ham United stadium until it ultimately became their official anthem.