One Of Eamonn Walker's Favorite Chicago Fire Scenes Is All About Aging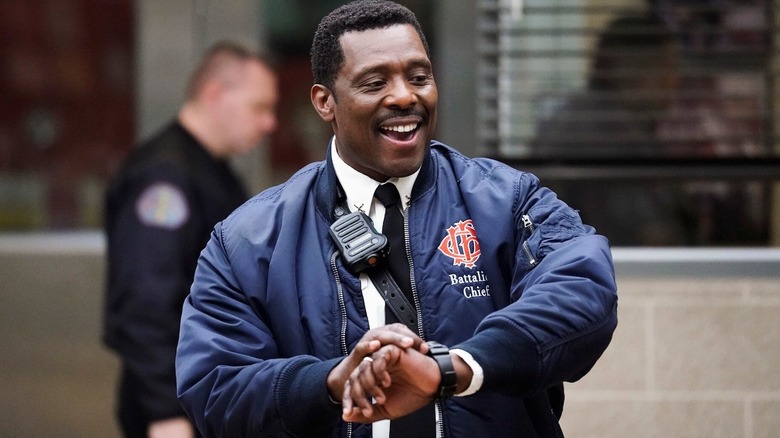 NBC
Now several decades into his career, it's possible you recognize Eamonn Walker from any number of lauded projects. But it's far more likely you know the actor best for his role as Deputy District Chief Wallace Boden on "Chicago Fire." Walker has, after all, been playing the part for more than a decade now. And in doing so he's become arguably one of the best-loved characters in the entire "One Chicago" sphere. That love is well-earned too, with the actor bringing a grounded, level-headed humanity to the role that helps ensure the "Chicago Fire" drama never quite spirals off into the realm of paint-by-numbers primetime melodrama.
Like his beloved character, Walker is, of course, at a stage in his life where the term  "a little older and a little wiser" might occasionally get tossed his way. And as the actor told TV Interview during a 2021 Q&A session, he's not only happy to lean into that position on set, one of his favorite "Chicago Fire" scenes is essentially about his character getting older. "You know, there's the episode that went out recently with Mouch [Randall McHolland] and Boden having a moment together to recognize how long they've been firefighters for," the actor said. "That moment really touched me..."
Walker would love for Chicago Fire writers to deliver more scenes that focus on his character's age and wisdom
The scene came during an arc that indeed found typically sidelined or office-bound Wallace Boden getting pressed back into the thick of the firefighting action on "Chicago Fire." And the brief moment of recognition Boden shares with fellow long-timer Randall "Mouch" McHolland (Christian Stolte) beautifully conveys the grizzled sort of wisdom firefighters who've been in the game a while have no doubt developed. That acknowledgment clearly came as a bit of a revelation for Eamonn Walker, who told TV Interview he'd love to delve deeper into it moving forward. "That moment really touched me, and I'm saying I would like more of that, because that experience is one of the things that I find grounds not only the show, but grounds to all of the characters, that these people have been doing it for a long time," he said.
When talking about particularly moving scenes, Walker also pointed out another scene where Mouch talks about finally getting the ear, and thus the respect of younger firefighters who don't always look at him as an equal because he's older. "And I was like, 'Right. I really feel that,' and I would like more of that with he and I. So, I'm putting that out so the writers can hear that," he said. 
With any luck, the "Chicago Fire" writing team has not only been listening but is making any and every effort to feed Walker and Stolte such scenes. 'Cause there's little question they elder statesmen are bringing as much heat to "Chicago Fire" off-screen as they do on.