Emmy Rossum Prepared For Everything Going Wrong While Directing Shameless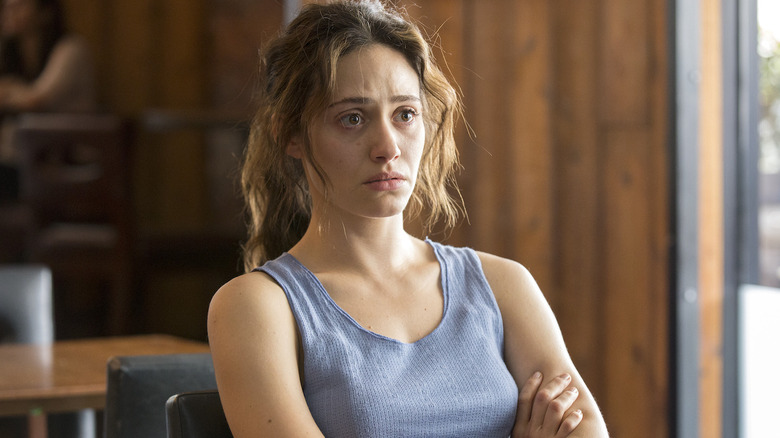 Showtime
As a show that began in 2011 and ended in 2021, flitted between the goofiest comedy and the hardest-hitting pathos with enough abandon to put the Emmys committee in a tizzy, told stories about the poor and disenfranchised long before that became a pop culture trend, and served as a breakthrough for several actors who went on to become TV superstars, Showtime's "Shameless" epitomized the 2010s like few other TV productions. While it is indisputable that the show remained highly popular through and through — you don't really get to 11 seasons otherwise — opinions vary wildly among both critics and fans regarding the consistency of its writing across those 11 seasons. This was especially true following the departure of the star who, for many, made "Shameless" what it was: Emmy Rossum.
Rossum, who played eldest Gallagher child Fiona Gallagher, was, by all accounts, the heart and soul of "Shameless" before leaving the ensemble at the end of Season 9. And, although Fiona's arc had its controversial stretches, Rossum could always be counted on to bring her A-game to every scene and moment, whether dramatic or humorous. Like many stars who become part of a long-running series' very DNA, Rossum also eventually crossed over into directing, helming two episodes on Seasons 7 and 8 that proved she was equally capable of delivering first-rate work behind the camera. And, as she once revealed in an interview with Variety, her writer-director husband Sam Esmail advised her to prepare for the worst as a director.
Emmy Rossum had wanted to direct for some time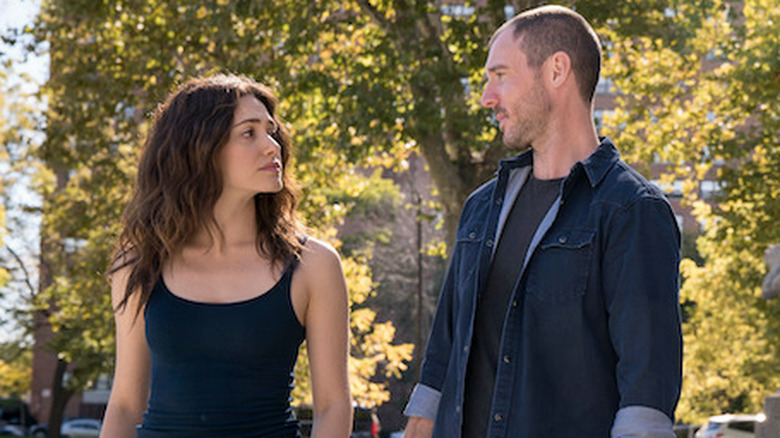 Showtime
Emmy Rossum directed two "Shameless" episodes. The first, Season 7's "I Am a Storm," follows Frank's (William H. Macy) effort to keep his homeless shelter open by drawing media attention, while Fiona makes some controversial decisions as the manager of Patsy's Pies. Season 8's "Frank's Northern Shuttle Express," meanwhile, finds Fiona considering moving into an apartment in the building where she's acting as landlady, while Frank starts an import-export business and the rest of the Gallagher siblings each spin plates of their own.
Speaking to Variety in 2016 about her directorial debut on "I Am a Storm," Rossum revealed that directing had been an aspiration of hers for some time, as her own years-long connection to the Gallaghers' story sparked a growing passion for the idea of helping to tell it. Living with then-fiancé Sam Esmail during the shoot of his own series, "Mr. Robot," helped demystify the job. "Getting to see the real struggles and the day to day happen and the setbacks and going through casting tapes with him, it was really illuminating. It really put it all in perspective for me," Rossum said.
The actress and director went on to reveal the best advice Esmail gave her: To be ready for everything to go as wrong as possible and still keep her head on straight. Which turned out to be providential advice indeed, as things didn't go quite as Rossum had planned during the making of the episode.
A lot of things went south during the episode's shoot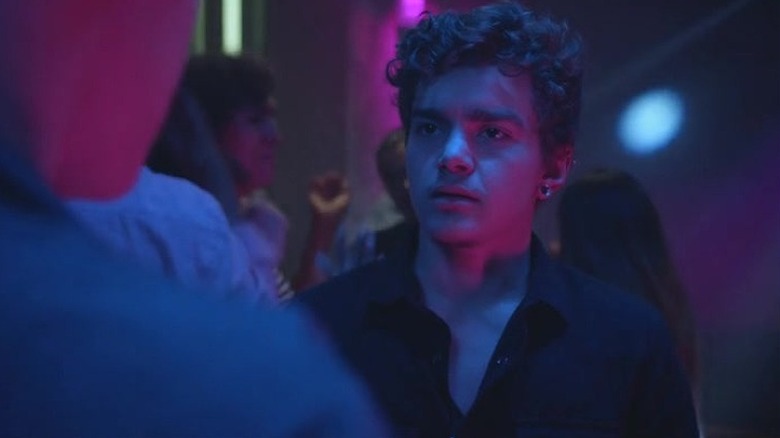 Showtime
Emmy Rossum went into the production of "I Am a Storm" ready to take on whatever troubles came her way, and, sure enough, troubles did come. While shooting the episode's very first scheduled scene, which took place in a nightclub, Rossum learned that a lighting rig she wanted for the scene, which would have featured the colors of the trans pride flag — pink and blue — was too heavy to hang from the ceiling. But Rossum and the cinematography crew dealt with the matter by making use of other lights they had at hand. Later, the studio's fire alarm became a nuisance by repeatedly going off, but the police was called in to turn them off.
Then there was the issue of Rossum not being able to rehearse properly with the cast before the shoot — which led to another issue when Elliot Fletcher, who plays Trevor, turned out to be completely uninformed on how to convincingly simulate cocaine use in a scene that called for it. Fortunately, Rossum managed to coach Fletcher on how to get the scene right.
"So I was like OK, Sam's absolutely right. Everything's going wrong. But we're going to be OK. We're going to figure it out," Rossum recalled telling herself during the shoot. "I think knowing that it's not a smooth ride for anybody, even somebody who knows how to do it well, made me feel a lot better about when things went wrong."