Yellowstone's Taylor Sheridan Was The Only One With The Skills To Play Travis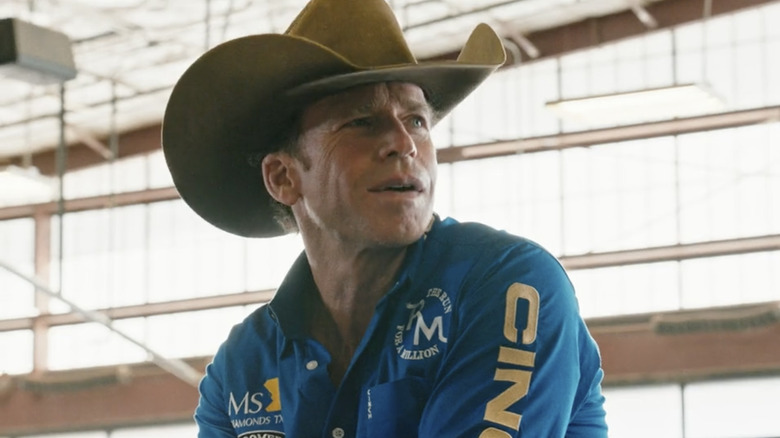 Paramount Network
Taylor Sheridan is known for many things, like writing Oscar-nominated screenplays or developing shows like "Yellowstone." Many may be shocked to learn that his real-life cowboy experience not only helped him create "Yellowstone" but also allowed him to cast the perfect person to play horse trader Travis Wheatley.
After starting out living the cowboy lifestyle, Sheridan went through quite a transformation over the years to become the TV icon responsible for hit shows like "Tulsa King," "Mayor of Kingstown," and "Yellowstone." Sheridan is known to put a lot of effort into every endeavor he purses, and when he spoke with CBS Sunday Morning, the Academy Award-nominee revealed that he wasn't a fan of the way horses were trained and kept in Hollywood, so he decided to take matters into his own hands. 
"I bought all the horses for the show," Sheridan said, "and then taught the actors how to ride them." 
Given the show's success, it's probably safe to assume that his efforts worked out for the cast, but when it came to finding someone to play the horse trader Travis Wheatley, it was revealed that no one had the skills necessary to pull off such a persona aside from Sheridan himself. 
To sell the performance to fans, Sheridan felt his experience meant he should be the one to saddle up for "Yellowstone." This attention to detail in matters like this could very well be one of the secrets to his uncanny ability to consistently impress viewers.
Is the key to Sheridan's success authenticity?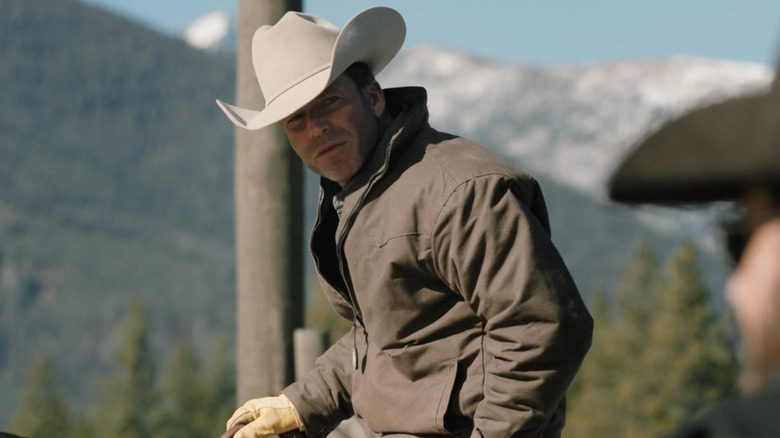 Paramount Network
Many people know that "Yellowstone" is a big hit. It has exceptional scores on Rotten Tomatoes, and it broke viewership records for Paramount. This is largely thanks to Taylor Sheridan's vision. 
Tim McGraw, who plays James Dutton in "Yellowstone" and "1883," confirms Sheridan is a "stickler for authenticity" when working on projects. This makes sense since Sheridan bought the horses used for the show, trained the actors to ride them, and played an authentic horse trader. The extra mile he goes to make everything feel as real as possible is not by accident either. 
"I strive for authenticity," Sheridan said in "Ranching with Sheridan." "I strive to show people the world I grew up in." 
To achieve such a bold goal, the "Yellowstone" creator made another revelation, claiming he doesn't rehearse with actors. 
"The better I can make them understand the thing they're acting out, the better the performances," Sheridan said. "The more authentic the scenes look, then it looks real. I just take my actors and put 'em to work." While some might find these maneuvers odd, he goes to these lengths for one glorious reason. "Anyone who ranches for a living, anyone who cowboys for a living, when they see my work, I want them to say, 'That's how you do it.'" 
While it's unknown if going big on authenticity is the secret to his success, it's no secret that it's a goal Sheridan succeeds at.