Why Mitch Keller From Tulsa King Looks So Familiar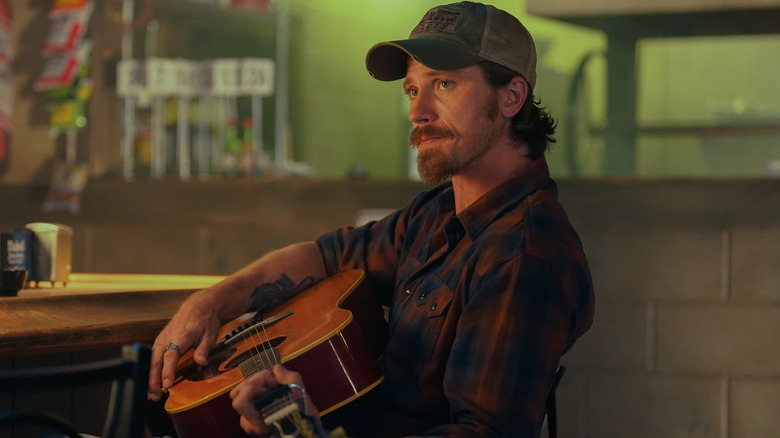 Brian Douglas/Paramount+
When you're watching a fun new TV show or movie, nothing's quite so distracting as when you recognize a particular actor or actress but can't quite place them. Worse, a quick IMDb search only turns up a list of that actor's credits without detailing the characters they've played. Looper is here to help.
"Tulsa King" is the new Paramount+ series that stars Sylvester Stallone as Dwight "The General" Manfredi, a seventysomething ex-mob boss who must rebuild his criminal empire in Tulsa, Oklahoma after he's released from prison–a setup that's eerily reminiscent of Netflix's "Lilyhammer." One of "Tulsa King's" main characters is Mitch Keller. He's one of Dwight's key allies. A former rodeo rider who got addicted to painkillers after a series of injuries, now Mitch works as the bartender at the Bred 2 Buck saloon, where he first meets Dwight. Soon, Dwight and Mitch strike up a business proposal wherein Mitch purchases tanks of nitrous oxide in bulk, which won't attract suspicion since he's a restaurant owner. Dwight then sells them on the street. Inevitably, Mitch becomes more and more enmeshed in Dwight's criminal enterprises as the series goes on.
Mitch is played by Garrett Hedlund. It's a bit of a departure from Hedlund's usual roles, but here's where you might recognize him from.
Garrett Hedlund played Patroclus in Troy
Garrett Hedlund's first onscreen credit came in Wolfgang Petersen's 2004 epic, "Troy," which retells the story of the legendary war between Mycenaean Greece and the city-state of Troy.
Hedlund's character is Patroclus. If you're not up on your Homer, in the original version of "The Iliad" Patroclus is written to be the Greek hero Achilles' lover. However, in "Troy" Patroclus is changed to be Achilles' cousin–a painfully 2004 move clearly designed to appeal to a wider audience. Patroclus still plays a pivotal role in the story, though. Just like in "The Iliad," he's killed in battle by Hector (Eric Bana), which enrages Achilles (Brad Pitt) and motivates him to rejoin the fight against the Trojans, sealing their doom.
Hedlund was just 19 years old when the movie premiered. As he explained to "The Evening Standard," "Someone said to me, 'If you want to catch a fox, you've got to be in the forest.' So I graduated early and moved to LA when I was 18. Luckily enough, my first movie was Troy."
Garrett Hedlund played Harlan in Georgia Rule
If you didn't see Garry Marshall's 2007 romantic comedy "Georgia Rule," which stars Lindsay Lohan, Jane Fonda, and Felicity Huffman, don't worry you're not alone. The film only grossed $25 million off a $20 million budget and it boasts a paltry 19% Fresh rating among the critics on Rotten Tomatoes.
The story stars Lohan as a hard-partying teenager named Rachel–admittedly not much of a stretch–who's sent from San Francisco to Idaho to live with her grandmother Georgia, who's played by Fonda. A setup like that is just begging for a romantic subplot in which Rachel realizes that a small-town guy with a big heart is worth spending time with. That role is ably filled by Hedlund. He plays Harlan, a Mormon virgin with a girlfriend who nevertheless falls in love with Rachel. Without giving too much away, the film then takes some dark turns as it delves into Rachel's backstory.
Garrett Hedlund played Sam Flynn in TRON: Legacy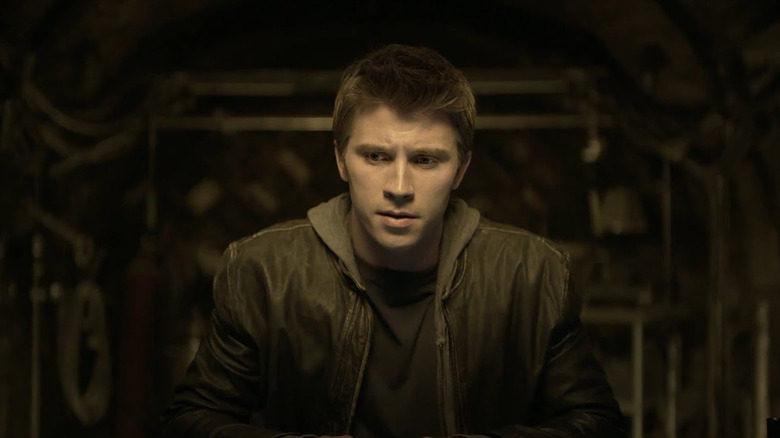 Walt Disney Studios Motion Pictures[
Here comes the breakout role. Most people reading this probably recognize Garrett Hedlund for his starring role in 2010's "TRON: Legacy." It's directed by Joseph Kosinsky and stars Jeff Bridges, who reprises his original role as Kevin Flynn, creator of the virtual reality called "The Grid." Set 20 years after the original, "TRON: Legacy" follows Kevin's son Sam, played by Hedlund, who must venture into The Grid to investigate Kevin's mysterious disappearance. Along the way, he runs into a villainous AI, also played by Bridges, that wants to escape The Grid and impose its will on the real world.
It wasn't easy for Hedlund to land the role. As Kosinsky explained during the film's making-of featurette, "It's a hard role to fill, to play the son of Kevin Flynn, the son of Jeff Bridges. You need to have that unique combination of intelligence, wit, humor, and a certain look, and a certain physicality. And I think Garrett embodies all of those things."
Producer Sean Bailey added that the film's production team did a worldwide search, considering hundreds of actors for the role. "Garrett won a pretty Darwinian process," Bailey said.
Garrett Hedlund played Dean Moriarty in On the Road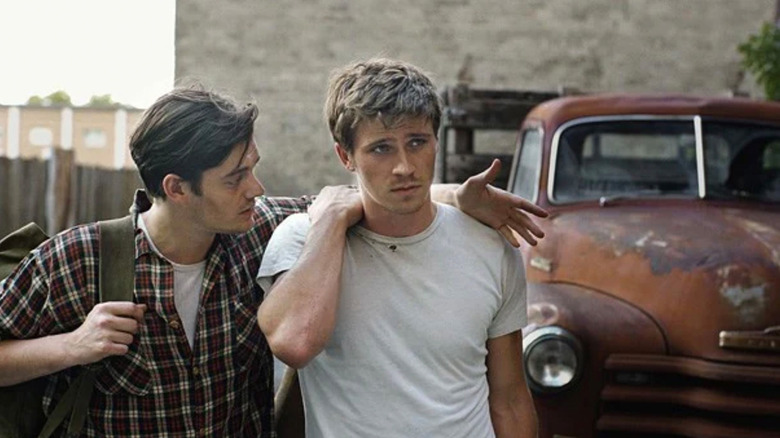 IFC Films
Two years after "TRON: Legacy," Hedlund landed another lead role–but this film is the polar opposite of the Disney venture. "On the Road" is Walter Salles' adaptation of Jack Kerouac's seminal 1957 novel of the same name. For those who haven't read it, "On the Road" is about two best friends, Sal Paradise and Dean Moriarty, who represent Kerouac and fellow Beat generation poet Neal Cassady, respectively. Hedlund plays the Neal Cassady/Dean Moriarty character.
Told with a loose narrative structure, the story follows Sal and Dean as they roam across 1940's America looking for love while also trying to understand themselves. The cast also includes Kristen Stewart, who plays Dean's first wife, the 16-year-old Marylou, as well as Kirsten Dunst, who plays Dean's second wife and mother of his children, Camille. Sam Riley rounds out the cast as Sal Paradise, Kerouac's stand-in.
Garrett Hedlund played Hook in Pan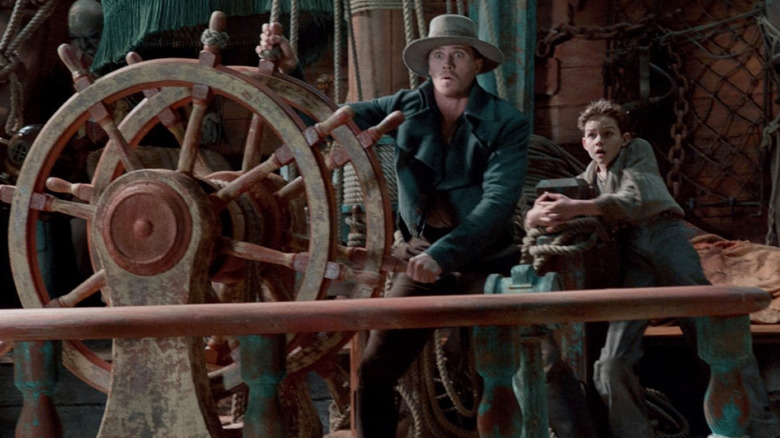 Warner Bros. Pictures
The story of J.M. Barrie's Peter Pan has been adapted countless times since the Scottish author staged the first theatrical version in 1904. "Pan" is the 2015 version that's directed by Joe Wright. This time, rather than focus on the three Darling children, who figure prominently in most Peter Pan stories, "Pan" tells the tale of how a young boy named Peter came to be Peter Pan, the mischievous flying boy who has adventures in Neverland.
Levi Miller plays the lead role, while Garrett Hedlund plays a major supporting role in James Hook–although he's not yet the Captain Hook most fans are familiar with. As this takes place during Peter Pan's formative years, Hook is just a member of the pirate Blackbeard's (Hugh Jackman) crew. Curiously, James Hook still has both of his hands at this point in the story. As Hedlund explained to Collider, Hook is called "Hook" simply because that's his last name. It's only a horrible coincidence that Hook later loses his hand and replaces it with an actual hook.
Garrett Hedlund played David in Reservation Dogs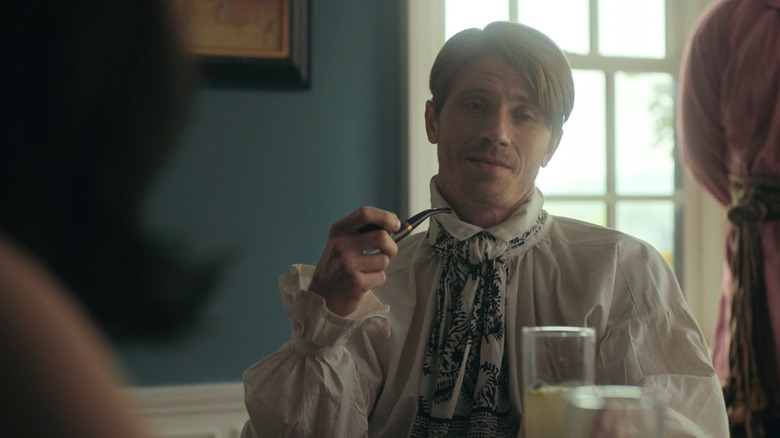 FX/Hulu
"Reservation Dogs" is the criminally under-watched FX series that's co-created by Taika Waititi and follows four teenagers growing up on an indigenous reservation in Oklahoma. One of the ongoing storylines during the show's first season is about Rita (Sarah Podemski), mother of one of the four friends, Bear (D'Pharaoh Woon-A-Tai), and her ongoing struggles with romance. In the fourth episode, "What About Your Dad?", Rita's ex and Bear's estranged father, a rapper going by the name Punkin Lusty (Sten Joddi), returns to town to perform a gig. An upset Rita then goes out drinking, where she meets a handsome stranger named David, who's played by Hedlund. Even better, after spending the night with him Rita learns that David is a filthy rich doctor.
Of course there's a catch. David winds up being casually racist–he even has a feather-laden Confederate flag tattoo. This leads to a fantasy sequence in which Rita pictures him as a foppish, lemonade-swilling 19th century landowner.