Tommy Flanagan Credits SOA's Cult Following To Its Cast's Strong Bond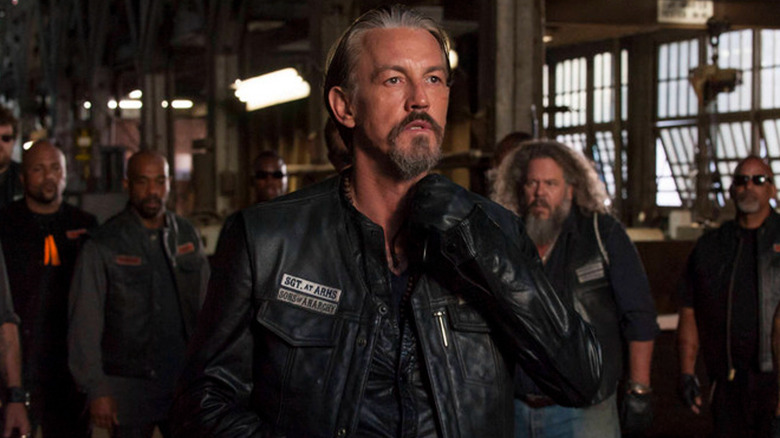 FX
Tommy Flanagan is arguably best known for portraying Filip "Chibs" Telford on the crime drama "Sons of Anarchy." Chibs first appeared in the Season 1 premiere alongside a cast of wildly unpredictable and intriguing characters who were portrayed by a who's who of Hollywood talent, including "Married... with Children" star Katey Sagal, Charlie Hunnam, and "Hellboy" himself, Ron Perlman.
The success of the series can't be overstated, but Flanagan feels that the "Sons of Anarchy" endures the way it does because of the close-knit relationships that were forged by all the actors who contributed to creator Kurt Sutter's vision of the SAMCRO. "It's such a mass following of this show," Flanagan said in an interview with The Baltimore Sun. "People just seem to be drawn to this show."
"I genuinely believe not just because of Kurt [Sutter]'s writing but because we were such good friends, because we became that real brotherhood," Flanagan continued. "I think it showed on-screen. It was like a real family I'd say, from cast to crew, and it's fricking wonderful. I miss it every day." And that magic pool of talent helps "SOA" live on with its ever-growing fanbase well after the series' finale in 2014.
The actors' camaraderie endears SOA to its followers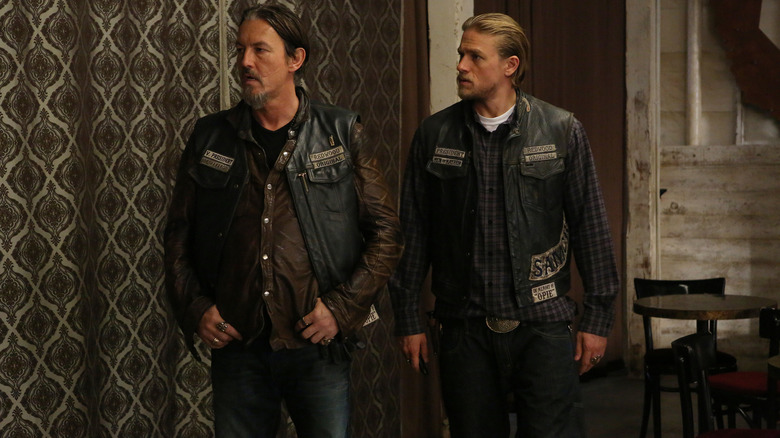 FX
"Sons of Anarchy" ended its seven-season run on December 9, 2014, but the crime drama continues to resonate with critics and fans alike. Tommy Flanagan, who bid farewell to playing the President of the SAMCRO in Season 7, Episode 13's "Papa's Goods," firmly believes the show's brotherhood is what makes "SOA" so popular and enduring for its countless, avid fans.
"I truly believe that everyone wants to be part of something, whether it's a brotherhood or sisterhood or whatever organization — especially the Armed Forces and the guys who serve," Flanagan said during his interview with The Baltimore Sun. "Those guys who serve, they're incredible. They love this show because of the brotherhood and the family. I think that's what tied the whole show together — the reality and the friendships and the brotherhood, and crazy Kurt [Sutter] and his mad writing."
Reflecting on his professional life following "Sons of Anarchy," Flanagan admitted it took him a while to get used to not interacting with the rest of his extraordinary "SOA" family on a day-to-day basis. "It was just this routine that all of a sudden, you're not doing anymore," Flanagan continued. "You're lost for a second, but it's all good now." Flanagan then told The Baltimore Sun that he's a motorcycle enthusiast, and he still gets on his hog every day. He also said that it's the only way he commutes to Los Angeles because taking a car would drive him insane.