Why Adam Driver's 65 Bombed At The Box Office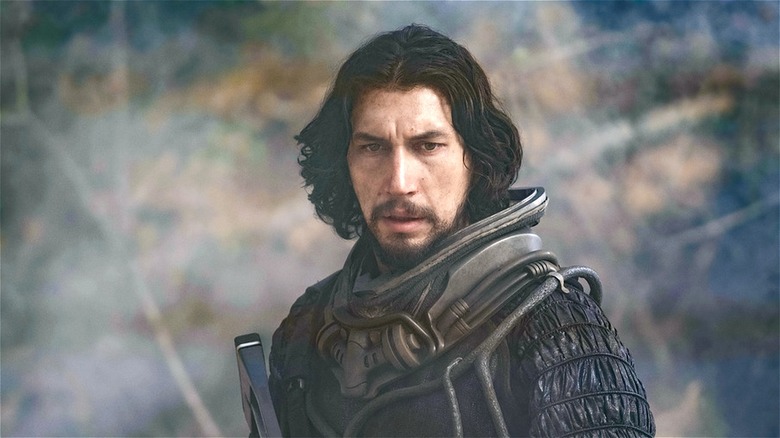 Sony Pictures Releasing/Patti Perret
Making a movie and bringing it to the general audience is quite the undertaking. Just think of all of the people involved at varying steps in the process. In other words, movies usually have quite a serious amount of hope behind them, and it is always a rather misfortunate misstep when a movie fails to make a big splash, which happens to be the case with the freshly released "65."
Starring Adam Driver and Ariana Greenblatt, "65" is all about Mills (Driver), Koa (Greenblatt), and their survival on a hostile planet populated by dinosaurs. These two are the only ones left after their spaceship crashes, and Mills feels honor-bound to protect the young Koa. This means "65" is great for people who like dinosaurs and science-fiction. 
Unfortunately, it looks like these people weren't motivated to go to the movie theaters, and "65" has missed the mark in terms of box office returns. There could be many different reasons why "65" is going extinct, which may include reviews, competition, and not a lot of star power.
65 has to share theaters with a busy slate of varying movies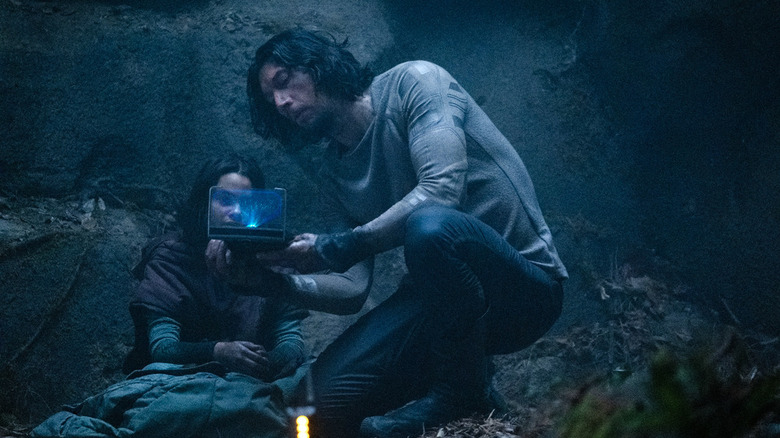 Sony Pictures Releasing/Patti Perret
Released on March 10, "65" hasn't been given free reign over the box office, and the movie has faced significant competition from several different movies. A movie like "65" might already struggle to bring in audiences, but squaring up against the likes of "Scream VI," "Creed III," and "Ant-Man and the Wasp: Quantumania" hasn't been kind to "65." The results have been quite abysmal for the aforementioned movie, making only $12.3 million. For comparison, "Scream VI," which also released at the same time as "65," earned a respectable $44.5 million, the franchise's strongest debut yet.
Besides the direct competition from "Scream VI," there are many movies that are still generating income like the above mentioned films, as well as "Puss in Boots: The Last Wish," "Cocaine Bear," and "Avatar: The Way of Water." This means there are plenty of options when it comes to entertainment, and it seems like "65" didn't generate enough interest to overpower any of the other choices at the theater.
Critics aren't exactly big fans of 65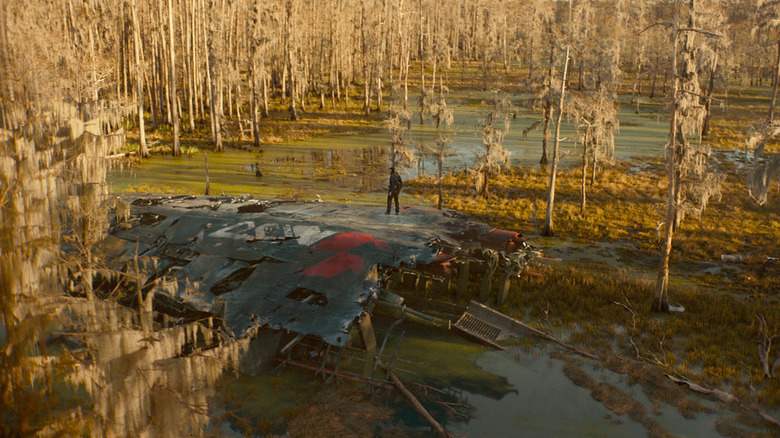 Sony Pictures Releasing
In addition to stiff competition, the general critical consensus around "65" has not been favorable. Reviews have not been kind to "65," and Rotten Tomatoes currently has the movie at a 38% critical score, but it seems like the general audience views the movie in a slightly more positive light, giving the movie a 63%. Still, these results are hardly glowing, and negative word of mouth can affect box office yields. 
"While this sci-fi/dinosaur movie is competently made, it really only has one good idea, and it doesn't do much with it," Common Sense Media wrote. "The rest is generic, familiar, and fails to generate much suspense or emotion." 
Not all critics were unkind to the movie. Empire Magazine thought the movie was bold in creating an original story, noting that the film moved at a brisk pace, and the no-nonsense plot was buoyed by the occasional Tyrannosaurus Rex. Still, "65" isn't creating a lot of positive chatter.
65 doesn't have a big and well-known cast nor is it part of a franchise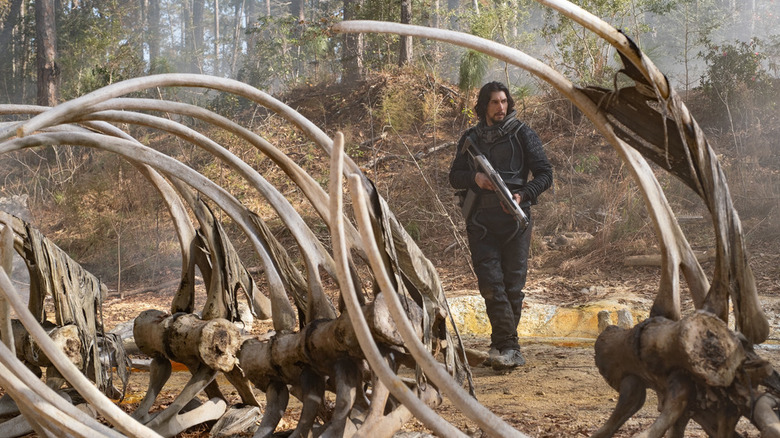 Sony Pictures Releasing/Patti Perret
Another facet to consider is that "65" doesn't have a lot of star power other than Adam Driver. Besides Driver, the other main star is Ariana Greenblatt, whose biggest claim to fame at this point is appearing as Young Gamora in "Avengers: Infinity War." 
Driver is not without his army of dedicated fans, but Driver isn't exactly known as an action star. The one exception to this is the recent "Star Wars" trilogy, but beyond that, Driver usually isn't running and gunning. Perhaps that was the reason why Driver decided to join the cast of "65" as it afforded him something different, but it seems audiences, at the moment, aren't buying into this version of the actor.
Another piece of this puzzle is that "65" is an original property, and it isn't part of a franchise, much like some of the other movies currently in theaters like "Creed III," "Ant-Man and the Wasp: Quantumania," "Avatar: The Way of Water," and "Puss in Boots: The Last Wish." 
Considering that "65" was created for around $91 million, it appears as if the film has quite the uphill struggle ahead if it wishes to recoup the invested money. Perhaps "65" will undergo a massive change of fate, but at the moment it looks like "65" is under the looming shadow of a cataclysmic asteroid.