TWD's Christian Serratos Gets Choked Up Revisiting Rosita's Final Moments
"The Walking Dead" capitalized on Hollywood's zombie obsession like no other, spanning 11 seasons and numerous spin-offs. As with any apocalypse-focused series, the AMC hit features its fair share of death, with on-screen endings becoming a significant part of the show. 
Christian Serratos, who played Rosita for eight seasons, met her end in the series finale, dying after fighting off a horde to save her daughter. In an interview with Entertainment Weekly, the actress brought those emotions back up, revisiting her character's death. "I watched it this morning right before a very important table read for my new show ['More' on HBO Max] that is very upbeat, and that was a poor choice," Serratos said. "Let me tell you, because I was in the middle of my makeup, and I had to fix tears and makeup and this and that, and was like, 'Well, that was a f****** terrible choice.'"
Going out next to Eugene (Josh McDermitt) made the entire experience that much more emotional. They joined "The Walking Dead" together, so Eugene being next to Rosita for her final moments hit every emotional nail on the head. "That was so brutal," she told the outlet. "Even talking about it makes me want to cry. These characters have just been through so much, and that was like her brother. So knowing that he was going to be the one to put her down and to be with her at the end is just kind of beautiful."
Serratos masterminded Rosita's death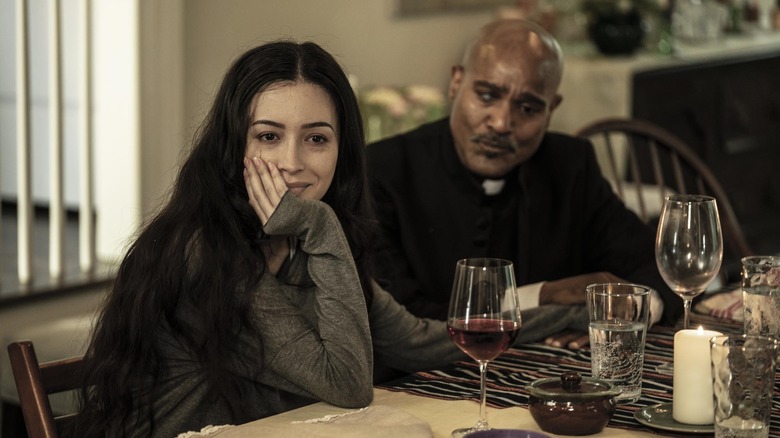 AMC
It shouldn't be surprising that Christian Serratos has trouble looking back on her on-screen death without a flood of emotions. The actress finely crafted the character over eight seasons, building an off-screen family with her co-stars as their characters formed similar bonds while fending off hordes of the undead. However, that didn't stop her from pitching Rosita's death to those running "The Walking Dead."
The show made a name for itself by focusing on family and heart as the characters struggled to survive the zombie apocalypse, and that's what Serratos wanted to bring to her death. "[The Walking Dead] tugging at your heartstrings was something that I really fell in love with about the show," she told Entertainment Weekly. "And I just really wanted people to have that emotional experience in our finale, especially."
She started masterminding Rosita's death after wrapping Season 10, saying it would have felt like a disservice if no one had died in the finale. Live-action Rosita outlived comic book Rosita, so the actress had a blank slate to work with, deciding to go out just as she came in, with Eugene by her side. It's safe to say that Serratos's plans paid off, giving fans one of the most emotional deaths in the series. Unfortunately, her death was the last scene they filmed, so the actress had a hard time walking off the set once it was over.