DC Is Celebrating Pride With The Help Of Batwoman And Pied Piper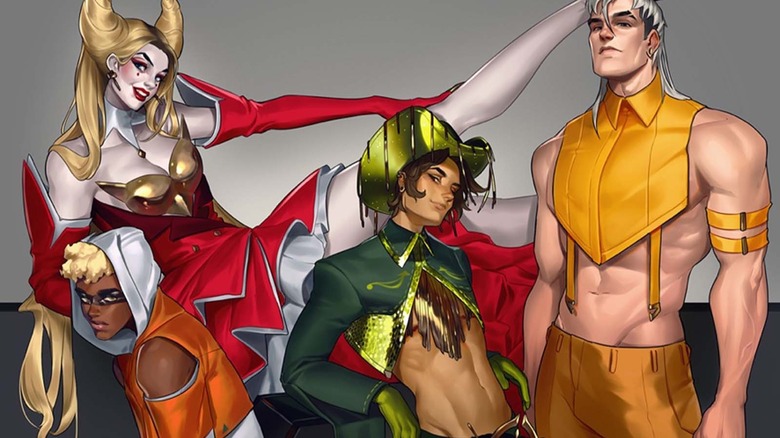 DC Comics
DC Comics has revealed new details about its annual "DC Pride" comic book, as some of the most talented creators working with the publisher will be highlighting the past, present, and future of LGBTQIA+ heroes and villains in the oversized one-shot issue. 
With last year's "DC Pride 2022" featuring the incredibly personal and touching recounting of being a gay man from the late, legendary "Batman: The Animated Series" voice actor Kevin Conroy and continuing ongoing queer storylines featuring Jon Kent's Superman and Tim Drake's Robin, the issue serves as an important platform for diverse creators and characters. Now, "DC Pride 2023" is ready to shine the spotlight on the important DC Comics contributors and characters, as the upcoming comic is promising some seriously exciting new stories, artwork, and more.
The 104-page comic will feature a forward from artist Phil Jimenez ("Wonder Woman Historia: The Amazons"), and special covers from a slew of artists, including Gabriel Picolo ("Teen Titans: Beast Boy Loves Raven"), Jen Bartel ("She-Hulk"), and Oscar Vega ("Phoenix Song: Echo"). Additionally, the giant-sized comic will feature a new "Multiversity" story from Grant Morrison, while the first appearances of Pied Piper, Batwoman, and Lee Seranno will be reprinted in a new issue. Pinup artwork starring featured heroes will be drawn by Maria Llovet, Ro Stein and Ted Brandt, Travis Moore, Noah Dao, Claire Roe, Babs Tarr, and more artists to be revealed.
There's a lot in store for DC Pride 2023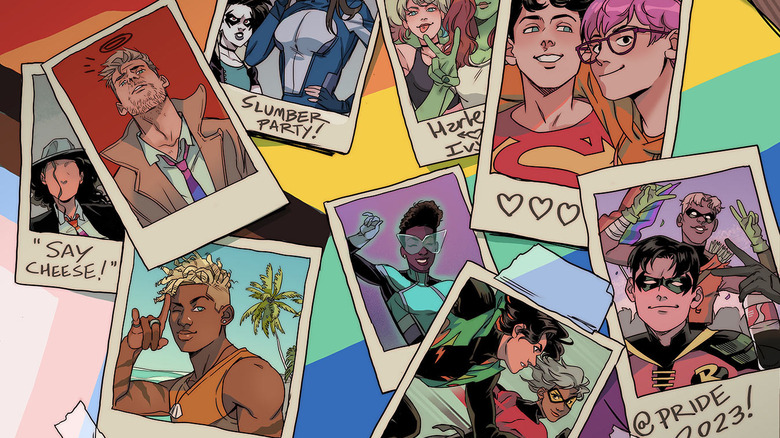 DC Comics
DC Pride will feature several new stories featuring LGBTQIA+ characters. Tim Drake and Connor Hawke will star in a new adventure from Nadia Shammas and Bruka Jones; A.L. Kaplan will bring together the new trans-masculine hero Circuit Breaker alongside The Flash of Earth-11; and Josh Trujillo and Don Aguillo are tackling a new Midnighter, Apollo, and Alan Scott's Green Lantern story.
Additionally, Rex Ogle and Stephen Sadowski are working on a story featuring Ghost-Maker, Catman, Cannon, and Saber; John Kent and Constantine will be featured in a story from Christopher Cantwell and Skylar Patridge; Natasha Irons and Nubia will star in a team-up from Mildred Louis; Harley Quinn and Poison Ivy will be joined by Lobo's daughter Crush in a story from Leah Williams and Paulina Ganucheau; and legendary writer Grant Morrison is working with Hayden Sherman on an all-new chapter in "Multiversity."
"Harley Quinn and Poison Ivy go to extreme measures to get a little alone time...but there's nowhere on the planet Crush can't crash. Jon Kent gets a comprehensive course in dark magic when John Constantine sics a golem on him. Tim Drake and Connor Hawke learn that there is nothing more awkward than reuniting with an old friend after you've both come out and one of you was indoctrinated by the League of Shadows for a while. Circuit Breaker struggles to stifle his powers after the Flash of Earth-11 leaps out of the time stream and knocks them both into another dimension. Just how far would Flashlight go to honor his lost love? Discover all these stories and many more in DC Pride 2023!"
"DC Pride 2023" will also feature a preview of the upcoming YA Dreamer story from "Supergirl" actress Nicole Maines and Rye Hickman, which will be released next year.
DC Comics expands Pride celebrations outside of the 2023 issue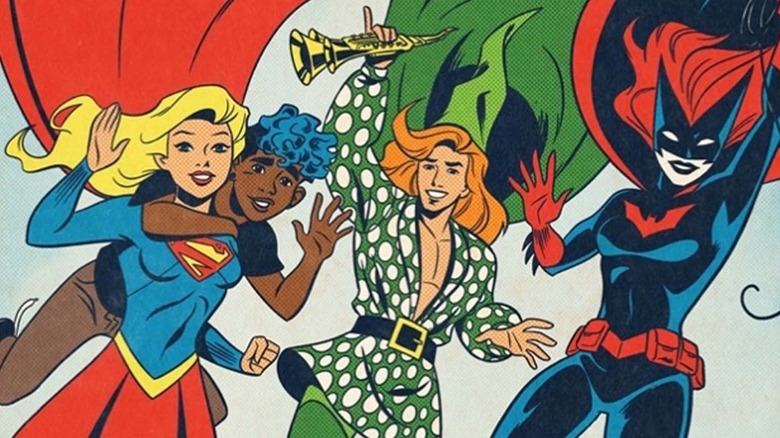 DC Comics
Jadzia Alexrod ("Galaxy: The Prettiest Star") and Paulina Ganucheau ("Marvel Voices Pride") are working together on a new DC character encyclopedia, "The Book of DC Pride," with the hardcover featuring more than 50 LGBTQIA+ character profiles. This includes popular characters Jon Kent, Harley Quinn, Batman, Aquaman, and more. The book will be released on May 16.
DC will also reprint stories featuring important moments from LGBTQIA+ characters in "DC Pride: Through The Years." The 80-page comic will include "The Flash" #53 by William Messner-Loebs and Greg LaRocque, which is the story where Pied Piper comes out to The Flash. The one-shot will also feature "Detective Comics" #854 by Greg Rucka and J.H Williams, which was the star of Katy Kane taking the spotlight as Batwoman. The last reprint retells "Supergirl" #19 by Steve Orlando, Vita Ayala, and Jamal Campbell, featuring the story of Lee Serrano, a nonbinary teenager who encounters Supergirl. One new story will be printed in "DC Pride: Through the Years" as Tim Sheridan ("Teen Titans: Academy) and Cian Tormey ("Superman: Son of Kal-El") will tackle a story featuring the JSA hero and what's coming next for them in the pages of DC Comics.
The following DC Pride-themed variants will also be released throughout the year: "Steelworks" #1 (Joshua "Sway" Swaby), "Spirit World" #2 (Jessica Fong), "Green Arrow" #3 (Luciano Vecchio), "Adventures of Superman: Jon Kent" #4 (Stephen Byrne), "Superman" #5 (W. Scott Forbes), "Batman Incorporated" #9 (Rosi Kämpe), "Tim Drake: Robin" #10 (Travis Moore), "Poison Ivy" #13 and "Harley Quinn" #31 (connecting covers by Claire Roe), "Nightwing" #105 (Yoshi Yoshitani), "Wonder Woman" #800 (Ted Brandt and Ro Stein), and "Detective Comics" #1073 (Amy Reeder).
DC Comics will continue to release collections featuring Pride heroes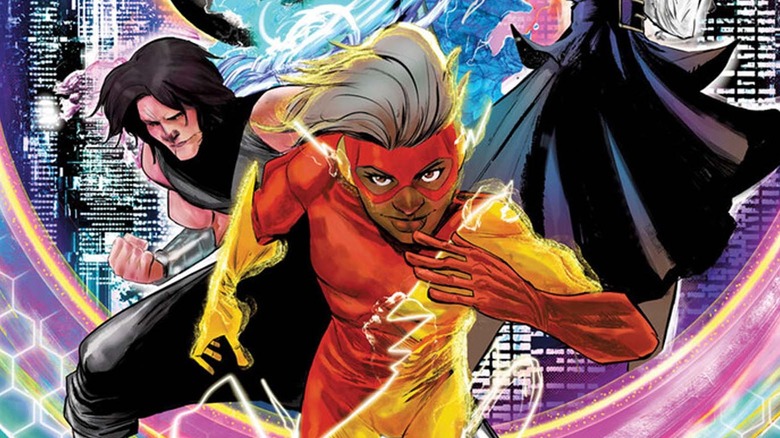 DC Comics
DC Comics is releasing several new collections featuring some of its most important LGBTQIA+ heroes. "DC Pride: The New Generation" will get a hardcover release on May 23; Rachel Pollack's iconic "Doom Patrol" omnibus is receiving a new second printing releasing on March 14; both the trade paperback for "Multiversity: Teen Justice" by Ivan Cohen, Danny Lore, and Marco Failla, and the "Harley Quinn" Vol. 3 hardcover by Stephanie Williams and Riley Rossmo are coming to comic stores on March 21; "The Authority Book One" trade paperback by Warren Ellis and Bryan Hitch is getting a 2023 edition on April 25; "Superman: Son of Kal-El: Vol. 3: Battle of Gamorra" by Tom Taylor and Cian Tormey is getting a hardcover release on May 9; and the beautifully illustrated "Wonder Woman Historia: The Amazons" by Kelly Sue DeConnick and Phil Jimenez is coming out on hardcover on June 6.
DC Comics will continue to make a large amount of Pride-related titles available for order, including "Aquaman: The Becoming" by Brandon Thomas, "DC Comics: Bombshells: The Deluxe Edition Book One" from Marguerite Sauvage and other artists, and "Exit Stage Left: The Snagglepuss Chronicles" by Mark Russell and Mike Feehan. DC Pride stories and comics starring LGBTQIA+ characters are also available digitally from DC Comics on their DC Universe Infinite app, where the stories are curated. 
"DC Pride 2023" #1 from DC Comics arrives in comic book stores on May 30.