Actors Who Left A Movie Franchise But Wound Up Returning Later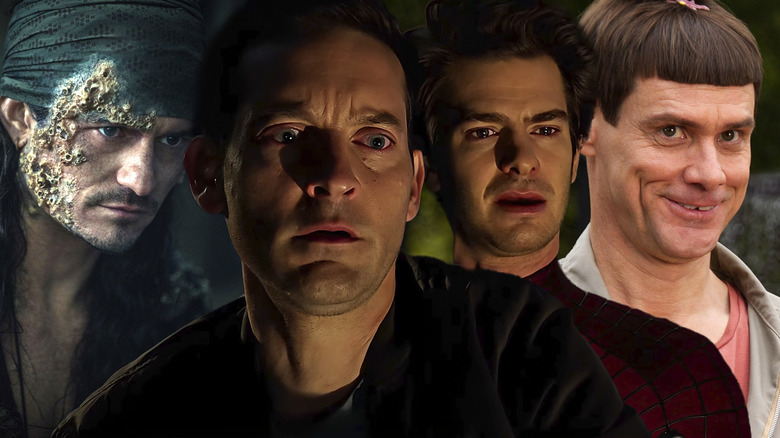 Static Media
Many actors work their entire careers just hoping to find that one big, iconic role that will make their name in Hollywood: Roles that will give them not just fame, but job security. For those who are lucky enough to find two or three such roles in their career, though, they might be eager to move on to other parts after playing the same character over and over again. Sometimes they have the role taken from them, their character's story concluded, or their entire franchise is rebooted, and they're forced to say goodbye.
But in the movie business, nothing is ever truly gone forever. Even decades-old movies, dormant stories, and once-rebooted franchises can be brought back. This means now more than ever that actors can come back after leaving their signature roles. And those actors who wanted out themselves may have had time to put their parts in perspective and be ready to return to the roles that made them famous.
Whether it's a retired superhero stalwart, a scream queen who said sayonara, or actors who were replaced only to be asked back, it happens more than you think. So let's take a trip through Hollywood history as we look at just a few of the biggest stars who left a franchise only to return years later.
Charlton Heston left the Planet of the Apes... and came back as an one of them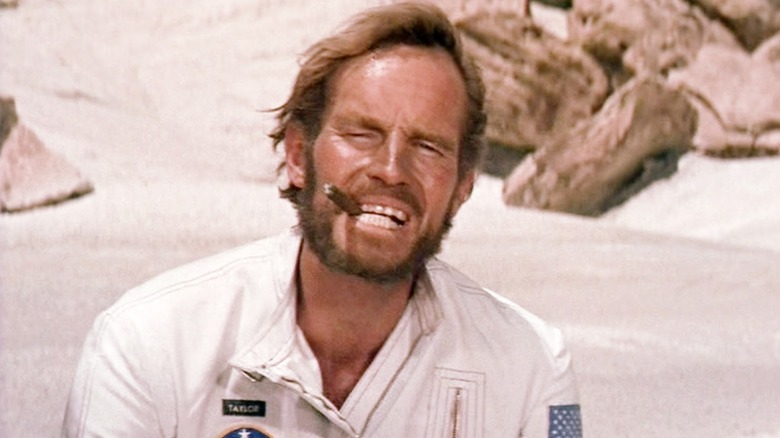 20th Century Fox
Charlton Heston starred in 1968's "The Planet of the Apes," and when it became a hit, the studio envisioned sequels. Heston however only pops up in a cameo in the 1970 follow-up, "Beneath the Planet of the Apes," where his character, astronaut Taylor, ignites a nuclear warhead that destroys the world.
According to legend, Heston had no interest in starring in the sequel and only agreed to the cameo on the condition that his character is killed off. That was fine with Fox studio head Richard D. Zanuck, who actually wanted to end the series.  As detailed by Den of Geek's Don Kaye, it was actually Heston himself who dreamed up the cataclysmic finale, so as to cut off any hopes of more movies. But if you think the series ended there, think again: "Beneath the Planet of the Apes" spawned three more sequels and a TV series spin-off, but Heston was nowhere to be found.
Decades later however, in 2001, director Tim Burton oversaw a reboot of the franchise, and this time, a 78-year-old Heston was talked into returning to the role that made him a sci-fi icon. But rather than play a heroic astronaut this time around, Heston switched sides, playing a fatalistic elder ape who feared the arrival of the movie's human.
Michael Keaton took a 30 year break from the cape and cowl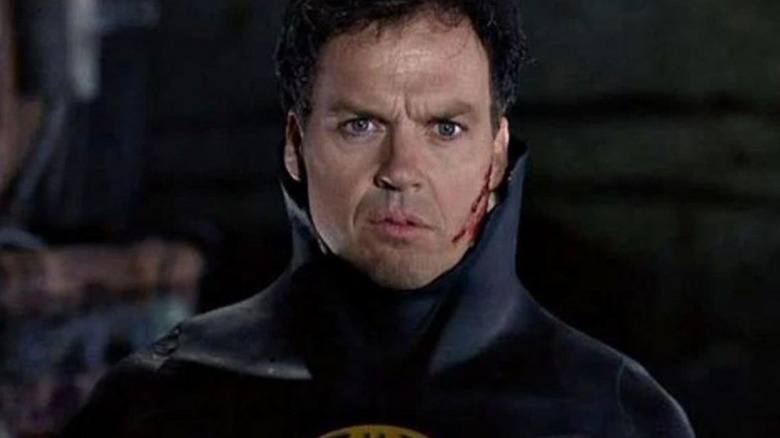 Warner Bros.
In 1989, director Tim Burton reinvented the Dark Knight and enlisted the star of his previous hit "Beetlejuice" Michael Keaton to play the title role. Today, Keaton still ranks among the best actors to ever play the role. In 1992, Keaton put the cowl on once more for "Batman Returns," but when talks with director Tim Burton for a third installment broke down over creative differences, Keaton left with him.
Two more lackluster sequels — which replaced Keaton with Val Kilmer and George Clooney respectively — and the franchise was dead. It would be almost a decade before Batman returned to theaters, and this time it would be Christian Bale starring in an acclaimed trilogy from Christopher Nolan. Even after Ben Affleck succeeded him in the DCEU, calls for Keaton to reprise the role persisted. Though it seemed increasingly unlikely given that Keaton had recently starred as the villain in Marvel's "Spider-Man: Homecoming," Keaton shocked the world when it was announced he'd put the cowl on one more time for a major role in DC's "The Flash" in 2023.
Though a broader planned comeback may now be nixed following the reboot of the DC cinematic universe, Keaton's comeback proves you can go home again, no matter how long it's been.
Jim Carrey and Jeff Daniels weren't dumb enough to do a prequel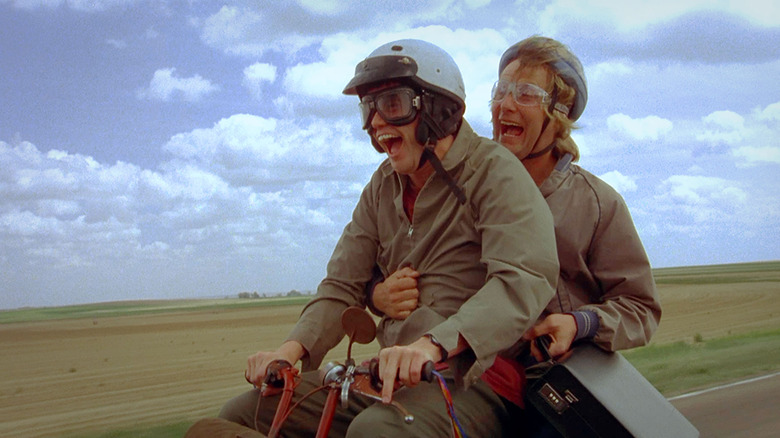 New Line Cinema
The year 1994 was a banner one for comedian Jim Carrey, seeing the release of three all-time classics: comic book adventure "The Mask," detective comedy "Ace Ventura: Pet Detective," and Farrelly Brothers' "Dumb and Dumber." All three were hits, but when the studio wanted another "Dumb and Dumber," Carrey wasn't interested. In fact, neither were his co-star Jeff Daniels or the film's directing duo, Peter and Bobby Farrelly. Thus, a follow-up went on without any of them. 
The result was "Dumb and Dumberer: When Harry Met Lloyd," a prequel starring Eric Christian Olsen and Derek Richardson in place of Carrey and Daniels, with Troy Miller in the director's chair. It told the story of how the two dim-witted best friends first met But without the original trio, the film missed its mark entirely. Savaged by both critics and audiences en route to becoming a box office dud, the prequel was the end of the line for the pair of goofballs.
The end of the line that is — until more than a decade later when the Farrelly Brothers would revisit the film for a sequel, "Dumb and Dumber To." And along with them came both the original stars, reprising their roles as Harry and Lloyd. The return of Jim Carrey and Jeff Daniels helped bring back at least some of the original audience too, resulting in a modest success.
Leonard Nimoy returned to the final frontier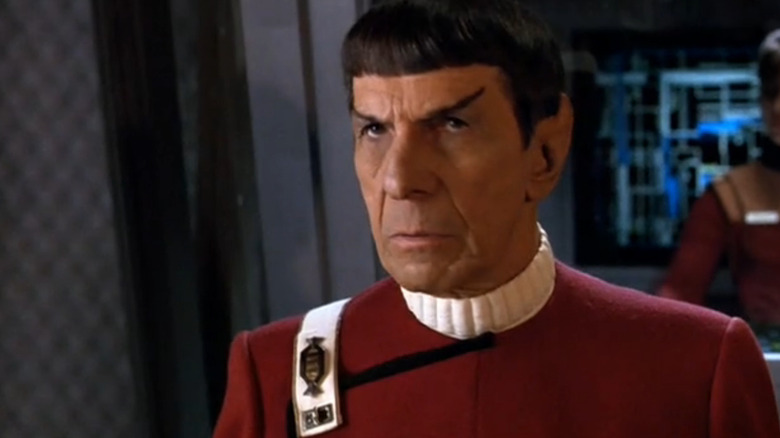 Paramount
Actor Leonard Nimoy played Mr. Spock for more than 20 years when the time came for the 1994 film "Star Trek: Generations." Though it would be the first film for the cast of "Star Trek: The Next Generation," producers wanted original stars William Shatner, DeForest Kelley, and Nimoy to reprise their original characters too. Nimoy ultimately declined though, walking away from a "Star Trek" film for the first time.
"I was sent a script," Nimoy told Cinefantastique Magazine in 1994. "It was offered to me to direct and to act in. ...[but] it was pretty clear that the concerns that I had, with the story they wanted to tell, could not be addressed because, I was told, there was not enough time. And, that being the case, I said 'Bon voyage.'"
For fans, it may have felt like they were saying goodbye to Spock for good, and by the late 2000s, Paramount wanted to reboot the franchise with director JJ Abrams. Zachary Quinto was cast as an alternate version of Spock, so it probably came as a surprise to many when Nimoy was announced to be a part of the movie, putting on the pointed ears one more time nearly a decade since his last on-screen role. Playing the aging original Spock in 2009's "Star Trek" even led to Nimoy's return to acting, as he later joined Abrams' TV series "Fringe" in a recurring role.
Sean Connery said never again ... and then did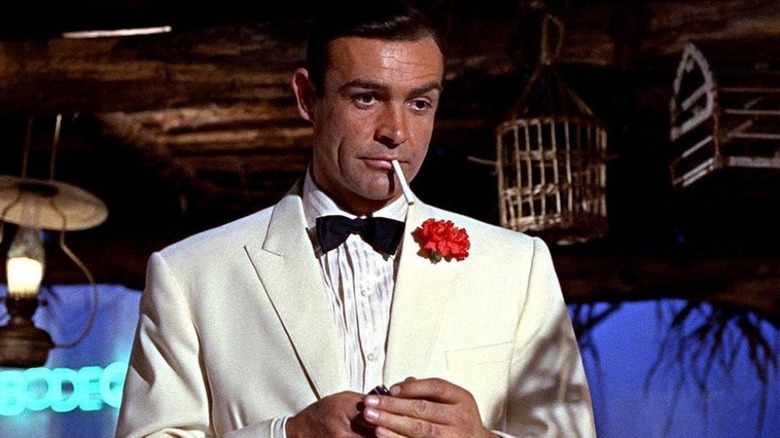 United Artists
There are few actors more closely associated with a single role than Sean Connery, who played British super-spy James Bond in six of the first seven films in the franchise. He'd bow out the first time after "You Only Live Twice," before he'd leave again after the 1971 classic "Diamonds are Forever," seemingly for good. With Roger Moore successfully supplanting him as the notorious MI6 agent Bond in a string of popular sequels, there wasn't a place for Connery even if he'd wanted to return.
All of that changed in 1983 when rights issues over the Bond novel "Thunderball" allowed a rival movie studio to make their own movie, "Never Say Never Again," to compete with Roger Moore's flagship series of films. Knowing they had to make a splash, producers lavished former Bond star Connery with a massive offer to lure him back to the role, reportedly paying him $5 million dollars and a cut of the box office gross. 
Why did he come back? Well, it wasn't just for the money. Urban legend claims it was also something just as delicious: revenge. A Yahoo News report recounts that Connery had always felt cheated by producers on his earlier films, and starring in "Never Say Never Again," gave him the rare opportunity to stick it to them.
Vin Diesel salvaged XXX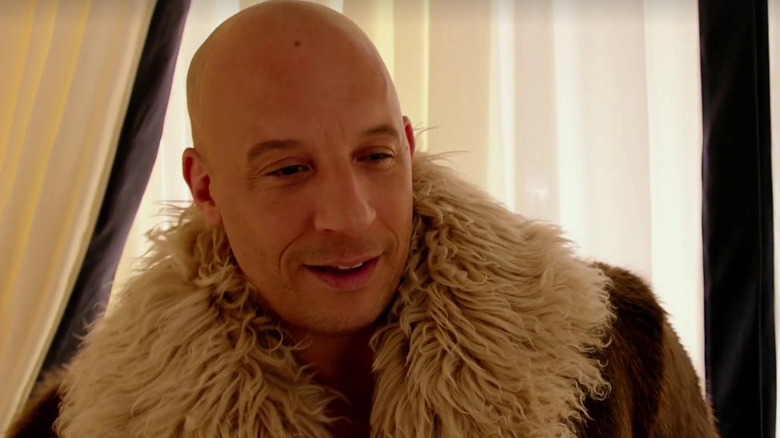 Sony Pictures Releasing
Finding fame in the sci-fi thriller "Pitch Black" and the street-racing action movie "The Fast and the Furious," actor Vin Diesel soon starred in the 2002 high-octane adventure "xXx." The film put Diesel into the role of Xander Cage, an extreme sports athlete who is recruited by the NSA for a covert mission. It was a solid smash for the actor, raking in an XXX-ceptional $277 million, but when they came knocking for a sequel, Diesel passed.
Citing concerns over the story, Diesel turned down a payday of more than $20 million dollars, telling USA Today in 2004 that "The script wasn't right. They changed writers. It wasn't 'XXX' to me. Two scripts were done, one by Rich Wilkes (who did the original 'XXX') and then another by someone else. I wanted the Wilkes one. That was the one I was excited about." Instead, producers went with rapper-turned-actor Ice Cube to lead the film, while killing off Diesel's character off-screen, but the results were less than etraordinary. 
Flash forward 12 years, and Diesel was lured back to the franchise for the appropriately titled "xXx: Return of Xander Cage." This time he got a script he liked, and Cage's death was retconned, while Donnie Yen and Ruby Rose were added to the cast. With Diesel back, "Return of Xander Cage" exceeded both films with a $346 million dollar haul.
Jamie Lee Curtis slashed back at Michael Myers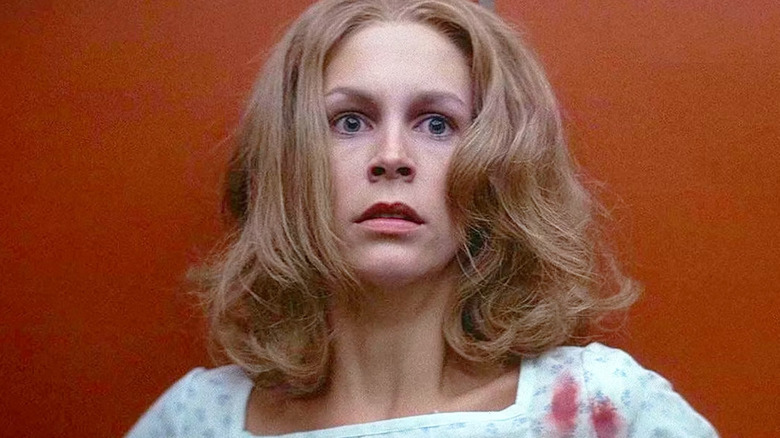 Universal Pictures
Jamie Lee Curtis was one of Hollywood's original scream queens thanks to her role as teenaged Laurie Strode in 1978's "Halloween." She'd return for "Halloween II," but left the franchise after that. Instead of starring in "Halloween" sequels, she appeared in films like "Trading Places" and "A Fish Called Wanda." Meanwhile, the machete-wielding Michael Myers terrorized Laurie Strode's daughter in three "Halloween" follow-ups that ran into the mid-1990s.
Following "Halloween: The Curse of Michael Myers" though, the franchise was languishing, and needed a shot in the arm. They'd get it by luring back Curtis, the series' original star, for the 1998 film "Halloween H20: Twenty Years Later." The seventh film in the long-running franchise, it effectively erased the events of the previous batch of films (and ignored the anthology film "Halloween III"), serving as a direct sequel to "Halloween II." 
Back in the role that made her famous, Curtis was now ready to embrace her horror roots, and returned for "Halloween: Resurrection" in 2002. Following a pair of ill-conceived remakes from Rob Zombie, Curtis came back for an all-new trilogy that once again erased previous movies, this time retconning every movie but the original, with "Halloween," "Halloween Kills," and "Halloween Ends" completing the story of Laurie Strode.
Two Spider-Men swung back into action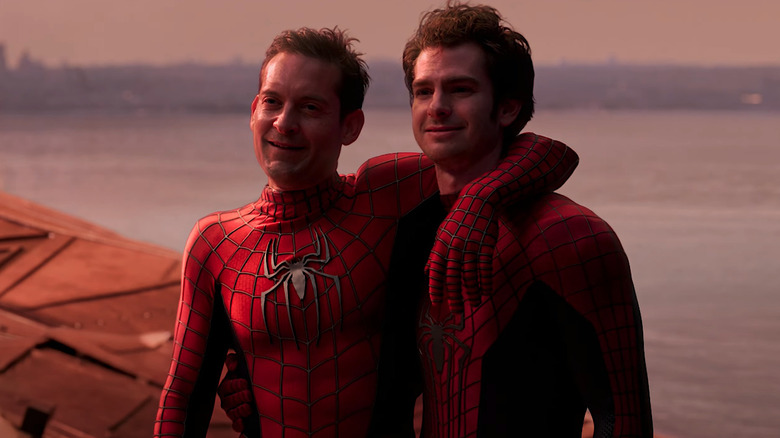 Sony Pictures
Marvel's flagship superhero hit the big screen in 2002 with Sam Raimi's "Spider-Man," starring Tobey Maguire as the titular web-slinger. Maguire went on to star in two sequels before exiting the franchise and making way for incoming actor Andrew Garfield. The British-born star played a new, edgier Peter Parker in a pair of films that unfortunately didn't meet expectations, leading the studio to abandon plans for a third film.
Instead, Sony struck an unprecedented deal with Marvel Studios to reboot Spider-Man yet again, but this time as part of their highly successful MCU. Actor Tom Holland played the wallcrawler in a pair of widely loved films, "Spider-Man: Homecoming" and "Spider-Man: Far from Home," but when the studio wanted to top it off with a threequel to end all threequels, they did the unthinkable. In a mind-blowing crossover, "Spider-Man: No Way Home" saw both Tobey Maguire and Andrew Garfield return as their respective Peter Parkers in a multiverse adventure that saw them square off with villains from both previous movie series.
A blockbuster of the highest order, it became the highest-grossing "Spider-Man" movie ever. And despite their return being one of Hollywood's worst-kept secrets, Maguire and Garfield's comebacks wound up being the highlight of the affair.
A trio of Jurassic Park stars made a long-awaited comeback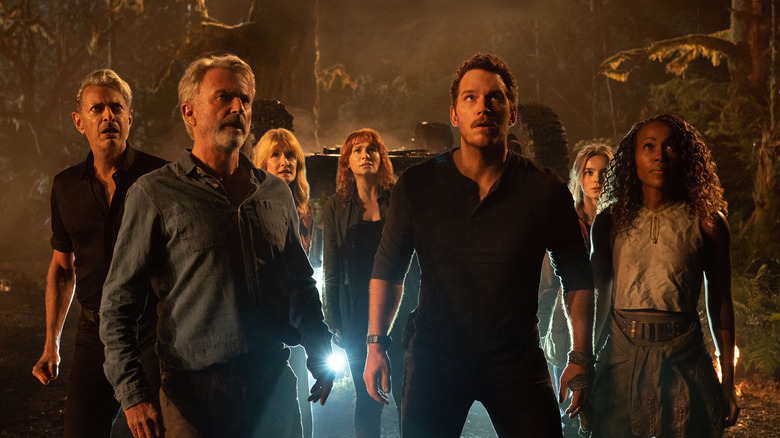 Universal Pictures
The three stars of "Jurassic Park" — Sam Neill, Laura Dern, and Jeff Goldblum — were the human magic of the film, as dinosaur experts and scientists Alan Grant, Ellie Sattler, and Ian Malcolm. But only Goldblum returned for the sequel, "The Lost World: Jurassic Park" making him the film's lead while also adding new cast members Julianne Moore and Vince Vaughn. But perhaps thanks to its more modest box office result, a third film in the series needed an assist and called Neill and Dern back to the park.
This time, however, it was Goldblum who passed on returning, supposedly due to an injury, and the fact that his character only had a small part to play. But when "Jurassic Park III" failed to deliver the dollars the studio was probably looking for, it shut down the franchise for almost 15 years. 
In 2015, the original director and now-executive producer Steven Spielberg relaunched the franchise as "Jurassic World," with the first film in a new trilogy helmed by Colin Trevorrow. But according to Spielberg, there was no thought given to bringing back the original cast, mostly out of a desire to look forward. As a result, Chris Pratt and Bryce Dallas Howard became the stars. But for the sequel "Jurassic World: Fallen Kingdom," Goldblum reprised his role as Dr. Ian Malcolm, and for "Jurassic World: Dominion," the third film in the series, Spielberg united the casts, with Dern and Neill returning alongside Goldblum, Pratt, and Howard.
Linda Hamilton was un-Terminated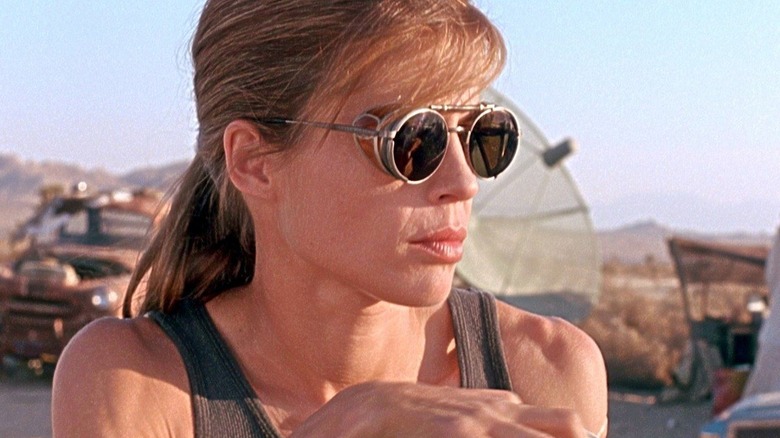 Tri-Star Pictures
"The Terminator" and its sequel "Terminator 2: Judgment Day" comprise perhaps the best duology in science fiction, a pair of back-to-back films that many consider flawless. Not wanting to let a good thing end, the studio behind the films went back to the well several more times, with mixed results, including "Terminator 3: Rise of the Machines" in 2003, "Terminator: Salvation" in 2009, and "Terminator: Genisys" in 2015. Though the Terminator himself Arnold Schwarzenegger returned for two of those three films — and his CGI likeness was used in the fourth — co-star Linda Hamilton did not, outside of a single voice-over cameo.
But Hamilton may have dodged multiple bullets, as none of the subsequent films lived up to the previous installments from series creator and director James Cameron. "Terminator: Genisys" in particular was met with scathing reviews from critics, leading some to declare the series dead. But just a few years later, Cameron set out to make a sequel himself. In doing so, he was finally able to convince Hamilton to return after a nearly 30-year absence from playing Sarah Connor.
With Arnold back too, and surrounded by incoming cast members Mackenzie Davis, Gabriel Luna, and Natalia Reyes, "Terminator: Dark Fate" arrived in 2019. Unfortunately, despite Cameron's involvement as co-writer and producer — and Hamilton's much-publicized return — it failed to deliver, leading to talk of a total reboot since. 
Natalie Portman wanted in on Hemsworth's fun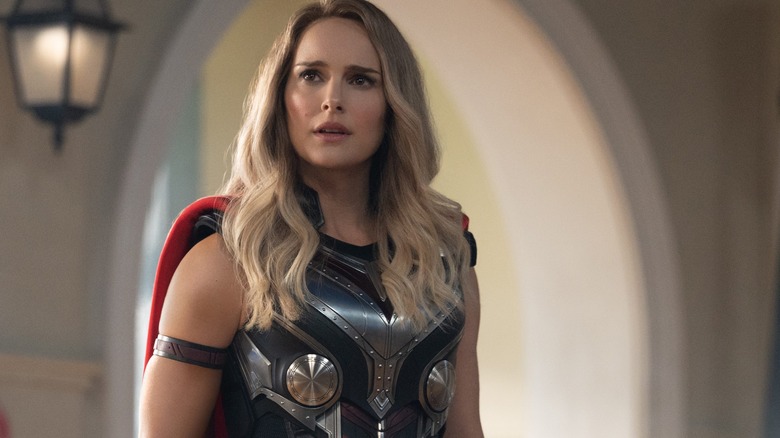 Marvel Studios
When the Marvel Cinematic Universe launched, one of the pillars of its first phase of films was the Asgardian hero Thor. And in a coup for the studio, Marvel secured the services of Oscar-winning actress Natalie Portman to play Jane Foster in the hero's eponymous debut film. But ahead of production on the sequel, Portman came into conflict with the studio, as Hollywood Reporter noted that the actress was angry that they had parted ways with director Patty Jenkins due to creative differences.
Despite the split with future "Wonder Woman" helmer Jenkins being amicable, Portman reportedly only appeared in the sequel due to her contractual obligations, and it seemed like she might have sworn off working with Marvel. In 2016, Portman reiterated that she had enough of Marvel movies, and seemed indifferent at the prospect of ever being asked to return. Given her complicated relationship with the studio, you can imagine the surprise when it was announced at San Diego Comic-Con in 2019 that Portman would return as Jane Foster, who'd wield Thor's hammer and become a demi-god herself in "Thor: Love and Thunder," the fourth film in the series.
Of course, Portman wasn't the only notable name to make a return to the "Thor" franchise after a curious exit. Jamie Alexander, who portrayed Asgardian warrior Sif, was noticeably absent from "Thor: Ragnarok" in 2017, before making her own return five years later in "Love and Thunder" alongside Portman as the lady Thor.
Jean-Claude Van Damme got back into action for Universal Soldier: The Return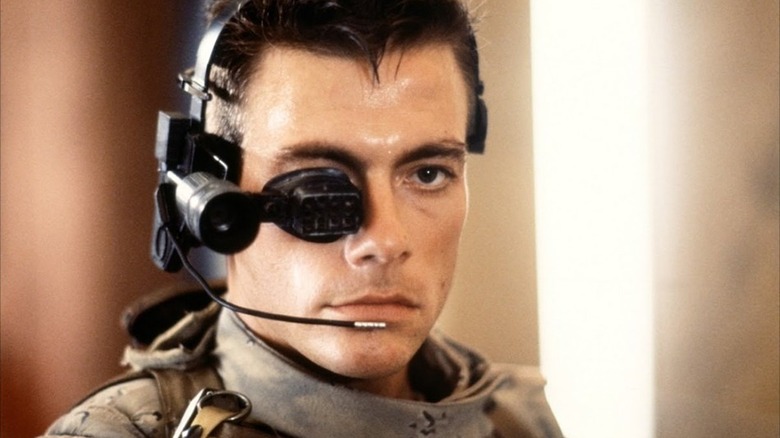 Tri-Star Pictures
In 1992, Jean-Claude Van Damme teamed with "Rocky IV" star Dolph Lundgren for a sci-fi action flick titled "Universal Soldier." Though it wasn't a big hit, it quickly became a science fiction cult favorite. When sequels were ordered, Van Damme was nowhere to be found, and without his star power, they were relegated to the direct-to-video shelf.
"Universal Soldier II: Brother in Arms" and "Universal Soldier III: Unfinished Business" both starred Matt Battaglia in Van Damme's old role, released a month apart in 1998. But just a year later, Van Damme — his career already facing a downward trend after a string of disappointments — opted back in for 1999's fourth film, aptly titled "Universal Soldier: The Return."
Like Jamie Lee Curtis' "Halloween" comeback, "The Return" wiped the slate clean, acting as a sequel to the first movie as if the previous two efforts never happened. While it wasn't a hit enough to garner a sequel that quickly, he returned a decade later for "Universal Soldier: Regeneration," which reunited him with his original co-star Dolph Lundgren, who made his own long-awaited comeback to the series. That film erased the events of "Universal Soldier: The Return" itself, and they'd follow it in 2012 with "Universal Soldier: Day of Reckoning." 
Orlando Bloom set sail one more time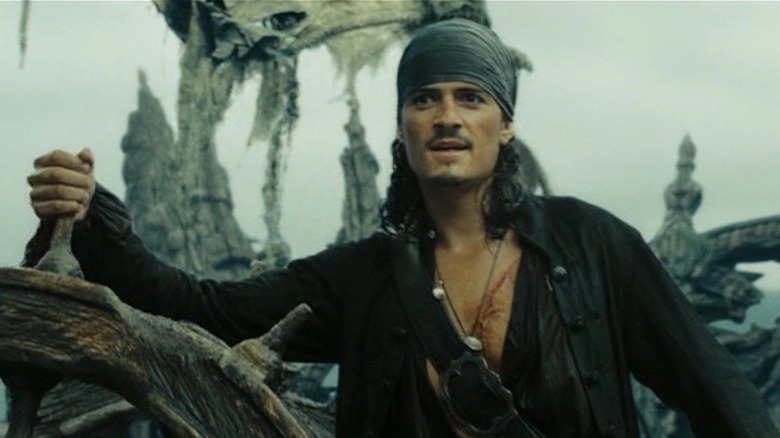 Walt Disney Studios Motion Pictures
Johnny Depp may be the undisputed star of the "Pirates of the Caribbean" movies, but his best friend Will Turner, played by "Lord of the Rings" alum Orlando Bloom, may be the heart and soul of the films. After three movies as the dashing rogue, though, Bloom decided he'd had enough. "I had a great time making those movies," Bloom told MTV News in 2010. "I just really wanted to do different things." As a result, "Pirates of the Caribbean: On Stranger Tides" went on without him, and Jack Sparrow got a new sidekick in the form of Angelica, played by Penélope Cruz.
Perhaps the actor was jealous as he watched the film without him soar above a billion dollars, though, because a few years later he wanted back in. He even found the nature of his character more appealing, given that Turner had been given command of the Flying Dutchman in his previous appearance. "I'm of course Davey Jones now, so I'm down the bottom of the ocean," he told IGN ahead of signing on to the project. "It might be kind of fun to do something where I'm rumbling round the bottom of the ocean, because I won't look anything like me ... Get all gnarly."
Bloom got his wish and returned to the series covered in heavy monster makeup. Alongside Jack Sparrow, Bloom helped chart a course for "Pirates of the Caribbean: Dead Men Tell No Tales" that led to a $794 million dollar box office haul.