Was That A Real Newborn Baby In The Last Of Us Finale?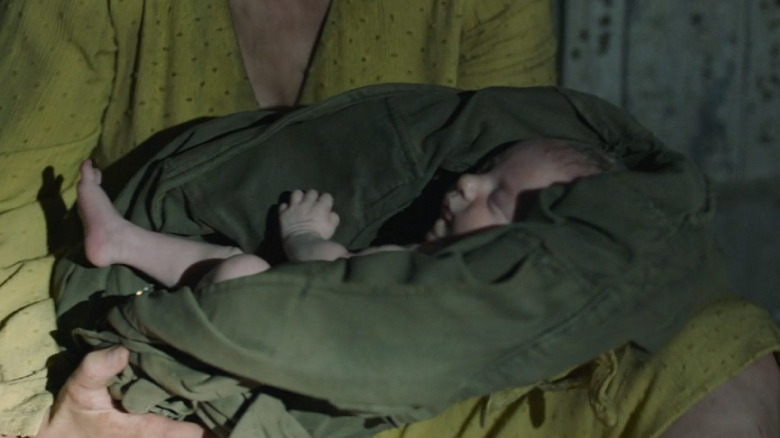 HBO
There's a lot to unpack in the Season 1 finale of "The Last of Us," but few of the episode's many narrative threads are more tragic and engaging than the origin of Bella Ramsey's Ellie. Some crucial flashback sequences explain how the teenager was born, what happened to her birth mother, and how she came into the care of Merle Dandridge's Marlene. It's absolutely gut-wrenching stuff, but some viewers may have been more preoccupied with how genuinely young the baby actor for Ellie in these sequences looks. In fact, some are wondering whether the show's production team actually got a newborn baby to appear for the episode.
As it turns out, the answer to that question is not only a definitive "yes," but "The Last of Us" actually employed two newborns who were just 12 days old. In an episode of HBO Max's official "The Last of Us" podcast, the show's team confirmed this fact. "We had these two babies that were fraternal twins," series co-creator Craig Mazin said. "One was a girl, one was a boy." The showrunner and cast member Ashley Johnson went on to joke that the girl was better at acting than the boy, with Mazin adding: "One day, the boy will listen to this and be very bitter."
The baby scenes were a tough shoot for everyone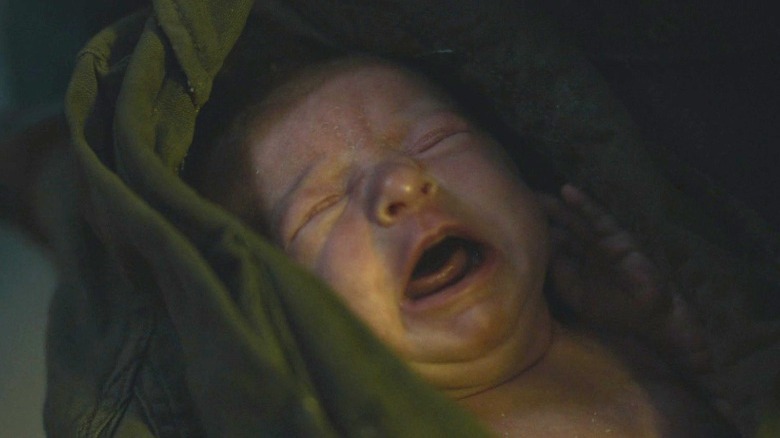 HBO
With two newborns on set, filming the baby Ellie scenes in "The Last of Us" Season 1 finale was unsurprisingly a more taxing shoot than usual for several of the show's main actors. Ashley Johnson, who portrays Ellie's mother Anna in the sequences, actually went into more detail about working with the babies — especially the girl, Mila. "It was an intense environment," she recalled in an interview with Variety. "There's screaming, the baby is covered in jam and KY jelly and it was a little chilly. It worked for the moment of wanting to care for them; I wanted to hold them and keep them warm."
Merle Dandridge, who also shares a couple scenes with the newborns, enjoyed the shoot despite a few unfortunate accidents on the part of the babies. "Those babies were beautiful in their performances and heartbreak, and it brought a whole other layer between Ashley and me in that scene," she said. "I just remember being peed on a lot. I was like, 'It's getting really warm in my arms, guys.' We had backup clothes in case it got too bad."
Only time will tell whether the newborn Mila and her brother will continue their acting career when they grow up, but they've certainly got a corker of a credit to start off on.