Every 2023 Oscars Movie We Don't Believe Jimmy Kimmel Watched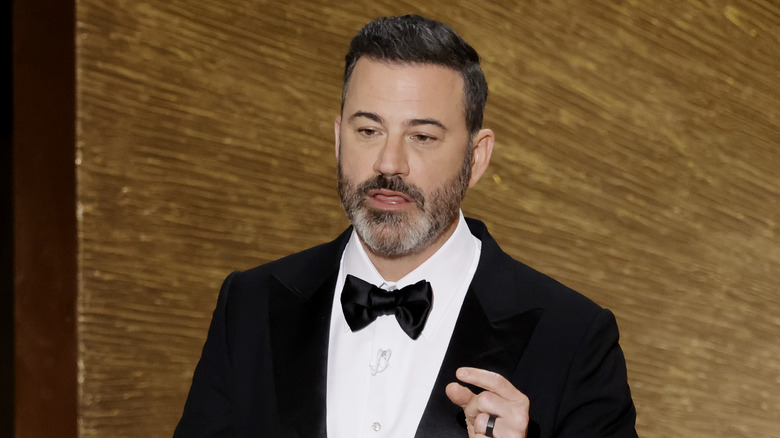 Kevin Winter/Getty Images
For any host, following the 2022 Academy Awards would not be an easy endeavor. Last year's award ceremony was overshadowed by the Will Smith slap controversy, which no one is likely to forget. To combat the anxiety for this year, the Academy appears to have gone the safe route by having Jimmy Kimmel host the ceremony. Already a host for two previous Academy Awards ceremonies, Kimmel's affability and experience in front of a live studio audience seemed to be for the best. But being America's late-night every man does not a perfect host make. Kimmel is dependable for an easy laugh — and multiple digs at the slap situation — but it's hard to believe that he's the all-encompassing authority on the films this year.
With 10 nominations for Best Picture, it's unlikely the host has seen all of them — despite his warm regards towards Cate Blanchett's intense biopic, "Tár." Kimmel encouraged everyone to see the movie about the fictional composer, though not convincingly. His brief admiration of the film had the same conviction of someone reading from a teleprompter, which makes a lot of sense. The niche subject matter doesn't exactly fall in line with Kimmel's brand, just like many of the other films the late show host undoubtedly did not watch.
Some movies aren't easy viewing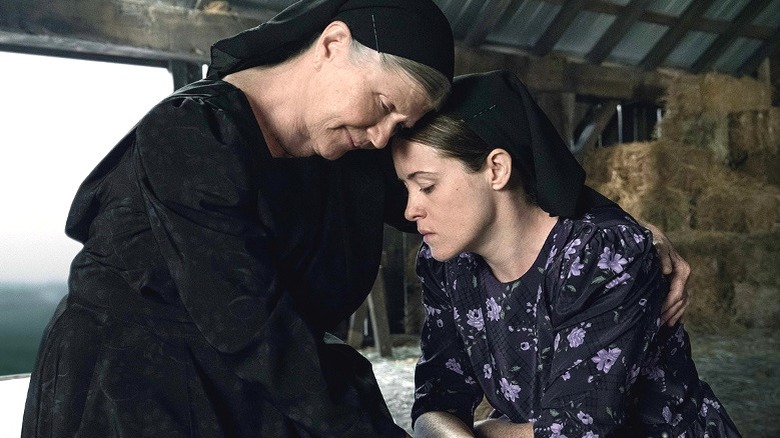 Universal Pictures
One of the most underrepresented Oscar-nominated films is the painfully beautiful, "Women Talking." Featuring a female collective in a strict Mennonite community, the characters decide to take action after a series of brutal sexual assaults. But it isn't just the stark subject matter that may not attract Kimmel to the film. Quite obviously, "Women Talking" is a film about women. The humorous, the heartbreaking, and the specific way women communicate with each other and find strength. The man who forced Quinta Brunson to step over his limp body at the Emmys is unlikely to watch the film — even though he would benefit from it. Ben Whishaw is the only main male character in "Women Talking," as school teacher August. Kimmel could take notes from a character who can read the room enough and know when to stop speaking.
And just like "Women Talking" takes a hard look at hidden pain, so too does Darren Aronofsky's "The Whale." Aronofsky has made a career out of films that are so real, viewers beg to look away. Brendan Fraser's return to Hollywood in the devastating film may not be enough for many people to tune in, even though Kimmel could do with learning a bit of empathy (and justice for Brunson.) These aren't the only films that Kimmel might have missed out on, though.
If you or anyone you know has been a victim of sexual assault, help is available. Visit the Rape, Abuse & Incest National Network website or contact RAINN's National Helpline at 1-800-656-HOPE (4673).
Kimmel doesn't appear to have more disdain than for James Cameron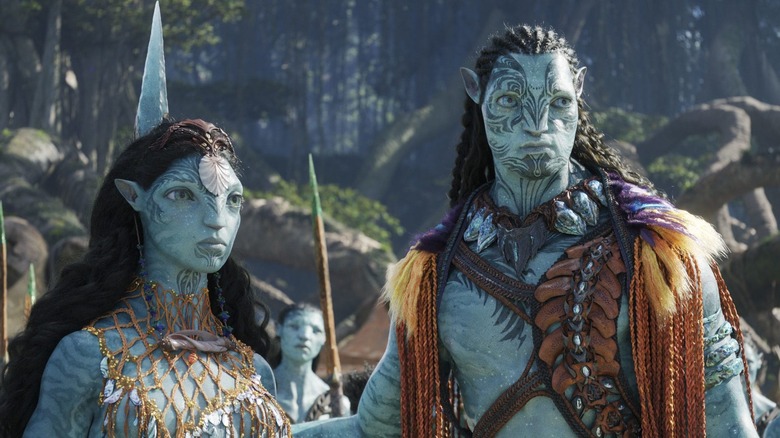 20th Century Studios/Disney
For the past four decades, James Cameron's influence has been undeniable. The father of "Titanic," "The Terminator," and "Aliens," whatever the director touches turns into gold. These are facts that Jimmy Kimmel appears to have taken personally, if his opening monologue is any indication. The host for the night was primed and ready to point out that Cameron was absent from the ceremony, in a joke that was obvious low-hanging fruit. Kimmel insisted he didn't think Cameron was absent because of his best director snub, but it's obvious he thinks the opposite. The director's seemingly never-ending slew of "Avatar" films may be tiresome, but to his credit, he always bets on himself. "Avatar: The Way of Water" made billions at the box office despite theaters struggling and the fact that it was a movie that no one really asked to be made.
Another big-name director who could have slipped Kimmel's notice is Steven Spielberg for his new film, "The Fabelmans." The semi-autobiographical tale also had the misfortune of premiering during the pandemic era, while simultaneously lacking the pomp and circumstance of the director's previous films. It doesn't have the excitement of "Jaws" or "E.T.," and is also missing the huge set pieces of "West Side Story." Do we think that Kimmel dragged himself to a theater-exclusive showing of a deeply personal film, even if Spielberg directed it? Probably not.