No, The Oscars Aren't Going To Get Sued For The Birthday Song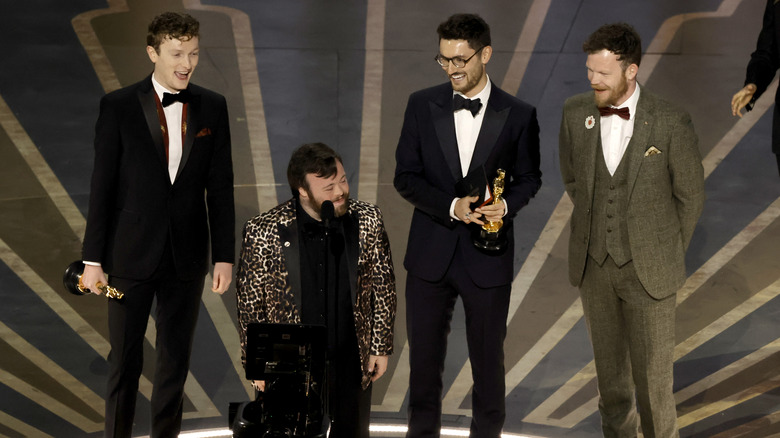 Kevin Winter/Getty Images
This year's Oscars provided some wholesome moments, including Ke Huy Quan's Best Supporting Actor win for "Everything Everywhere All At Once." However, while that moment signified a heartwarming comeback story, Hollywood embracing James Martin on his birthday deserves a mention, too.
Martin, who plays Lorcan in the Oscar-winning "An Irish Goodbye," attended the show to accept the prize for the Best Live-Action Short Film. During the acceptance speech, his colleagues revealed that the 95th Academy Awards ceremony just so happened to coincide with his birthday, causing the room full of A-listers in attendance to sing "Happy Birthday To You." It was a feel-good moment, albeit one that inspired some skepticism on social media.
Some viewers believe that the impromptu performance breached United States copyright laws. However, as BBC notes, "Happy Birthday To You" became public domain in 2015 after a judge ruled that Warner/Chappell didn't hold a valid copyright to the song. No one is going to get sued for the song being sung by celebrities at the Oscars, but some people on social media are concerned for the Academy and ABC.
Social media reacts to Hollywood singing Happy Birthday To You at the Oscars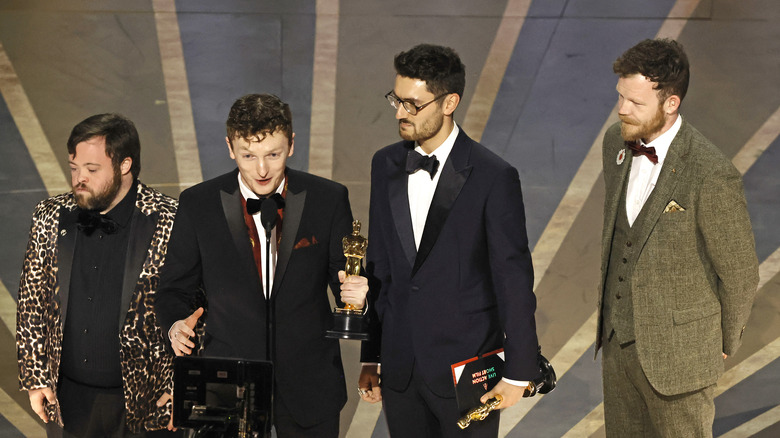 Kevin Winter/Getty Images
It just isn't an Oscars ceremony without people sharing their pessimistic views on social media. While many viewers took to Twitter to gush about the heartwarming nature of the birthday celebration, some assumed that a lawsuit was on the way. This is Hollywood, after all.
"That Happy Birthday song at the #Oscars just cost someone a lot of money," @Borys_Kit observed. A similar view was shared by @PaboBear, who wrote, "ABC has to pay for the happy birthday song now lol #Oscar."
Elsewhere, @PuckNews joked about the Oscars producers having to pay to use the song, which resulted in some social media users informing them about the copyright being lifted. "The "Happy Birthday" song has been in the public domain for 7 years. It's disappointing that a news organization didn't know that or how to fact check," @InfoSecSherpa shared along with a link to an article about the law being changed.