How Did The 2023 Oscars Address The Will Smith Slap Incident?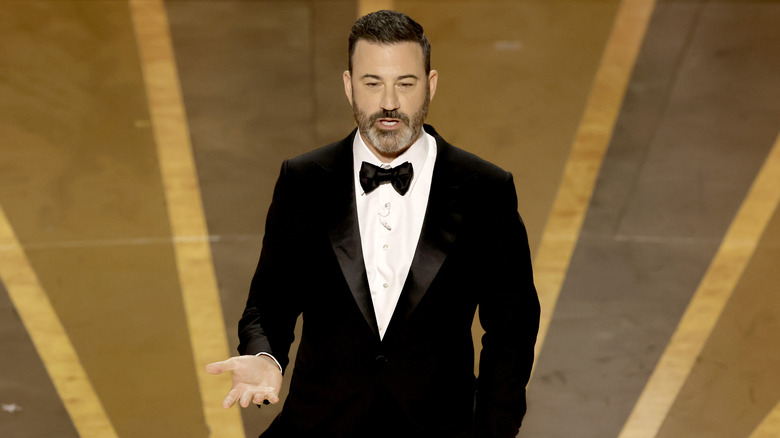 Kevin Winter/Getty Images
The elephant in the room at the Oscars got addressed quickly and swiftly, thanks to host Jimmy Kimmel.
Last year, when Will Smith slapped Chris Rock across the face for insulting his wife Jada Pinkett Smith before heading up to the stage to accept Best Actor, it was the smack heard 'round the world, so naturally, audiences around the world were doomed to hear jokes about it during this year's ceremony. Before noting how many Irish actors are nominated this year (from "The Banshees of Inisherin"), which could lead to a fight breaking out on the stage, Kimmel got direct.
Kimmel confirmed that there is a crisis team in place in case any violence this year and pointed out some of his "enforcers" in the audience, including Pedro Pascal and "The Fabelman" himself, Steven Spielberg. He also encouraged the audience to do what they did last year to help — "nothing." There's an incentive if you do slap someone apparently, though: "If anyone in this theater commits an act of violence at any point during the show, you will be awarded the Oscar for best actor and permitted to give a 19-minute long speech," clearly referencing when Smith, post-slap, wept during an emotional acceptance speech for Best Actor. Smith was, for a variety of reasons, not in attendance at this year's Oscars.
Kimmel kept making jokes about the Slap throughout the night
Kevin Winter/Getty Images
Kimmel's jokes didn't stop after his monologue, though. Before the award for best documentary was given out, which was when the slap famously happened last year, Kimmel said, "Hopefully this time, it goes without a hitch. Or without Hitch. Please put your hands together — or keep them to yourself." Questlove, who won the documentary feature Oscar last year for "Summer of Soul," was on hand to present, which is a nice touch, as his victory and first Oscar win was completely overshadowed by the fracas that followed.
Around the two hour mark of the show — because the Oscars are, whether they feature any infamous slaps or not, famously long — Kimmel quipped, "This point in the show kinda makes you miss the slapping a little, right?" Is it a bit bold on Kimmel's part to say that the Oscars are so boring that somebody needs to smack somebody else in the face for them to be interesting? Yeah, probably! But if Kimmel doesn't keep referencing the biggest Oscars moment since the "La La Land" and "Moonlight" mix-up, people might change the channel and go check out the finale of "The Last of Us" instead.
Remember the Slap? We do!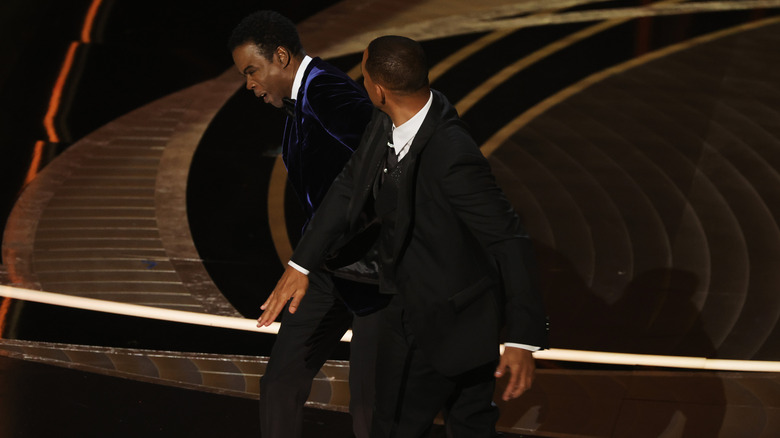 Neilson Barnard/Getty Images
You remember "The Slap." We don't need to explain it. But here we are, doing just that anyway. Last year, when Rock made a comment about Pinkett Smith's lack of hair while presenting an award, calling her "G.I. Jane," Smith exploded, yelling, "keep my wife's name out your f***ing mouth!" repeatedly before storming onstage and smacking the bejesus out of a totally shocked Rock. The moment immediately became one of the most infamous shots in Oscar history, and Smith, a newly minted winner for his work in "King Richard," was banned from future ceremonies.
In the weeks that followed, there was endless, exhausting, and constant debate about who was in the wrong — even though, if everybody was just honest about it, the answer was "everybody." Still, it remains one of the weirdest and most unexpected moments in the history of the ceremony, and it will remain a part of Smith's narrative for the rest of his career.
Rock, for his part, recently addressed "the slap" in his first standup special since, while Smith has repeatedly apologized for the incident. Can we expect another slap tonight? Only time will tell! But also, probably not. There's a crisis team in place, and also, Steven Spielberg is on the case if anything should go wrong.