Breaking Bad's Guacamole Scene Solidified Betsy Brandt's Next Career Move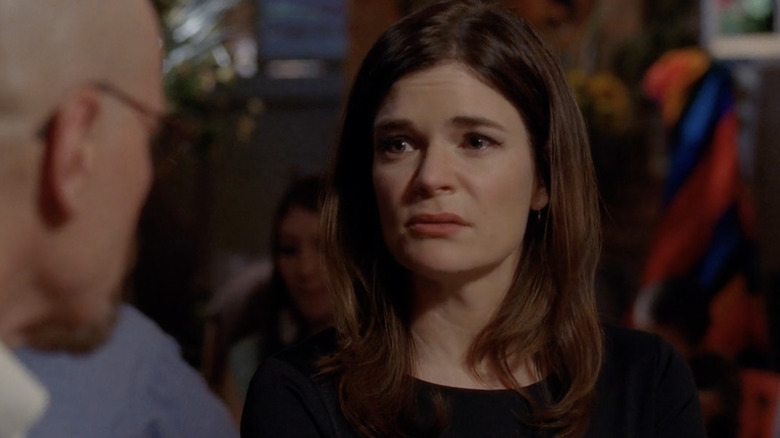 AMC
Betsy Brandt has been in several projects of varying genres since starring as Marie Schrader in "Breaking Bad," but out of everything, it's hard not to notice a considerable amount of comedies on her resume. While it may seem like she was destined to make home audiences laugh, some may not be aware that an infamous, gut-wrenching guacamole scene guided her to the gigs that make viewers giggle.
When the actor was asked about what her thought process was on what to do next after playing the "Breaking Bad" persona for so many years, she revealed that her decision to get into the funny business was not by accident. "After 'Breaking Bad,' it definitely was a conscious choice," Brandt said in an interview with GQ. "I felt like... I wanted to do a comedy after that and that's what I did." She also recalled what led her to the decision to bet big on her funny bone, saying, "I remember the day we shot the awkward guacamole scene and I was getting chest pains at the end of the day because I was having to tell Bryan (Cranston) to go kill himself multiple times, over and over again." 
The memorable restaurant sequence in Season 5, Episode 11, where the Whites and Schraders have an unpleasant dinner that ends with the threat of blackmail, was apparently such an intense ordeal for Brandt that she says it made her "ready for a comedy." 
The scene was tough on Brandt but great for guacamole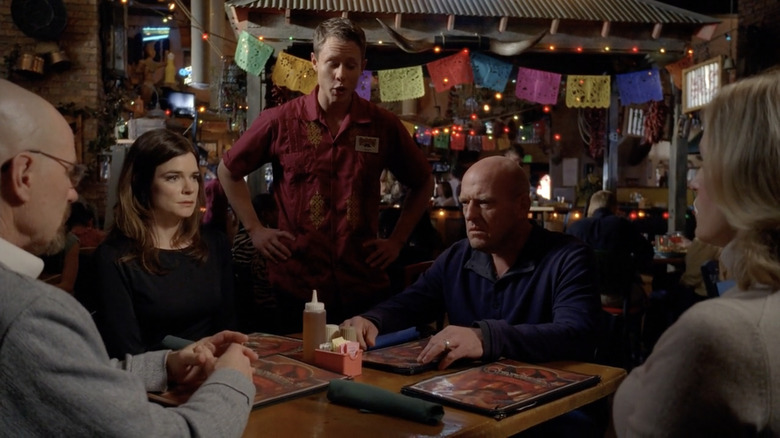 AMC
While it's no secret that Betsy Brandt enjoyed working on "Breaking Bad," not everything that went down during the show's run is favorably remembered by the actor. When revisiting old entries, she finds the "Breaking Bad" episode "Ozymandias" impossible to watch, even if the guacamole scene was the hardest for her to film. "It's like you need a cleanse, a comedic cleanse after you do a show like this," Brandt said. Since leaving "Breaking Bad," Brandt has lent her comedic abilities to "The Michael J. Fox Show," "Masters of Sex," and "Life in Pieces." She did return to drama, though, reprising her iconic character of Marie Schrader in the finale of "Better Call Saul." 
But while that chest-pain-inducing guacamole moment led her to a life of small-screen hilarity, it also had another positive, albeit unexpected, repercussion. According to Small Business Trends, the restaurant where the scene took place is an actual establishment one can visit in Albuquerque, and after the episode aired, Garduno's experienced an increased amount of customers, with sales of the infamous tableside guacamole seeing a major spike.