Criminal Minds: Evolution S1 Finale Has Fans Split On Who Came Through The Door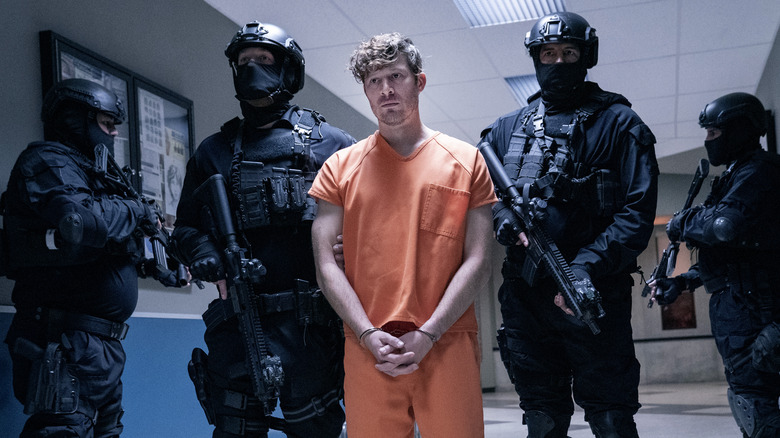 Michael Yarish /Paramount+
In the Season 1 finale of "Criminal Minds: Evolution," the BAU team has finally caught Elias 'Sicarius' Voit (Zach Gilford), a notorious murderer and creator of a serial killer network launched during the pandemic. Despite Rossi (Joe Mantegna) almost being buried alive and Director Bailey (Nicholas D'Agosto) dying in the process of capturing him, Voit uses his knowledge of something secret that's referred to as "Gold Star" to convince Attorney General Louise Davis to let him go, and unbelievably, she's actually considering it.
The episode ends with armed officers clearing an entire floor before they escort Voit into an interrogation room. Voit looks up as the door opens, and the scene cuts to black. Fans have been theorizing about who the mystery person could possibly be. "I really hope they didn't pull a cliffhanger like that just to have it be some underwhelming random person," wrote u/megan_6724 on a "Criminal Minds" subreddit. "I would be so excited if it's either Reid, Morgan, or Hotch but I'm prepared to be disappointed [laugh out loud]."
There's a lot of hope among the fan base that it's not a fakeout, and someone from the original series is returning.
Fans have a wish list of characters they hope return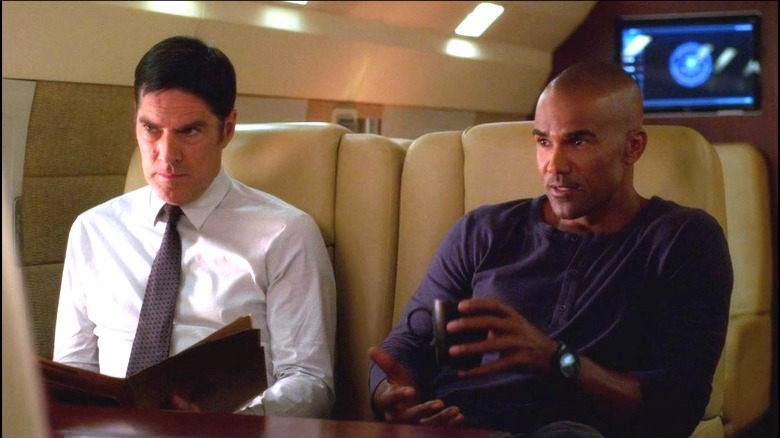 Michael Yarish /Paramount+
"Criminal Minds: Evolution" fans clearly have preferences for who could possibly be walking through that door in the season finale, and Spencer Reid (Matthew Gray Gubler), Derek Morgan (Shemar Moore), and Aaron Hotchner (Thomas Gibson) top the list. "My hope is Spencer, but I'm not counting on it," commented u/Driezas42 on a "Criminal Minds" Reddit post. Spencer is high on many fans' lists, and showrunner Erica Messer won't rule him out, telling TV Insider that "we are all talking regularly, and fingers crossed we can make something work out."
"Hotch would be the absolute best thing. Maybe Thomas Gibson has done some anger management or something and can come back?" wrote u/OkAcanthocephala6837. Despite Gibson being fired from "Criminal Minds" after an on-set altercation, viewers haven't stopped hoping Hotchner can be brought back in the revival.
The last on the wish list is Moore, but unfortunately, he hasn't encouraged hope about the possibility of returning, either. "Would I go back to "Criminal Minds" and flirt with my baby girl and chase down UnSubs?" he said to Entertainment Tonight. "Sure, alright. But Hondo kinda busy is all I'm saying," referring to his character on S.W.A.T., where he now stars. "Yeah I'm thinking it's highly unlikely as much as we'd love it," u/thathesitantalien wrote.
While most of the cast is expected to return for Season 2, fans will have to wait and see if any of our favorite missing BAU agents finally make it back to the Virginia office.