Meredith Confronting The Doctor Who Killed Derek Blew Grey's Anatomy Fans Away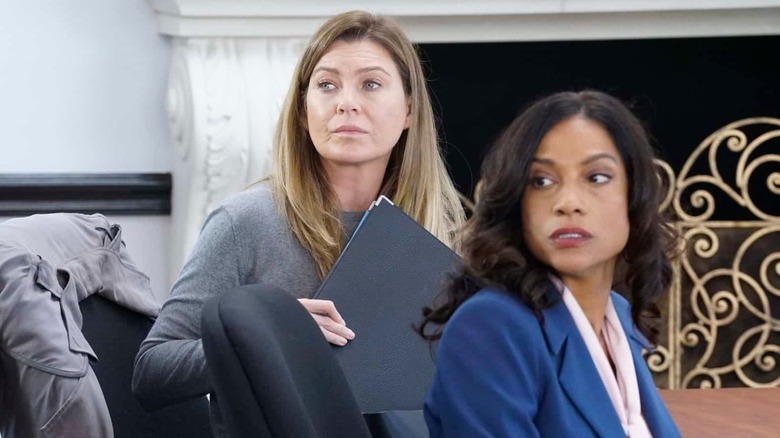 ABC
"Grey's Anatomy" is nothing if not dramatic. Doctors hook up in on call rooms (and sometimes people even sleep with the ghost of their dead fiancés in there), ferry boats crash, lions roam Seattle, there's bombs in body cavities, and so on and so forth. Sometimes the drama isn't quite as explosive as that bomb in that body cavity that blows up Coach Taylor from "Friday Night Lights," but personal and professional problems are still huge deals on this show — like in the episode where Meredith Grey (Ellen Pompeo) must confront someone devastating from her past.
In Season 16, Episode 8, titled "My Shot" (as a reference to the beloved musical "Hamilton"), which is the series' 350th episode, Meredith is arguing, to the medical board, that she should keep her license after she illegally obtained healthcare for a patient's child by listing her own daughter as the beneficiary. Faced with a panel of people who believe that decision can and should end her career, Meredith goes into the hearing ready to fight, until she's confronted with Dr. Paul Castello (Mike McColl), and is understandably unsettled. Why? Well, he was the doctor on call when Meredith's late husband Derek Shepherd (Patrick Dempsey) was taken to a small, rural hospital and ultimately declared brain dead because Dr. Canistello didn't bother to check his pupils.
Fans are absolutely blown away by how beautifully Pompeo performs the heartbreaking scene where she confronts Dr. Castello, who, to add insult to injury, doesn't even remember her. "She should have gotten an Emmy for this scene. Best episode so far. No cap," user purpledandelion7568 wrote in the comments section of the scene's YouTube clip — and others had even more to say.
Grey's Anatomy fans can't believe how great Pompeo is in this scene
Meredith's powerful speech about how she remembers the families of every patient she's lost — and the fact that Dr. Castello is so apparently self-absorbed that he doesn't remember her at all — is pretty rough, but it's nothing compared to what happens next. After she confronts him, Dr. Castello falls to the ground and has a seizure, and he ultimately dies after getting treatment... and when he falls, Meredith is the first one to try and help him.
That detail didn't go unnoticed in the comments section, with @coraliebertrand290 writing, "She insulted him when he killed the love of her life and she was the first one to run to him when he collapsed she is such a good person." Some were as incensed at Dr. Castello as Meredith was, like @eltoncabrito5423: "It's 2021 and I'm still here thinking that he doesn't have the right to mention the name of Meredith's daughter because he was the one who killed her father." (The episode in question aired in the fall of 2019.) 
Other users were happy to see Dr. Castello get what they believed he deserved. "I'm not saying he deserved [it], but God's timing is always right," wrote @noeldatuaconta4253. As for @haileypeters6034, they were just impressed by Meredith's potential power: "she literally yelled at him into a seizure. her power is unmatched."
Grey's Anatomy now has to get by without Meredith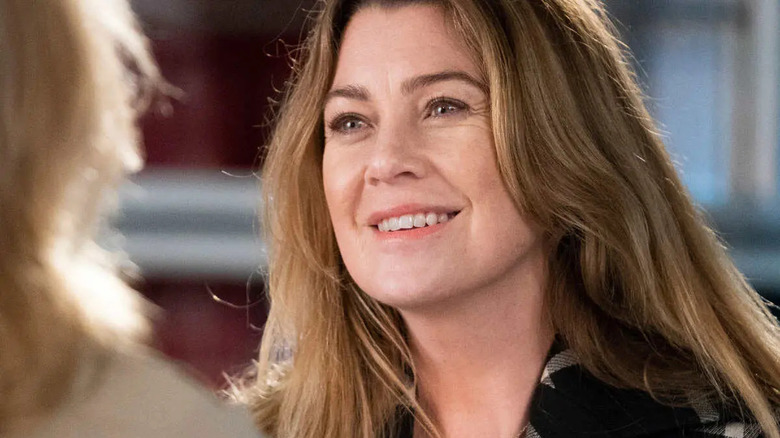 ABC
Now, fans have to get by without Pompeo's considerable acting chops, as the actress has left Grey Sloan Memorial Hospital for the last time. In February of 2023, during the show's nineteenth season, Meredith Grey officially moved her family to Boston to work there and try to find a cure for Alzheimer's (the disease that killed her mother), getting the character out of Seattle. Though Pompeo will still narrate each episode, as she's done since the show's inception, as well as serve as executive producer, the character has moved on, leaving a new group of interns to carry the show in her stead.
Fans can still revisit some of Pompeo's best performances, though, including the one with Dr. Castello, and Pompeo will probably pursue new projects; without "Grey's Anatomy" on her plate, she'll be able to spread her wings as an actor and explore new territory. "Grey's" fans, though, will always have fond memories of her incredible turn as Meredith.