A Ted Lasso Favorite Is Joining Mission: Impossible - Dead Reckoning Part 2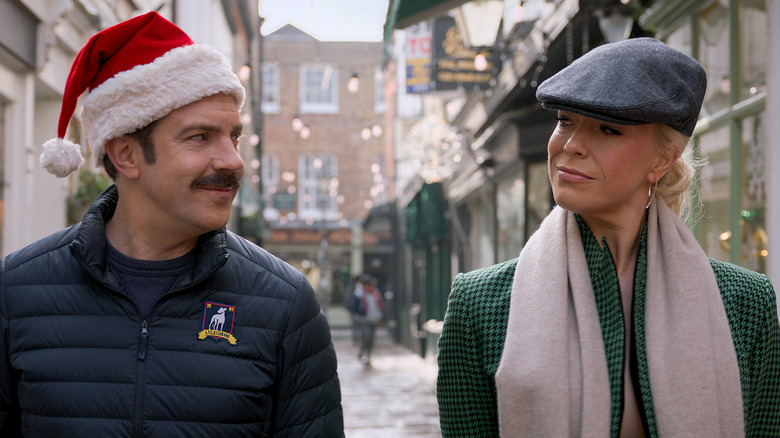 Apple TV+
If by the end of "Mission: Impossible – Dead Reckoning Part 1," there's a possibility that Tom Cruise launching himself from a building, moving vehicle, or mountainous terrain doesn't have you amped for more, don't fret. The team behind the action-packed franchise knows they need to bring something special to the table and today we may have gotten our first glimpse of what they have fuelled for the follow-up. Director Christopher McQuarrie has made the frankly awesome announcement of a new cast member set to make an appearance in "Mission: Impossible – Dead Reckoning Part 2" which is prepped for release on June 28, 2024, and it marks the arrival of none other than one of the beloved "Ted Lasso" cast.
Fans of the Emmy-winning Apple TV+ series will be excited at the news, particularly as the upcoming third visit to The Greyhounds will be the last in the series. With that in mind, it makes sense that they'll take any appearance they can get. So which MVP from the kind-hearted comedy has bravely accepted the upcoming mission? According to McQuarrie's not-so-top-secret Instagram, "Ted Lasso" star Hannah Waddingham is boarding the USS George H.W. Bush, which had been a filming location for the next big mission.
Hannah Waddingham has accepted her mission
While Christopher McQuarrie's Instagram post does confirm Hannah Waddingham's involvement, currently, no details of her role have been revealed, so she could just as easily be causing issues for Ethan Hunt as helping him. Fingers crossed on the former, because after being the Shame Nun in "Game of Thrones" and AFC Richmond owner Rebecca Welton, she's certainly not to be trifled with.
"Mission: Impossible – Dead Reckoning Part 2" will mark the fourth directorial effort from McQuarrie in the beloved franchise, which will have Tom Cruise walking around the outside of planes and doing all manner of activities we mere mortals weren't supposed to. The trailer for "Part 1" has already shown him riding motorcycles off cliffs and removing car doors while in motion — you know, standard stuff. You can see how he handles everything else when "Mission: Impossible – Dead Reckoning Part 1" arrives on July 14.