The Underrated Brad Pitt Zombie Action Movie Killing It On Netflix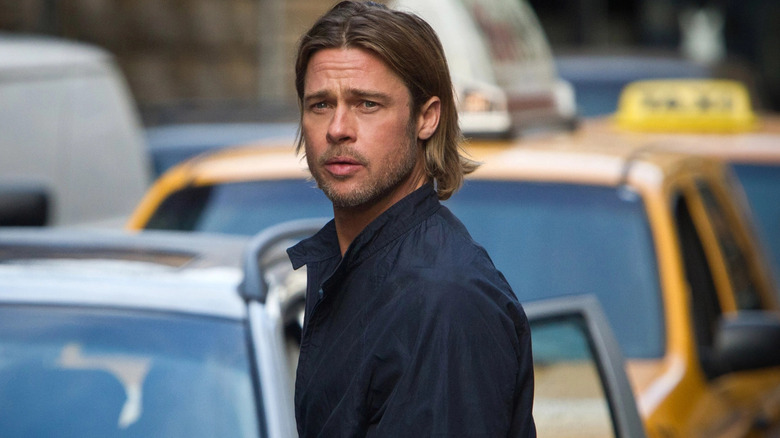 Paramount Pictures
If you find yourself needing more zombie action once "The Last of Us" wraps up its first season, Netflix may be the place to turn to.
The streaming service has a new Top 10 films, and it seems many people are interested in an early 2010s throwback. All four films from "The Hunger Games" franchise have cracked into the listing, and people also seem to enjoy the Christina Aguilera-starring "Burlesque." But for anyone interested in something where a bunch of zombies pile on top of one another to climb over a wall, Netflix has the answer with 2013's "World War Z."
Based on the 2006 of the same name by Max Brooks, son of comedy filmmaker Mel Brooks, the two titles do have some differences. The book features a collection of different "interviews" with survivors of the zombie outbreak. It showcases different perspectives to provide a more global perspective on what an undead apocalypse would look and feel like. On the other hand, the movie "World War Z" is a more straightforward action-horror film where Brad Pitt plays a former United Nations investigator who finds himself tasked with bringing about a cure to the devastation.
The movie received mixed reviews when it initially came out. It didn't help matters that prior to its release, the film was plagued with production issues. Damon Lindelof was brought in to clean up the script, and Paramount invested another $20 million in its budget for reshoots. The finished product may be divisive, but for fans of zombie media, it's essential viewing.
Some critics enjoyed making zombies a spectacle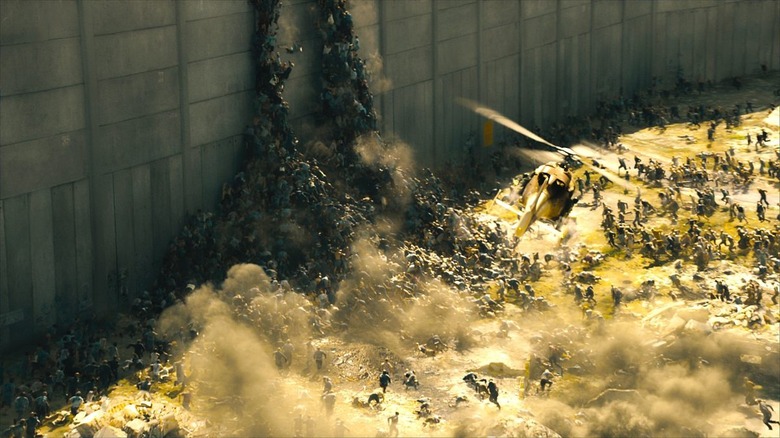 Paramount Pictures
The zombie subgenre isn't going anywhere anytime soon. HBO's "The Last of Us" proves there's still a way to tell compelling stories within the medium, and "The Walking Dead" is getting a slew of spin-offs, including one focusing on Rick (Andrew Lincoln) and Michonne (Danai Gurira). Zombie stories are here to stay, so it's only appropriate that 10 years after "World War Z" came out, it's due another look.
Even with its deviations from the source material and troubled shoot, many critics were able to look past those issues and take the film for what it was — a high-concept action film with zombies at the center of the conflict. Film critic Christy Lemire compared the movie favorably to "Aliens," writing, "As both thrilling spectacle and escapist summer entertainment, World War Z is enormously effective, with Brad Pitt at the center hopscotching the globe in search of the origin of a zombie apocalypse."
A good portion of the film's praise went toward director Marc Forster, who has an eclectic filmography, including "Monster's Ball," "Christopher Robin," and "A Man Called Otto." Sean Axmaker of Stream on Demand wrote, "Forster proves adept at choreographing the chaos of a world overrun by the hive behavior of zombie masses and creating a cinematic order to the presentation." Everyone's experience will differ, but clearly, "World War Z" struck a chord with some, making it worth another look, especially with what we might get in the future.
Never say never to more World War Z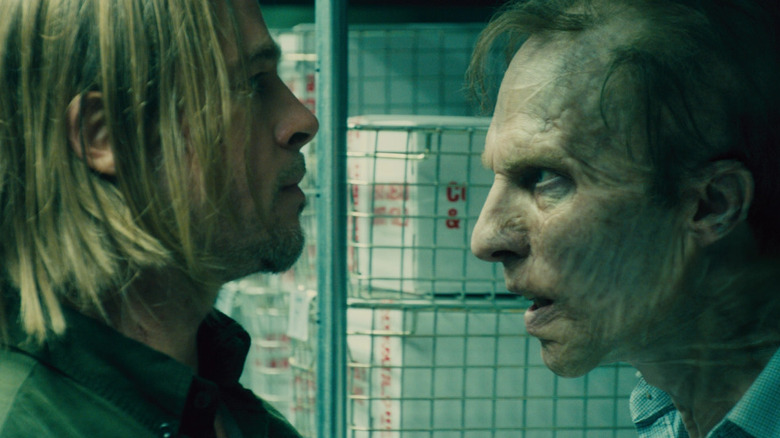 Paramount Pictures
"World War Z" remains the highest-grossing zombie movie of all time, with a global take of $540 million at the box office. The budget may have been close to $190 million, but it's still an impressive haul. So it shouldn't come as a surprise to hear Paramount would've wanted more installments in the franchise. 
"World War Z 2" wasted away in development hell for many years. At one point, David Fincher was onboard to direct, which would've meant another team-up with Brad Pitt after fruitful collaborations with "Se7en," "Fight Club," and "The Curious Case of Benjamin Button." Unfortunately, it wasn't meant to be, as Paramount pulled the plug on the sequel in 2019, reportedly due to budget concerns. Fincher and Pitt have moved on to other projects, but in this era of streaming, could there be another way for "World War Z" to rise from the dead and gain new life? 
Honestly, a "World War Z" streaming series wouldn't be a bad idea. If Pitt couldn't return, it could be a reboot of the series, perhaps more closely aligning with the original intention of the novel. Seeing how the film is still drawing viewers on Netflix, it's clear there are people out there still invested in this property. Much like the monsters themselves, you can't get rid of zombies that easily, so don't be surprised if "World War Z" returns to screens in one manner or another.