The Rise And Fall Of Funko Explained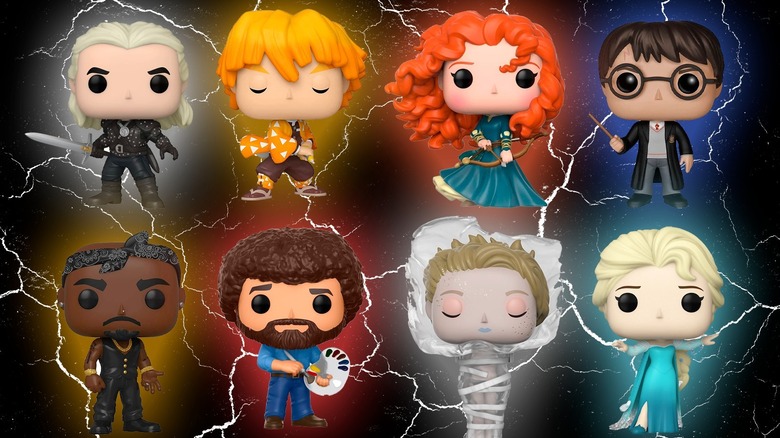 Static Media, Shutterstock
What stands four inches tall, has extremely adorable features, and is worth hundreds of millions of dollars? If you guessed the collectible vinyl figurines known as Funko Pops, you'd be correct. Odds are, you've seen the large heads and pupilless eyes filling store shelves — if you're not already a collector yourself. The pop culture collectibles company Funko first debuted the Funko Pop back in 2011, and although the company offers a wide array of pop culture merchandise, such as accessories, apparel, and games, Funko Pops remain its best-selling product.
Funko has dominated the market like no other company. "We have developed a platform in which to deliver the fandom that allows our collectors to represent what they love in a way that is very gender neutral," CEO Andrew Perlmutter told Forbes. Think of any franchise, and Funko is likely to have every character in the form of a figurine. With everything from "Star Wars" to NBA players to musicians, Funko has something for everyone and every fandom. Their brand tagline literally states: "Everyone is a fan of something."
Today, however, Funko is experiencing a rough patch. After a pandemic boom that earned the company $1 billion in sales, some missteps have led to a drop in stock and earnings, as well as an excess in inventory. How did it all come crumbling down so fast? Is there still a chance for a fruitful future? Before you rush to sell your collection, let's analyze the sensational rise and fall of Funko.
The founding of Funko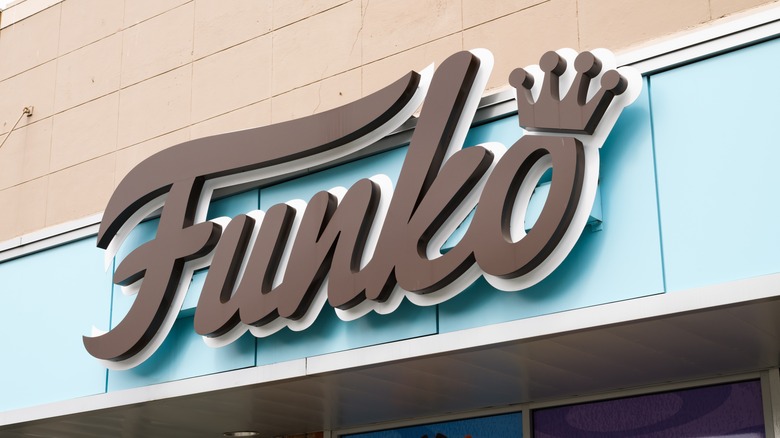 Ian Dewar Photography/Shutterstock
Funko's humble beginnings date back to 1998, when toy enthusiast Mike Becker started the business from his home in the small town of Snohomish, Washington. For seven years, the company experienced modest success in selling bobbleheads, including characters such as the Big Boy mascot, the Cheerios honey bee, Popeye, and others. "I never made collectibles or toys before; I was winging it the whole time," Becker revealed to The Seattle Times.
In 2005, fellow toy enthusiast Brian Mariotti recognized Funko's potential and bought the company from Becker. Shortly after, Mariotti pivoted slightly away from bobbleheads with a new line of nostalgic-themed figurines called Fantastik Plastik. Acquiring the licensing for Looney Tunes, Hannah Barbera, and Rankin/Bass, some of the characters featured included Marvin the Martian, Frankenstein, Penelope Pitstop, and others. Soon, Funko began expanding its licensing into movies, television, and video games, and showcasing their products nationwide at different conventions. By 2011, Funko would hit its stride with a new line of products that would put the company on a fast track to becoming a global phenomenon. Cue Funko Pop.
The creation of Funko Pop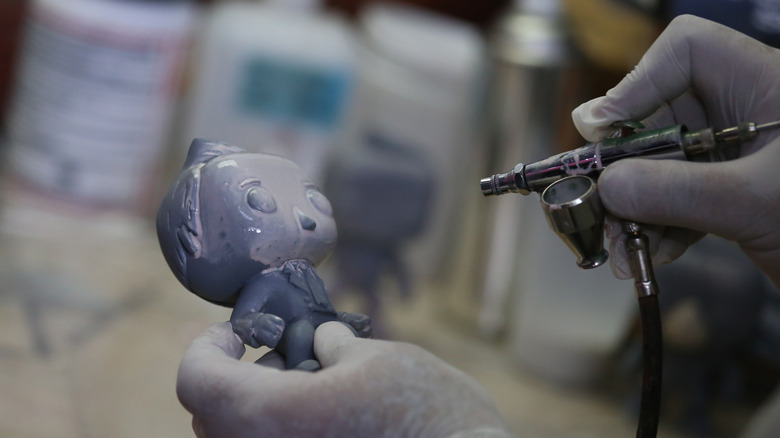 Jam Media/Getty Images
Funko's Pop Vinyl line popped up on the scene as early as 2010, when Brian Mariotti debuted the prototype at the 2010 San Diego Comic-Con. Originally named Funko Force 2.0, the line featured characters from the DC Universe, including Green Lantern, Bat Girl, and two versions of Batman. One year later, with some slight design adjustments, they were introduced at the New York Toy Fair as Funko Pops.
In the spirit of the Japanese chibi style, Funko Pops stood out with their large square heads, disproportionately small bodies, round, pupilless eyes, and traditionally no mouth, although certain variants included this feature. Despite its toy-like appearance, Funko Pop's driving consumers were adults rather than children because, unlike traditional action figures or bobbleheads, Funko Pop was the first of its kind to offer something new, leaving no franchise untapped. The Pop line has since expanded to include other merchandise, such as apparel, plushies, and keychains. As time progressed, the Funko company as a whole only continued to evolve.
Licensing agreements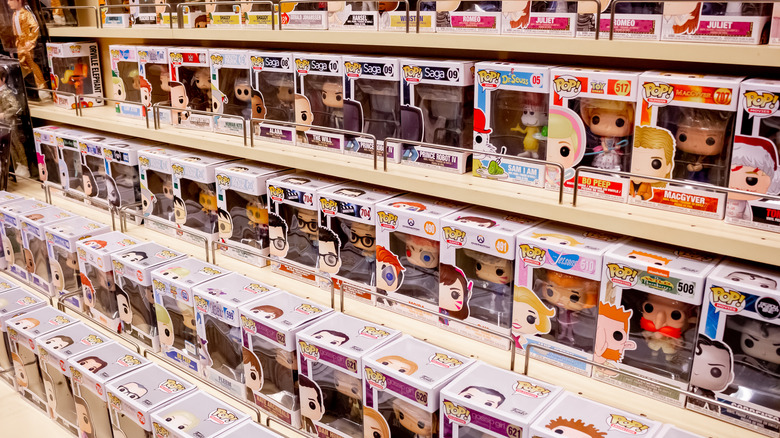 The Image Party/Shutterstock
A pop culture company like Funko is built on licensing agreements, which permit Funko to use the licensor's intellectual property. Since the company's inception, its licenses have grown to include more than 1,000 different properties from some of the biggest names in pop culture and entertainment. These properties range from movies, TV, and video games to anime, sports, and music, allowing Funko to produce thousands of characters — if not tens of thousands — in multiple variants. Funko eventually obtained licenses from companies such as Disney, Warner Bros., HBO, Cartoon Network, Sony Pictures Entertainment, and Viacom to NBCUniversal, CBS, BBC, WWE, NFL, NASCAR, MLB, Ubisoft, and many more.
Although franchises such as "Star Wars" and "Harry Potter" are some of their best-selling products, Brian Mariotti assured License Global that Funko wasn't interested in only producing figures that made the most money. "We're going to drive development based on the characters that mean the most to us," he said. "We want to represent the brands as best we can, and that doesn't mean cherry-picking the main characters and not doing the tertiary characters." In an era of sequels and remakes and the luxury of built-in fandoms, it seemed only natural that Funko could stand the test of time.
The Funko Pop brand expands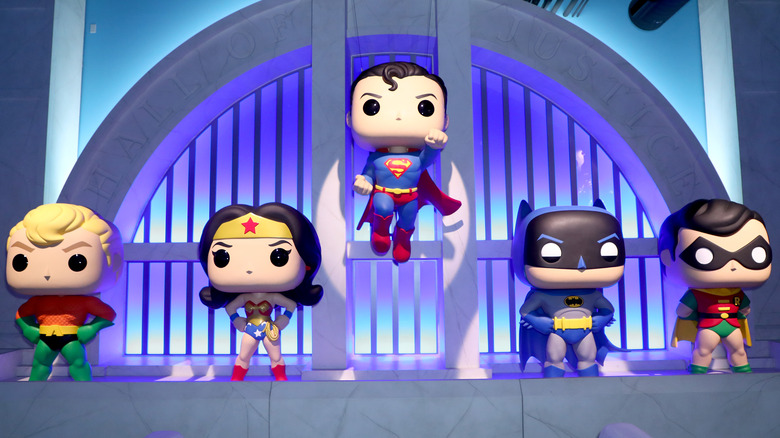 Joe Scarnici/Getty Images
Funko stock went public on November 2, 2017, setting its IPO at $12 per share, with hopes to raise upwards of $125 million. Their first day return made headlines, but not for the reasons one would want. Despite pricing lower than expected, Funko shares dropped 41.1 percent, closing at a meager $7.07. Their stock launch was dubbed the "worst first-day return for an IPO in 17 years." But this bump in the road wasn't enough to deter the company. "I told our employees, no matter what happens, whether the stock goes up, or the stock goes down, it's kind of irrelevant because we haven't changed anything that we said we are going to do in the future or what we are currently doing now," Brian Mariotti explained to Geek Wire. Less than a year later, Funko stock resurged by exceeding its original $12 pricing.
Business was on the rise. In addition to selling straight to the consumer, Funko expanded to big box retailers such as Walmart, Target, GameStop, Barnes and Noble, and Hot Topic, as well as smaller local shops nationwide. In 2019, Funko opened its biggest storefront in Los Angeles. In their press release, Funko promised, "The 40,000-square-foot Hollywood location will be brimming with highly shareable social media moments, including life-size Funko statues and immersive 'sets' inspired by some of the biggest pop culture fandoms." 
As part of its expansion, Funko also acquired toymaker Underground Toys, board game design studio Forrest-Pruzan Creative, cryptocurrency and NFT app developer TovenWave, animation company A Large Evil Corp., and pop culture company Mondo.
A marked increase in value
Before long, Funko reached $1 billion in sales in 2021, a 58 percent increase from the year before. But the company wasn't the only thing increasing in value. Individual Pop figures started reselling at an all-time high. Retail prices typically ranged from $10-$15, but if you were lucky enough to get your hands on certain exclusive or limited edition stock, they could be worth upwards of $25,000. In fact, Funko Pop's value skyrocketed so much that some even resorted to thievery. Most notably, a New York City man accidentally knocked an elderly woman unconscious while fleeing a Barnes and Noble with $35 worth of Funko Pops.
At this point, many considered their collections as investments. The top three most valuable Funko Pops included Alex from "A Clockwork Orange," Freddy Funko as Venom, and Metallic Stan Lee. Only a small handful of these Pops existed. "It's not for secondary value purposes. When we make a limited item, it's usually because we know that the audience isn't that great," Brian Mariotti told Observer. In May 2022, the largest resale in Funko history took place in Glendale, California, where a man purchased a rare golden Willy Wonka set accompanied by a golden ticket for $100,000. Only two of these were known to exist.
The Funko community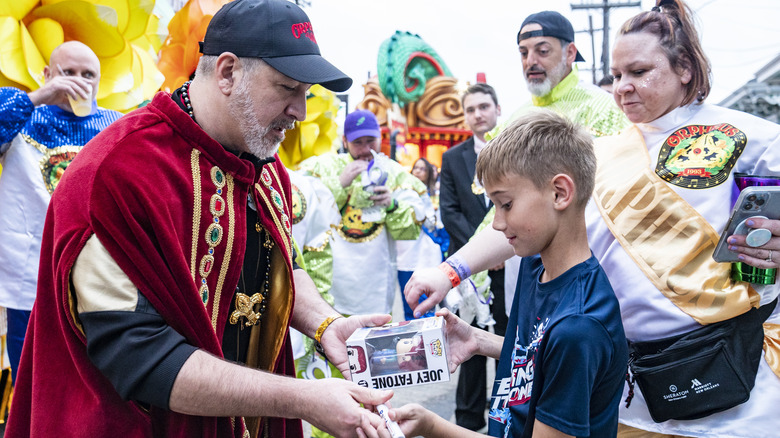 Erika Goldring/Getty Images
As far as Funko Pop consumers go, there are two types who make up the majority of Funko's sales. There are the dedicated collectors who never miss a release and display their vast array of prized possessions for all to see, and the other is the casual buyer who only picks up specific Funko Pop characters from their favorite franchises. No matter which category a consumer falls under, you're no more or no less a part of the Funko community.
Over the years, Funko has cultivated a diverse, welcoming community, both online and in person. Like most brands, this begins with their socials. Their largest platform, Instagram, has accumulated more than three million followers, with others like Twitter, Facebook, YouTube, and TikTok not too far behind. The Funko App also keeps collectors connected with easily accessible catalogs and shareable custom lists. 
The online community expands further outside the company, with collectors posting their own content online centered around Funko. YouTube creators engage with fellow fans by showcasing their collections, product unboxings, and keeping subscribers up to date on Funko news. Funko Pop groups sell, trade, and share on Facebook. But nothing compares to the magic felt when hundreds of Funko fanatics gather in person at conventions and events. Debuting exclusive lines and interacting with the community has enabled Funko to carve out a significant space at conventions such as Comic-Con, Fan Expo, Star Wars Celebration, and E3.
Controversy surfaces
Although Funko has gained a loyal following, fans aren't afraid to speak up against unfavorable choices made by the company. Funko is not immune to controversy, and the mishandling of certain ventures has led to the company's slow decline. 
Take, for example, Funko's venture into NFTs. Non-fungible tokens have become ever more popular in the cryptocurrency space in recent years, with celebrities and brands hopping on the bandwagon. In 2021, Funko announced its entry into the NFT market and was met with a poor response. Some of the criticism included one Reddit user writing, "They've shown they don't really understand the NFT market, and have just seen it as an opportunity to increase the bottom line, dramatically," while Funko YouTube creators Gastlecast explained the questionable practice of Funko making a profit off the NFT aftermarket. More criticism followed after Funko released a Bob Ross NFT, going against the artist's wishes of wanting to avoid using his likeness for profit.
NFT scandals didn't mark the end of Funko's controversies. Fans were surprised when Funko released a dead Laura Palmer figure from "Twin Peaks." One Reddit user shared, "That's mind-blowing that they made a corpse of a high school girl, complete with discoloration of her skin and lips, and funkozied it." A Change.org petition was even created to ban the character. More recently, Funko came under fire for whitewashing the character Prince Naveen from "The Princess and the Frog." This wouldn't be the company's first offense in this area either, with similar accusations leveled at it in the past. These controversies combined have been enough to cause some distrust in the company.
Supply and demand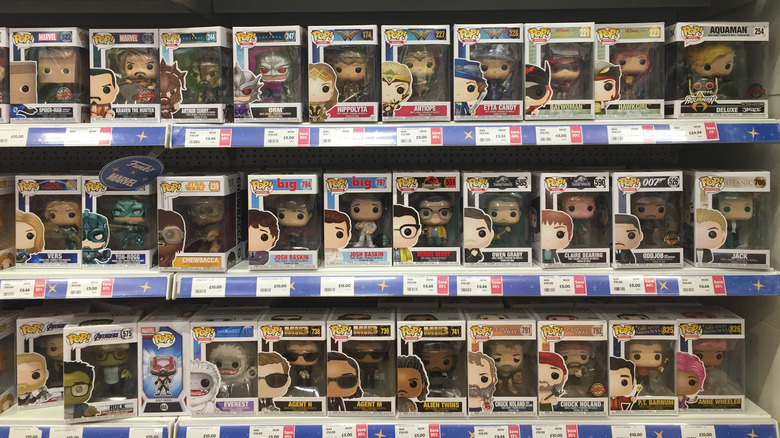 RichartPhotos/Shutterstock
What was once considered a key selling point for Funko became its greatest flaw. As far as Funko is concerned, the company is in the business of creating something for everyone. Not only are there thousands of characters to choose from, but there's also a long list of variants for each character. Chase variants offer an alternative version of a character, including anything from an outfit change to a glow-in-the-dark appearance. Flocked variants replace the vinyl texture with a soft, fuzzy one. Diamond variants add a shimmer of glitter to characters. The list continues with chrome, metallic, and black light variants. Comedian and television host Conan O'Brien had 34 variants alone.
Perhaps it became too much. When Funko's third quarter report for 2022 was released, the company revealed that there was an issue involving a surplus in inventory. To make matters worse, chains were delaying or canceling orders. Overall, the third quarter of 2022 reported a 39 percent decline in net income from the previous year. In an attempt to push out more supply, more and more Funko products began popping up in discount stores and hitting clearance shelves. Still, the worst was yet to come.
The landfill solution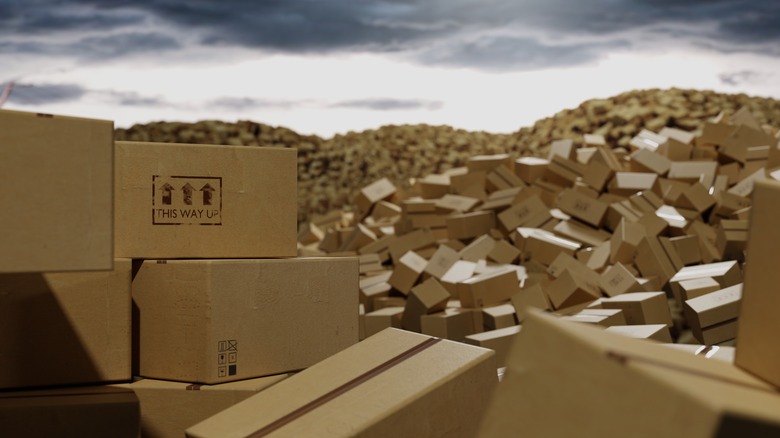 Matt Molloy/Getty Images
Funko's fourth quarter report for 2022 proved just how detrimental the damage had become. "A combination of macro factors and Funko-specific issues have disrupted our financial and operating performance to an unacceptable degree," Brian Mariotti revealed in a conference call. One of these factors was the exponential cost of housing excess inventory. Part of the company's solution made shocking headlines: since attempting to sell off the inventory at a discounted price wasn't cutting it, Funko instead made the decision to dump at least $30 million worth of product into a landfill.
Between the waste, environmental concerns, and inconsideration with regards to this decision, fans of Funko were disappointed, to say the least. One Reddit user pointed out, "This is most likely just another example of corporate greed. They would rather throw unsold merchandise away than donate it or give it away." Another user replied, "Business losses aren't all equal and total destruction of the item usually results in a more favorable tax situation." But is bad press enough to tank the company for good?
A hefty drop in earnings and stock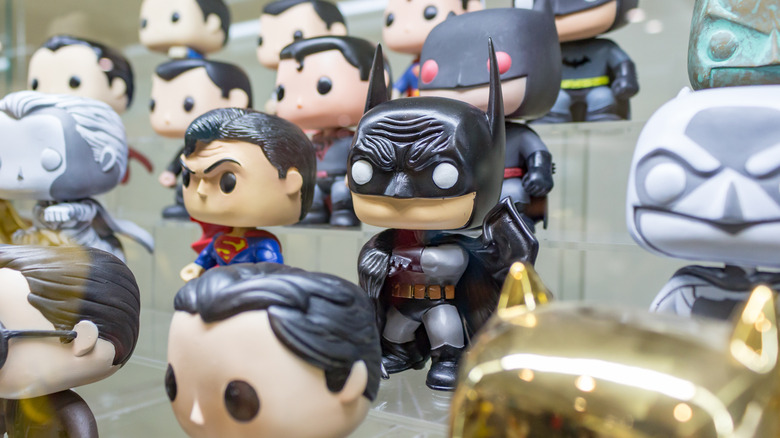 Ric Caliolio Jr/Shutterstock
While all this was going on, Funko's stock continued to drop after a drastic fall following 2022's third quarter earnings. NASDAQ reported that the stock dropped a whopping 59.3 percent, a decrease in earnings per share from $0.28 to $0.19. In addition, their plans to send millions of dollars worth of product to landfills obviously didn't help to win back shareholders. Funko's downfall became a numbers game, with the company on the losing end.
Comparing 2021 and 2022's fourth quarter reports, net sales decreased by one percent, while net income decreased by a staggering 368 percent. However, the company kept up an optimistic front, writing in the report, "Funko is highly focused on identifying and addressing opportunities for improvement. Our areas of focus ... will position the company to drive sustained long-term shareholder value. However, these initiatives will take several quarters in some cases, and as a result, we expect sequential improvement throughout the year as our initiatives take hold."
The future of Funko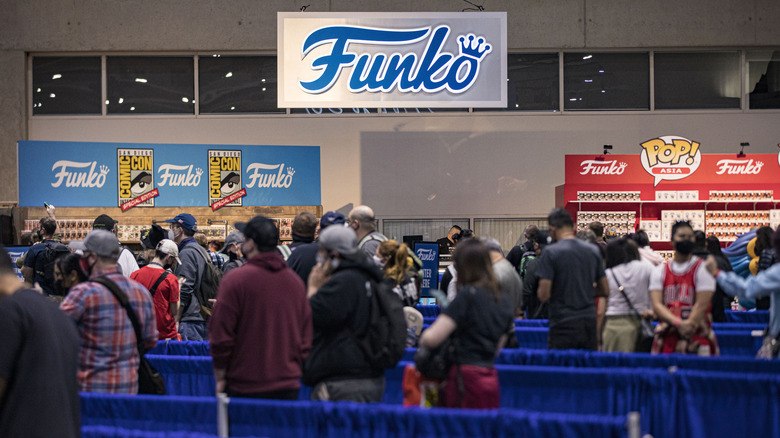 Daniel Knighton/Getty Images
What exactly does all this mean for the future of Funko? Many factors come into play when analyzing what went wrong between 2021's record-breaking profits and the shortcomings of the second half of 2022. When comparing Funko to other collectibles that eventually faded into obscurity, such as Beanie Babies, the pattern becomes more clear. Commonality and similarity are slowly killing Funko's collectible brand. As Funko tries to cater to everyone by creating Funko Pops for everything under the pop culture sun, the only value comes from consumers buying at retail price. The bigger picture — and the bad news — is that fewer people are buying. But why?
Maybe during the height of the COVID pandemic, people clung to entertainment and hobbies for comfort. Funko products weren't exactly new, but their virality drew in an excited new crowd. However, as time went on, that excitement has inevitably run out. Funko's dedication to upholding specific design styles could also be a big problem. When all Funko Pops look the same, what's the point? Who really needs or wants 40 different Grogus? Not as many people as Funko originally thought, since millions are ending up in the trash. Of course, this doesn't mean no one is buying Funko products. There was still a 29 percent increase in net sales for the full fiscal year of 2022, compared to 2021. So if Funko can sort out its supply issues and bring a new level of excitement back to the collector community, there could still be hope for the future.