Justin Chatwin's Shameless Role Helped Him Deal With His Self-Image Issues
Fiona Gallagher (Emmy Rossum) went through the wringer on "Shameless." In addition to dealing with her drug addict, alcoholic father, Frank (William H. Macy), she had to act as the de facto parent to her siblings, trying to give everyone the best life possible. And on top of all that, she didn't exactly have the best track record when it came to boyfriends, especially Jimmy Lishman/Steve Wilton (Justin Chatwin). Rossum's "Dragonball Evolution" co-star joined her on the Showtime series as her romantic interest for the first three seasons before they finally called it quits for good, but he still popped up from time to time.
But before their breakup occurred, they got plenty physical with one another. Like, it was a regular occurrence on the show. This naturally required both Chatwin and Rossum to show off some skin, and for Chatwin, it was intimidating initially. In an interview with More back around Season 3, Chatwin described the nude scenes as "really terrifying" for him initially, but ultimately, he came out on the other side all right. 
The nude scenes were 'liberating' for Justin Chatwin on Shameless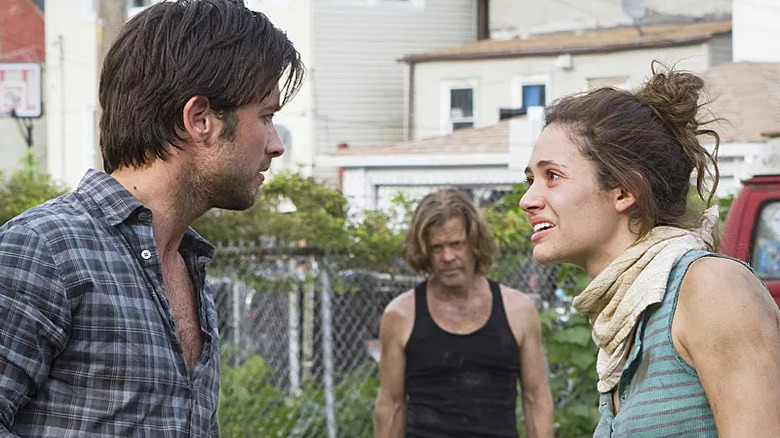 Showtime
At first glance, it might seem like the intimate scenes in "Shameless" wouldn't be a big deal for Justin Chatwin because he's obviously in good shape. But Chatwin didn't exactly see himself that way, but through performing on the series, he came to accept his body more and more. He actually discussed how his body image issues date back to childhood, stating, "When I was a kid, my nickname was 'Bubble Butt.' I had this big giant ass because I was a snowboarder and I did a lot of things with my legs. I played hockey. My upper body grew later. I grew up with so much shame around my body, especially my butt."
Fortunately, "Shameless" plays a big role in having him accept his body and be okay with showing it off to the world. He went on to say, "For me doing this role and being naked in front of television was really terrifying for me at first. It eventually led to a very liberating experience for me." It seems as though Chatwin's acceptance of what he looks like has continued to this day. If you follow him on Instagram, he regularly posts photos of himself without a shirt on, much to the delight of many of his fans, undoubtedly.