Chicago Fire: Severide's Art Museum Rescue Commentary Had Fans Cracking Up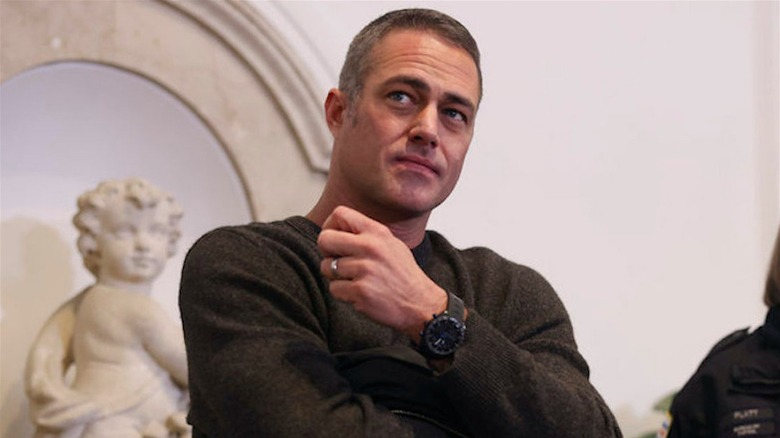 Adrian S Burrows Sr/NBC
For the last decade-plus Kelly Severide has been not only one of the best-loved characters on "Chicago Fire," but the entire "One Chicago" universe.
While viewers are plotting their Kelly-heavy "Chicago Fire" rewatches following Taylor Kinney's departure from the series, the Season 7 episode titled "Make This Right" should clearly make any such list, as it features what some fans believe to be one of the all-time great Severide-isms. Said episode finds Severide and his team called to a Windy City art museum to free an unfortunate teen from the grasp of an iron sculpture — a task that required them to partly disassemble the sculpture itself. And to the delight of fans, once the deed was done, and the teen was free, Severide dryly quips, "Alright, let's put this ugly thing back together."
The Season 7 clip has actually become a bit of a hit on YouTube. And according to the comments section, Severide's brutal takedown of modern art is a legit fan favorite moment with @‌Gamerafighter76 commenting, "Gotta love Severide's critique of modern art," and @‌ANGLEISME45 noting, "One of my favorite parts: 'Alright, let's put this ugly thing back together.' I love how Severide is just brutally honest!"
Chicago Fire fans think the unflinchingly honest assessment of modern art is vintage Severide
As it is, those comments come from just two of the almost 2 million "Chicago Fire" fans who've viewed the clip over the past four years. And the comments section is indeed rife with even more Kelly Severide-loving fans applauding the character's unapologetically harsh witticism. In fact, some believe his unfiltered assessment of the offending sculpture to be one of his more dryly on-brand insights. That includes @‌luckminipiyatilake8191, who matched Severide's dry wit with the post, "Severide being Severide, lol." 
Elsewhere, @‌spawnoftacobell1644 was one of many users who particularly adored Severide's color commentary in light of one museum employee's despair that the art itself might be damaged in helping the trapped teen escape, posting, "I loved that part especially after that woman thought that ugly thing was more important than a human life." And @‌Luis-uv9zu was one of several posters who seemed to appreciate Severide's comment, purely as a welcome comedic break from an otherwise tense scene.
It is, of course, a testament to Taylor Kinney's work in the moment that so much can be made from just a single, well-read line of dialogue. While Kinney will be sorely missed during his leave of absence from "Chicago Fire," this nearly three-minute clip is just the sort of thing to comfort those dreading the dark, Severide-less days ahead.