Being Cut From We're The Millers Helped Brendan Hunt Land His Ted Lasso Role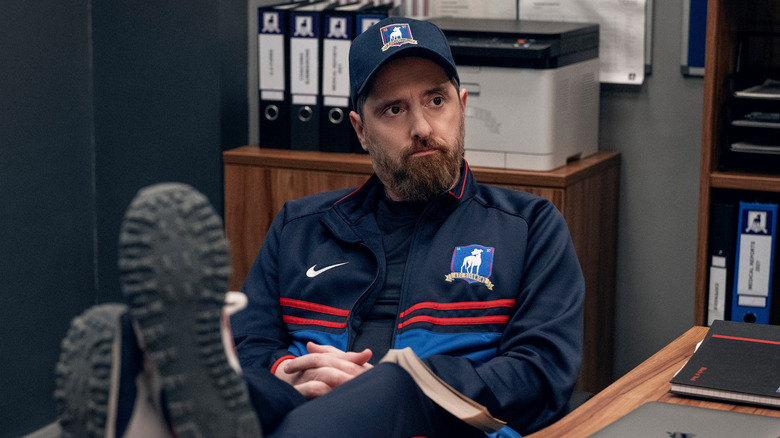 Apple TV+
In a wholly unexpected but welcome surprise of the streaming industry, "Ted Lasso" became one of the most popular shows on Apple TV+, solidifying the streamer's place in the highly competitive industry.
The heart-warming sports comedy started as a silly commercial sketch, with Jason Sudeikis playing Ted Lasso, an American coach brought on to lead the Tottenham Hotspurs. NBC issued a series of promos featuring the character to promote their coverage of England's Premier League. Eventually, Apple TV+ swooped in with Bill Lawrence ("Scrubs"), developing a series based on Sudeikis's character. Three seasons and a staggering number of Emmy nominations later, the rest is history.
While "Ted Lasso" boasts an impressively funny cast, fans must look no further than AFC Richmond's coaching staff to find one of the show's best duos. When Ted gets the Premier League coaching job, he brings along his college football assistant, Coach Beard (Brendan Hunt), which mirrors the actors' real-life relationship. Throughout the series, Coach Beard serves as the wake-up call for Ted, pushing him to accept their roles as coaches and strive to do a meaningful job and win matches. Like the titular coach, Beard becomes one of the emotional backbones of "Ted Lasso," and it's practically impossible to imagine the series without him. How Hunt landed the role of Coach Beard is an interesting story, as it began with the actor missing out on another Sudeikis project — "We're The Millers."
Brendan Hunt lost on We're The Millers but gained Ted Lasso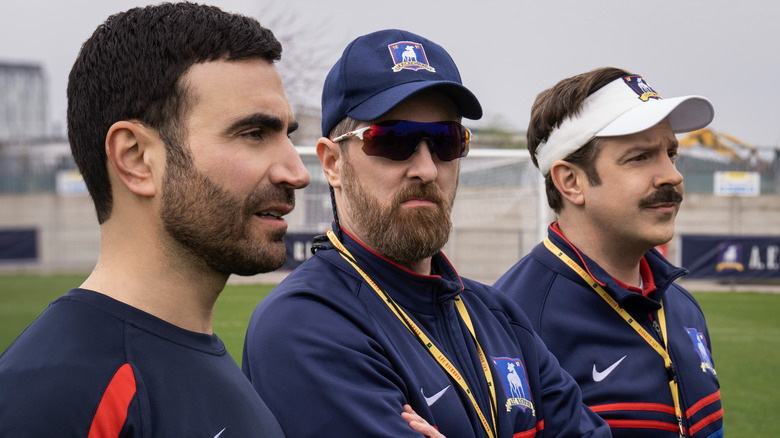 AppleTV+
During an interview with Entertainment Weekly, "Ted Lasso" star Brendan Hunt revealed how he landed the role of Coach Beard on the critically acclaimed Apple TV+ series. "I got involved in 'Ted Lasso' from the original commercials that we did for NBC Sports," the actor revealed. "I've known Jason [Sudeikis] for a really long time. We've worked together on things, and actually, it was a bad news, good news phone call." According to Hunt, he shot a scene for "We're The Millers," which was being edited at the time. Sudeikis called him and told him that his scene was being cut from the film. However, during the same call, Sudeikis invited him to work on his new project. "But then, he was like, 'I got this soccer thing,' and it was just to go to London for a few days to do this commercial, and now I'm still in London," Hunt said.
Although fans may never get to see Hunt's role in "We're The Millers," it's safe to say the actor got the better deal in the end. While the comedy movie found its own success at the box office, it pales in comparison to the popularity of "Ted Lasso," which has earned Hunt numerous Emmy awards.