Yellowjackets Almost Made Reddit's Adam Theory Come True Despite Not Reading It
Kailey Schwerman/Showtime
Showtime's "Yellowjackets" is one of TV's buzziest shows on the air right now — to the point that its Season 1 finale brought in a whopping 1.3 million viewers. Naturally, with that many viewers, there are going to be plenty of fan theories floating around on the internet (mostly on Reddit, of course).
One of the biggest fan theories from Season 1 was that Adam (Peter Gadiot), the man that adult Shauna (Melanie Lynskey) had an affair with, was actually a grown-up Javi (Luciano Leroux), who, as the coach's son, was the youngest survivor of the plane crash. However, that theory was essentially squashed when Shauna ends up killing Adam in the penultimate episode of Season 1 after suspecting that Adam is the one who is blackmailing her and the other Yellowjackets.
But, the idea that Adam could be a grown-up Javi was floated around in the writers' room. In a recent interview, co-showrunner Jonathan Lisco told Entertainment Weekly, "That was absolutely something that we considered, well before we ever read that theory on Reddit." Ultimately, however, the showrunners decided to go in the direction that they thought served the most significance to Shauna's story.
It's more impactful that Shauna killed a genuine love interest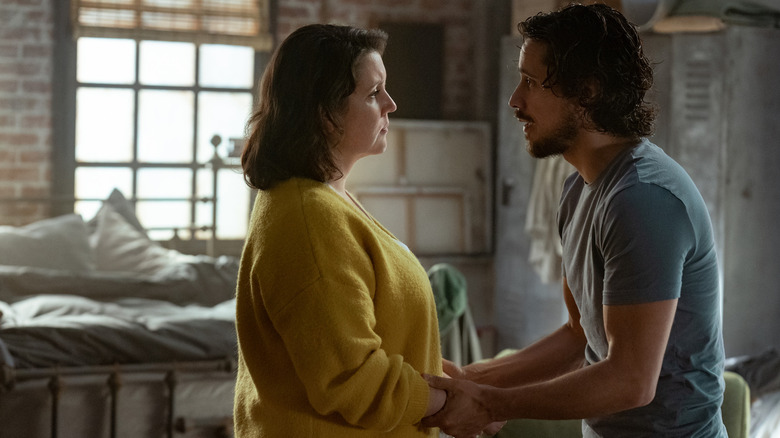 Michael Courtney/Showtime
With Adam turning out not to be Javi, that meant that he was just a regular guy who was genuinely interested in being in a relationship with Shauna. This, the showrunners decided, would have a more lasting impact — on both Shauna and the audience.
Jonathan Lisco told Entertainment Weekly, "We looked at the emotional and psychological arc of the story and we felt at the end that yes, it's a cute surprise and it might be good in the moment, but what's gonna haunt the audience more is if Shauna winds up killing someone who actually liked her, somebody who actually wanted to be with her, and the reason why she killed him was because of her post-traumatic stress." The showrunner continued by explaining that there's a reason that Shauna sees flashes of her time in the wilderness right before stabbing Adam: she is experiencing these threats as if they are current threats, which is how post-traumatic stress functions. Lisco continued, "So to stay true to her story and the story in general, we had to let that twist go in the service of the emotional and psychological story. And of course, our audience can debate whether or not that was a good move."
Lisco also thinks that audiences will see why their decision was ultimately the right one once they start watching "Yellowjackets" Season 2, which premieres on March 24. He continued, "I'm hoping that once they see the fabric and tapestry of Season 2 and then where we're gonna go in Season 3, they will realize that that set the table for more poignant long-term storytelling than just closing the loop on someone coming back for revenge."