Fan Art Imagines Lucas Till As The Flash And It's Taking Our Breath Away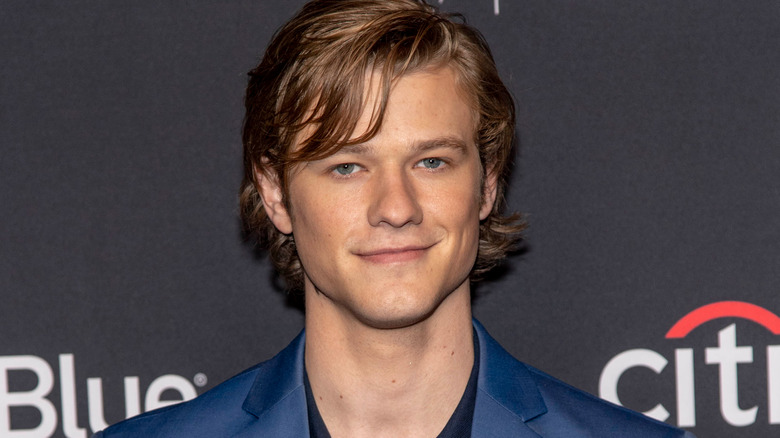 Eugene Powers/Shutterstock
Grant Gustin and Ezra Miller may be synonymous with live-action iterations of The Flash, but they're far from the first actors to bring the iconic DC character off of the pages of comic books and onto the screen. They're also not likely to be the last. In fact, one fan artist created a stunning mock-up piece of what "MacGyver" star Lucas Till would look like if he donned the cowl of the sonic-speed superhero.
On their Instagram account, fan artist SPDRMNKYXXIII posted a mock-up of what Till might look like as The Flash. It's hard to deny that the actor doesn't look the part, at least in the artist's rendition. The picture features Till in a stylish, comic-accurate Flash costume, with the Scarlet Speedster's iconic look slightly modified to include patches of gray spandex and an enlarged lightning bolt emblem. As the creator clarified in the post's caption, Till is meant to be portraying the Barry Allen iteration of the character.
It seems that SPDRMNKYXXIII is pretty confident in Till's fittingness for the role beyond simply animating a what-if scenario. The artist tagged the official Instagram accounts for Till, DC Entertainment, and DCU exec James Gunn, writing of the actor: "He has the charisma and charm to pull off the perfect #barryallen in @jamesgunn 's new #dcuniverse."
What are the odds that Till dons the yellow boots?
While SPDRMNKYXXIII's fan art of Lucas Till as The Flash makes the actor seem like a perfect fit for the role, the question of whether he could actually end up playing the character is a more complex matter. As the fan artist mentioned prior, James Gunn is spearheading a fresh start for DC's cinematic output, wiping away much of the prior history of the DCEU in favor of fresh iterations of characters and new actors. That recasting wave could possibly extend to "The Flash" star Ezra Miller, especially in the wake of the actor's myriad controversies leading up to their solo DC film. However, no official plans for a new Flash actor have yet been confirmed and Miller's recent time out of the spotlight could keep them in The Flash's boots for the foreseeable future.
Even outside of the myriad fan artist mock-ups, Till is a popular choice for the potential next star to pick up the speedster mantle. So popular, in fact, that buzz surrounding the topic has actually reached the ears of the actor. In an interview on The Talk, Till expressed some interest of his own in the role. "Honestly, I would love to go back to doing that," he said, referencing his prior superhero movie experience with the "X-Men" films. Despite his willingness, however, he clarified that his agents haven't been contacted in any official capacity about the part.